Our latest Model Confidential is with American model and actress Maggie Rizer. We were lucky enough to sit down with Maggie while she prepared to make her return to the runway and open one of the most highly anticipated shows of the season -- Michael Kors. Find out Maggie's thoughts on returning to the runway, her must-have accessory for fall and more -- including her exclusive backstage snaps -- in the interview below:
This was your first NYFW show in over a decade. What was it like returning to the runway for one of the biggest shows of the season?
Walking in one of Michael's shows is so comfortable, I'd honestly forgotten it had been so long! You can always be sure he will make you look gorgeous and chic and that the clothes will be stunning.
What were your thoughts on the collection? Any favorite pieces?
I love the navy and yellow combination! The two-piece outfits (tops and skirts) were also a favorite. I could definitely see myself wearing that out.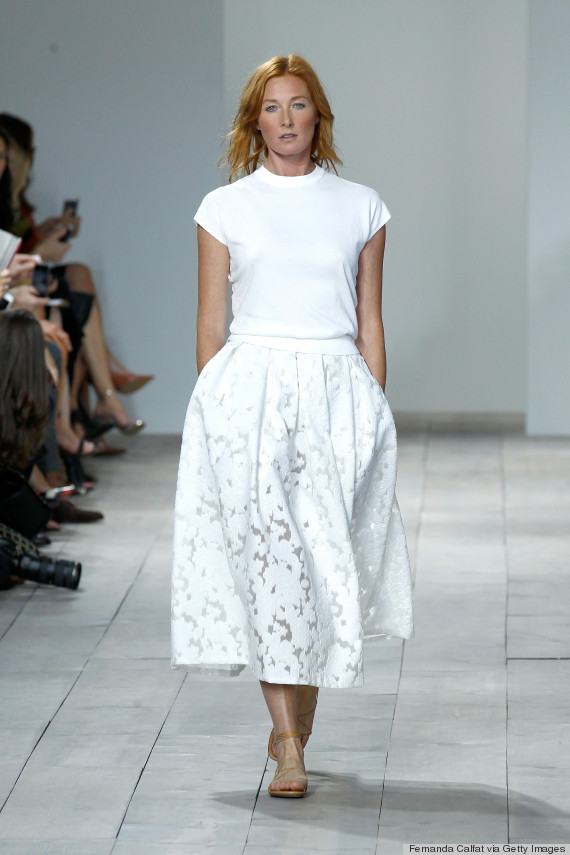 What did you do to prep before the runway?
I shopped! If it's good for the US economy, it's good for me!
What's the best makeup tip you've ever gotten from a makeup artist backstage at a show or on a shoot?
Brush your eyebrows up! It opens your whole face up. That and don't overdo it. Too much makeup isn't necessarily a good thing. In fact, it's often not.
How do you thrive during Fashion Week? What ways do you find peace or Zen during all of the chaos?
I make sure to keep things in balance. Life may be fabulous backstage and on the runway, but I love going home to my boys. If you get too into the glam of it all, it's easy to get burnt out, at least for me!
What is your must-have fashion and/or accessory for fall?
My new gorgeous Michael Kors bag!
What is your off-duty uniform or go-to look?
Great jeans, a good black T, Rick Owens black leather jacket, and Fiorentini and Baker black boots.
What's the one thing about the fashion/modeling industry that you wish you knew when you were first starting out?
That it's an amazing industry filled with some of the kindest and most genuine people you could ever meet. It's not as scary as it appears!
More on Modelinia.com:
5 Things You Need to Know from NYFW Day 7