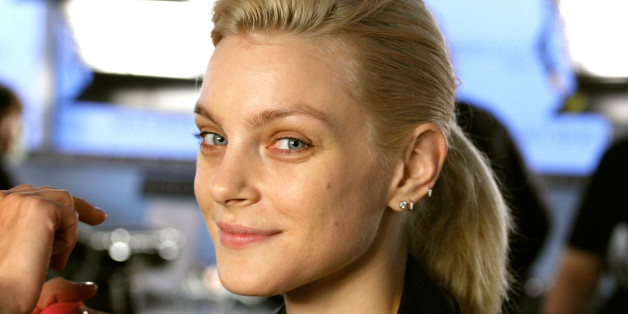 It wouldn't be New York Fashion Week without Model Confidentials! All week long, we'll be making the rounds backstage at some of New York's most talked-about shows, catching up with a number of our favorite catwalkers. Check back every day for exclusive model interviews in which we'll be asking the girls about their beauty secrets, fashion must-haves, social media tips and MORE!
Today's Model Confidential is with industry icon Jessica Stam. We caught up with Jessica backstage while she prepared to walk in Public School's show, where she filled us in on how she prepares for Fashion Week and more! Read the full interview below:
How do you take care of yourself during Fashion Week? Is there anything you do find peace during all of this chaos?
I try to get my 8 hours of beauty sleep a night. I also like to start my day off with a smoothie from Liquiteria. I've been doing this for so long that it's so much less hectic for me so I'm able to have fun with it.
How do you prep your skin before shows?
I usually get a facial about a week before Fashion Week, and then I make sure to wash my face the night before I have a show.
What model do you think has amazing street style?
I think Daria Werbowy has great street style.
What's your favorite drugstore beauty product?
Oh god, I LOVE drugstore beauty products so much! L'Oreal has great mascara, just the one with the regular brush - I love it!
What's one thing that our readers don't know about you?
I just started taking Salsa lessons last week with my boyfriend, it's really fun!
What's one thing people should avoid when taking a selfie?
I just started taking selfies, so I need as many tips as I can!
What's the best makeup tip you've gotten from a makeup artist backstage?
Organic Rosewater is amazing! It can help freshen up your foundation between makeup looks. I also use it in my hair, on my skin, it's the best!
More on Modelinia.com:
NYFW Street Style with Karlie Kloss, Devon Windsor and more!
Get the Beauty Look: Master Alexander Wang's Slick, Sporty, Summer Beauty Look