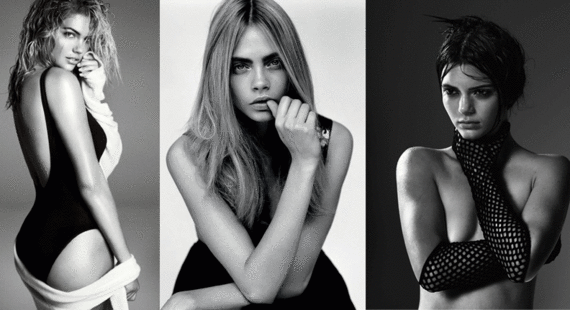 Earlier this week, Google released the results of its annual Year in Search, spotlighting the people, places, and trends that grabbed the world's attention in 2014. Featuring everyone from Jennifer Lawrence (the most searched person) to Rihanna (the most searched red-carpet dress) and Iggy Azalea (the most searched musician), Google's zeitgeist report is the result of billions of searches aggregated from the site throughout the year. Here at Modelinia though, we're far more interested in seeing how our favorite models faired across the Internet. Thanks to Style.com, we now have the answer!
While it was undoubtedly the year of Kendall Jenner -- the Kardashian clan member was seemingly everywhere from catwalks to campaigns and glossy covers -- it turns out that there was one other all-American super who the world had it's eye on. That scene-stealer was Kate Upton. In a somewhat surprising move, the voluptuous Sports Illustrated Swimsuit model heads the list of the top 20 fashion models followed by Kendall Jenner, at number two, Miranda Kerr, Heidi Klum, Gisele Bündchen and Kate Moss.
Noticeably absent from the top ten list is Cara Delevingne, who came in at number 16, slipping 15 places from the number one spot she held in 2013. Surprisingly, her fellow Insta-girls didn't fair much better: Karlie Kloss took the number nine spot, while Joan Smalls came in at number 20. Meanwhile, it appears that "It" girls Gigi Hadid and Hailey Baldwin were able to catch the world's attention with their celeb-filled social media posts as they gained spots at number eight and 14 respectively. Kudos ladies!
See the entire list of the top 20 models for Style.com below, then click here for more of Google's A Year in Search results.
Top 20 Fashion Models
1. Kate Upton
2. Kendall Jenner
3. Miranda Kerr
4. Heidi Klum
5. Gisele Bündchen
6. Kate Moss
7. Behati Prinsloo
8. Gigi Hadid
9. Karlie Kloss
10. Naomi Campbell
11. Alessandra Ambrosio
12. Lily Aldridge
13. Chanel Iman
14. Doutzen Kroes
15. Hailey Baldwin
16. Cara Delevingne
17. Jourdan Dunn
18. Coco Rocha
19. Bar Refaeli
20. Joan Smalls
More on Modelinia.com:
Here's What the Top Models Have on Their Holiday Wish Lists This Year
10 Models Reveal Their Favorite Beauty Products From Around the World