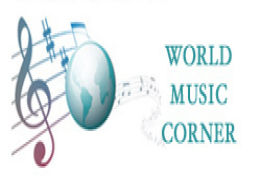 This is HuffPost World's regular feature that highlights interesting musicians and musical trends around the world. Know of a great musician doing ground-breaking work outside the United States? Send us your ideas for bands to profile or up-and-coming musicians to follow. Please fill out this survey form.
By Marlon Bishop
On Sunday, January 11th, a Bollywood pop idol will share the spotlight with a fiery Nola brass band and a voluptuous Inuit throat singer. The event can only be GlobalFEST, America's biggest world music festival, in which twelve acts from every corner of the imagination converge on New York City's Webster Hall in a tribute to true international eclecticism. Now in its sixth year, the festival provides a space for promising artists to show their stuff to world music industry types, and in the mean time, throw a polyrhythmic, multi-linguistic, hip-shattering party.
"It's like being a DJ, or making a good mix tape," says co-founder Bill Bragin on the art of performing arts curating. "The individual performers make their own artistic statements, and the way that you put together the combinations of artists makes a different artistic statement. Like a collage." Bragin is one of New York's preeminent music presenters, the former mastermind behind the ever-fashionable programming at Joe's Pub and Central Park Summerstage, who has more recently brought his golden touch to Lincoln Center. His breadth of musical taste is perhaps his greatest asset, and the selections for this year's GlobalFEST lineup proves it. On one end of the spectrum is the fairly traditional Iranian bagpipe music of Shanbehzadeh. On the other side lies the Watcha Clan, who layer Berber beats with samplers and synthesizers and take their cues from France's roaring club scene.
While still at Joe's Pub, Bragin conceived GlobalFEST along with Isabel Sofer of the World Music Institute and Maure Aronson of World Music/Crash Arts as a local alternative to Europe's annual WOMEX, the transcontinental conference on all things world music. The idea was to stage an event that would help connect artists to North American booking agents and simultaneously help build a local audience for international music. Instead of having an insular industry event, they envisioned a public festival with a diverse range of artists that would give presenters a feel of how audiences react to the new sounds. So far, it's done just that. Every year, emerging artists from abroad get new bookings and buzz, launching their careers into the greater music marketplace.
While some of the acts are up-and-coming youngsters, others are superstars in their home countries looking to expand into the international limelight. Sunday's concert will feature Calypso Rose, who while virtually unknown abroad, is a venerated queen of Trinidadian Carnival. In 2005, Afro-Peruvian diva Eva Ayllon was in a similar position and landed herself a flurry of U.S. bookings.
The concept of World Music was developed in 1987 at a summit of record labels called to deal with the problem of marketing a vast array of misfit recordings, from Brazilian tropicalia to Irish traditional sessions, that had no section to call home on the shelves of record stores. "I think that the definition of World music is one of the most debated phrases in the music business, and I think that we've intentionally looked at it as a really big tent, that can include a lot of things," says Bragin. In the since globalized world, old definitions are breaking down. DJs the world over are sampling each other's sounds, and formerly fringe international acts like Manu Chao and Gogol Bordello are increasingly mainstream. Tanya Tagaq, a Canadian youngster of Inuit decent, is one young artist moving the boundaries. Says Bragin, "Tanya is a great example. She's taking this kind of Inuit tradition of throat singing that's very local, and finding ways to both draw very deeply from a longstanding tradition but also move it forward in really personal ways." Ms. Tagaq has recently collaborated with Icelandic songstress Bjork.
Bill Bragin is no staunch traditionalist, and sees a World Music festival in the United States as an opportunity to celebrate the dynamic musical cross-pollenizations that occur in the American melting pot. This year, four of the GlobalFEST artists are based in the U.S. "Cultural traditions aren't lost just because people are based in the US or because they are second or third generation. There is a really rich world music scene that's home grown, and it's becoming something really unique," says Bragin. New York's own Brooklyn Quawwali Party will be stepping in for Afrobeat scion Femi Kuti, who was forced to cancel part of his American tour due to illness. They will be playing right after Indian Idol panelist Kailash Kher, making for an interesting encounter. Whereas Kher plays sufi music of his native India influenced by Western pop, BQP is made up of American funk-jazz musicians who play covers of sufi devotional music from a totally opposite approach. The interconnectedness of the musical world is mind-boggling.
Beyond promoting the business of global art, Bragin and the other founders created the festival in response to the chilling political headwinds of the post-911 era. "When we created GlobalFEST there was a certain amount of retrenchment in the U.S. and an increased xenophobia, so part of the impetus behind doing this was to resist that," says Bragin. As he sees it, listening to music from other peoples from other places has important consequences for humanity. "Regardless of whether or not you're familiar with the rhythm, the language, or the scales, you can be really moved by the music. Connecting to music from cultures outside of your own is part of a process of connecting with the politics and the economics and the human relationships that goes with that. I think its just part of living in a interconnected world."
To purchase tickets for GlobalFEST, contact the World Music Institute at 212-545-7536 or buy online at tickermaster.com.
For general information on GlobalFEST click here.
Read other World Music Corner stories.