This blog is part of a series organized by The Huffington Post and the NGO alliance InterAction around the London 2012 Olympics.
In 2011, FoodBank South Africa (FBSA) launched a Feat for Food fundraising program, encouraging supporters to raise funds.
Last November, UK resident Anthony Kitchen (who helped in the launch of FBSA) raised funds by running the 26.2 mile New York marathon. Said Kitchen:
"In exchange for my pain, I am raising money for FoodBank South Africa -- a charity I helped establish when I lived in South Africa in 2008. Many people in the UK associate South Africa with the tourist brochure images of beaches and luxury safari lodges. However, what is less often reported is the extreme poverty that affects so many -- 11 million people (25 percent of the population) do not have enough food and malnourishment is a major health issue and obstacle to social development... It was great running conditions and the New York skyline was looking great. It's a very tough course, but I made it round in a time of 3:32, which I am delighted with. It was an amazing atmosphere all the way round with 47,000 runners and 2.5 million spectators."ƒ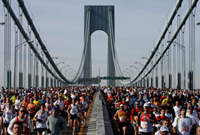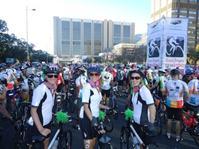 Kitchen raised £2,702.00 to enable FBSA to provide over 15,000 meals to the hungry of South Africa.
As part of the Feat for Food program, FBSA supporters were challenged to enter the Cape Argus Pick n Pay Cycle Tour, a hilly 110km race around Cape Town, which took place on Sunday, March 11, 2012. The tour is the world's largest individually timed cycle race, with over 35,000 cyclists. After months of training and fund-raising, the FBSA Wheels for Meals Cycle Team lined up, eagerly awaiting the starting pistol. At the end of the race day, all 14 members of the Wheels for Meals Team finished the event. Through their efforts a hugely welcome R28,850 for FBSA was raised - enough to distribute approximately 17,000 meals.
Team members Emma, Jo (Joanna), and Olivia got into the spirit of things. In Jo's words after the race: "It was the hardest thing I ever did! We were on our bikes for eight and half hours. We had broken chains, punctures and heat exhaustion but we never gave up and we crossed the finish line... eventually."
Emma added: "Completing the Argus is a definite bucket list item but doing the Argus in the name of hunger is life-affirming! I have a huge love for this country, so to be cycling for FoodBank SA and knowing I'm making a difference (even if it's a small one), makes it all the more worthwhile."
FoodBank South Africa is South Africa's national food banking network established in 2009, and is a member of The Global FoodBanking Network (GFN), an international organization dedicated to creating and strengthening food banks and national food bank networks. GFN currently work with food bank systems in 26 countries.
Since 1960 the world has produced enough food to feed everyone, yet with few exceptions globally, hunger -- or food insecurity -- has increased. South Africa is one of a handful of countries that is capable of providing enough food for its people. Despite this, over 11 million South Africans are "food insecure," and nearly a billion people worldwide are hungry or malnourished. Hunger and malnutrition are crippling conditions for almost a quarter of the South Africa's population. Poverty and food insecurity are rife in urban areas of South Africa, but the rural areas where approximately two-thirds of the country's poor live are hit even harder. The resulting hardship and vulnerability represents one of the greatest impediments to social, emotional and economic development.