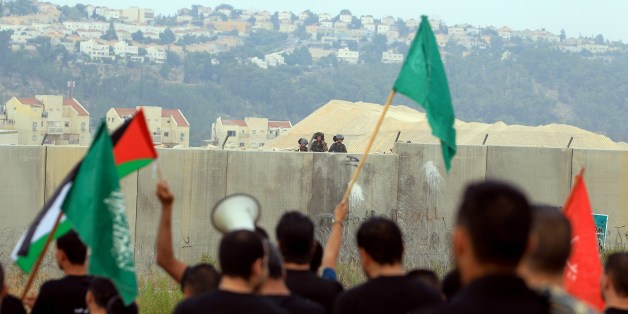 In a recent blog post titled "Attack on Gaza by Saudi Royal Appointment," David Hearst claims to have uncovered a secret alliance between Saudi Arabia and Israel on Gaza and Iran. He writes that the "Saudi-Israeli alliance is forged in blood, Palestinian blood," and that the Israeli attack on Gaza came with "royal appointment."
How does Hearst come to this conclusion? First, he mentions an interview on Israeli television, in which former defense minister Shaul Mofaz explains that, after its offensive on Gaza, Israel expects Saudi Arabia and the United Arab Emirates to play a role in the demilitarization of Hamas and the rebuilding of the strip. Second, he quotes Amos Gilad referring to an underground "security cooperation with Egypt and the Gulf States." Third, he reiterates that King Abdullah supported Sisi's ceasefire initiative. Fourth, he asserts that there have been meetings between Mossad and Saudi intelligence agencies, and reproduces a "very well sourced claim" that Saudi Arabia bankrolled Israel's "very expensive campaign" against Iran -- we have to take his word for it. Fifth, a book written by an Israeli academic was translated and published in Riyadh. Sixth, Turki al-Faisal, ex-head of the Saudi foreign intelligence, met Amos Yadlin, ex-head of the Israeli army's intelligence, in Brussels.
Even if proven true, none of these points -- individually or otherwise -- comes anywhere near to suggesting, let alone proving, that the Israeli aggression on Gaza received any breed of Saudi blessing. There's more to this -- by mentioning these elements, Hearst does not prove that there is any security cooperation between Saudi Arabia and Israel.
Let's revisit some of his points. An Israeli official expects Saudi to pay for the rebuilding of Gaza? Israel isn't alone -- since 1973, a slew of states in the region have come to "expect" aid and assistance in petrodollars.
With regards to the Amos Gilad quotation, it is quite ironic that secret cooperation between Israel and Saudi would be trumpeted by Israeli representatives. Needless to say, Israeli representatives have rarely been a reputable source on Arab issues. And even if it were true that Saudi has held secret talks with Israel, that alone certainly does not constitute support for the slaughter of Gazans.
Prince Turki al Faisal's supposedly damning "collaborative" talk in Brussels that Hearst refers to was moderated by none other than David Ignatius of the Washington Post. Prince Turki al Faisal (or Yadlin for that matter) is no longer a government official and attended the talk in no official capacity. Hearst also conveniently omitted that the theme of the talk was "Why doesn't Israel accept the Arab Peace Initiative?"
Hearst asserts that there is "open co-ordination" between the two "military powers" citing Prince Turki's talk and the fact that a book by an Israeli professor, titled 'Saudi Arabia and the New Strategic Landscape' was translated into Arabic and published by a Saudi publisher.
Publishing books by academics and engaging in talks moderated by journalists with ex-officials can in no way be rationalized as "open co-ordination" between two "military powers." Such talks are regularly held at think tanks and press events between ex-officials in attempts to solve longstanding crises candidly in no official capacity whatsoever. Former President Morsi of Egypt not only was in direct contact with his Israeli counterpart, former president Shimon Peres, but also called him "my friend" in an official letter at a time when they both were still in office. It would be absurd to infer, based on that, that Morsi's Egypt and Peres' Israel were in turn bedfellows.
To further support his allegations of an undercover Saudi-Israeli connection, Hearst pulls a quote from Prince Turki al Faisal's recent article in Haaretz in which the Prince envisages a post-Arab Peace Initiative (API) Middle East where Israelis and Arabs can visit one another.
Hearst accuses Turki al Faisal of promoting the Arab Peace Initiative at the "cost of abandoning the kingdom's historical support of Palestinian resistance" without providing any rationale to that claim. The API was supported by all member-states of the Arab League at the time of its inception, and is an offer that still stands -- the closest we have to a framework for lasting peace, despite having been repeatedly rejected by Israel. It is a reasonable blueprint for the resolution of a longstanding conflict, uniting the Arabs on sensible terms by which to recognize and peacefully live with Israel as a neighbor within the bounds of international law. It is the API that should be discussed today.
Not one of Hearst's examples suggests that there is cooperation, coordination, or even an alignment of interests between Israel and Saudi Arabia. None of his arguments prove in any way that Saudi Arabia condones, much less supports Israel's onslaught on the people of Gaza. On the contrary, Saudi Arabia's ambassador to London, Prince Mohammed bin Nawaf, recently published a response to Hearst's piece condemning Israel's brutal attacks on a besieged and downtrodden people.
After reading Hearst's article, one cannot help but wonder what motivates Hearst to launch such a polemical attack on Saudi Arabia. It is ludicrous to refer to just any interaction between Saudis and Israelis as an "alliance" between the two states and painfully erroneous to suggest that Israel's onslaught on Gaza came with Saudi acceptance, let alone support.