We've all heard stories about people retiring and moving to some far-flung place in a tropical paradise for pennies. But are there really places where people can live the good life for less than half of what it would cost in the US? Is it really possible? And, even if it was cheap, what would the trade-offs be? What would it really be like to move to another country when you retire? Intriguing but a little scary too.
On our retirement planning site, GangsAway!, we provide information to help people figure out the where they might live and what they might do for their next act. Recently, we've started investigating more international locations and one place kept popping up. Cuenca, Ecuador.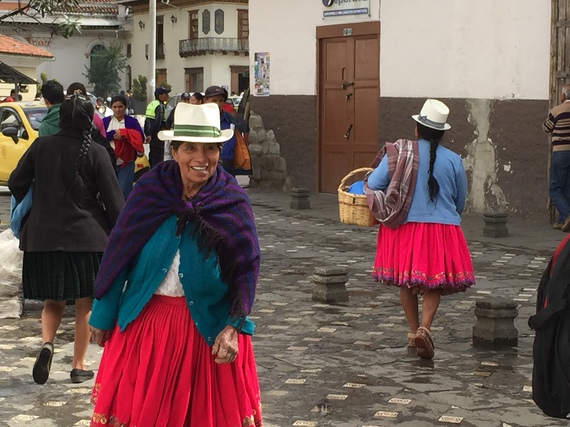 While there are a lot of places around the world where one's money could go further, Cuenca also has the infrastructure and amenities that many of us, here in the States, are used to. And, Ecuador uses the US dollar as their currency so you don't even need to figure out exchange rates or get used to new coins. Easy-Peasy. So, I decided I was going to go to Cuenca and see for myself and put Cuenca through its paces.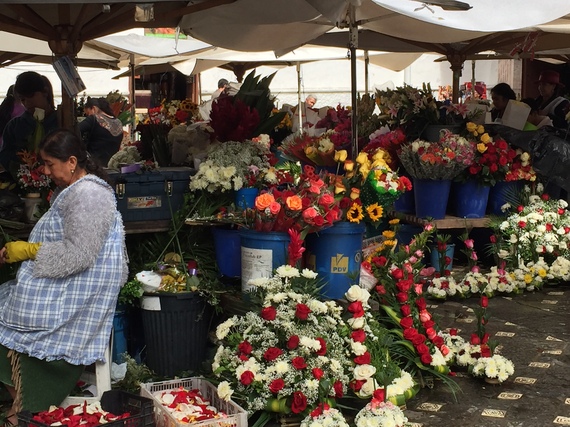 For those who are scratching their heads wondering exactly where Ecuador is, Ecuador is a small country in the north western part of South America. Though its on the Equator, the bustling city of Cuenca is situated up in the mountains so the average temperature ranges from 50-72 degrees year round. (Not great temps if you want to lay in the sun all day but for the rest of us, pretty darned nice.) Cuenca is a charming city with over 500,000 people and has an expat community of about 8,000. (Check out Cuenca High Life for all the latest expat news and happenings.) The architecture in the old part of town is Spanish influenced with European style churches and cathedrals and cobblestone streets. There is a lively and vibrant restaurant scene and loads of cafes, galleries, and bars. At its heart, Cuenca is a college town with 6 universities including the beautiful University of Cuenca campus in the center of town. And, bonus.... a lot of people in Cuenca speak English.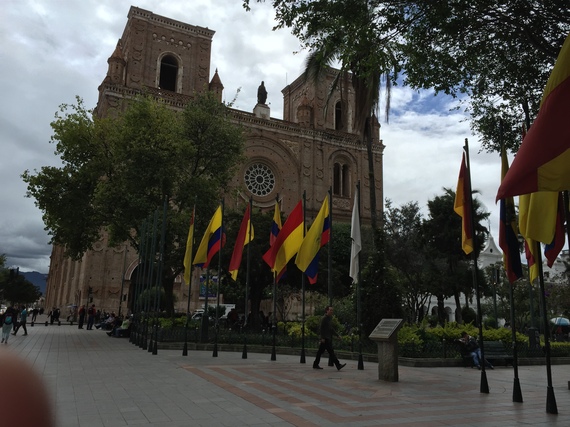 I met up with local expat real estate broker, David Morrill, with Cuenca Real Estate. David is originally from Tallahassee FL but has been living in Cuenca for the past 11 years and still loving it. He originally came to Ecuador on a birdwatching trip and fell in love with the people and the country. Over the years, David has seen the expat community in Cuenca flourish and grow as the city continues to improve it's infrastructure with new roads, sidewalks and a light rail system that is opening next year that will significantly impact the traffic congestion in a good way.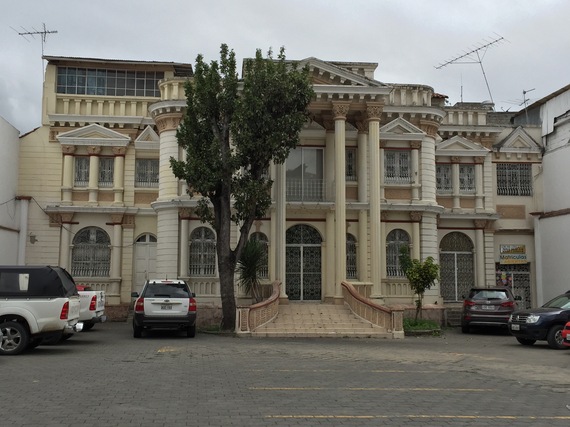 And here's a little nugget of happiness... healthcare. There is apparently a pretty great healthcare system in Ecuador. Many Americans elect to go to Ecuador for expensive hip or knee replacement surgery for a fraction of what it would cost at home. More importantly, if you are a resident, your healthcare is free. And if you rent, you can buy into their healthcare system for less than $100 a year. Try doing that in the old USA. You can't even get a filling and your teeth cleaned for $100. The Ecuador healthcare factor alone is huge when you are on a fixed income.
Next David showed me around the housing market. I took a look at both rentals and condos. You can find new good sized 2 bedroom/2 bath condos for $110-150K that can easily be rented if you only want to live there part time. Many of the buildings that the expats live in have amenities that we like. Take a look at this beautiful kitchen.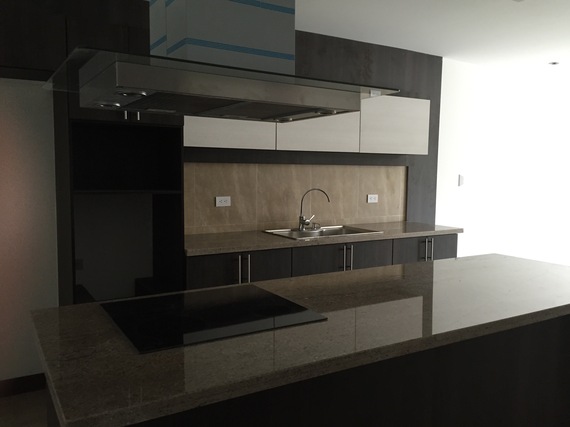 If you really want to splurge, we saw a spectacular large brand new condo in a new building, walking distance to downtown with breathtaking city and mountain views from an Olympic sized terrace for about $240K. Get a load of this view!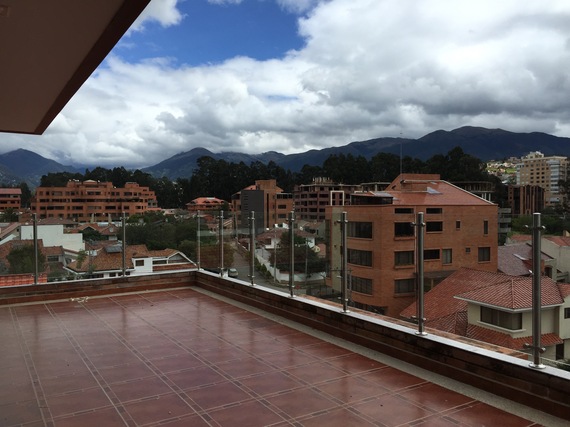 What about property tax you ask? Property taxes range between $100-$200 per year and condo associations are about the same! If you aren't ready to buy, then there are loads of rental options in Cuenca. There are a couple of large buildings that attract a lot of expats because they come with a pool, tennis court, gym and an on premise rental agent. I looked at a furnished 2 bedroom/2 bath rental unit with sensational views, walkable to downtown and it was about $900 per month which....wait for it....included linens, electricity, cable and wifi. Pretty sweet.
Let's talk transportation. Getting a car would be expensive. With so much of Cuenca being walkable it doesn't make sense to get a car, especially if you are on a budget. In Cuenca, buses and taxis are very inexpensive. You can get from one end of the city to the other for a couple of dollars and buses cost next to nothing.
Did I mention the food? We went to quite a few cafes and restaurants and the food was excellent and inexpensive. For example, we stopped at a café for lunch right in the heart of the older downtown. It was charming on the inside and there was a set menu for lunch. Basically you ate what they were serving. They brought us delicious lentil soup, a fish and vegetable main course, juice and dessert and it was about $5. And it was a really nice lunch.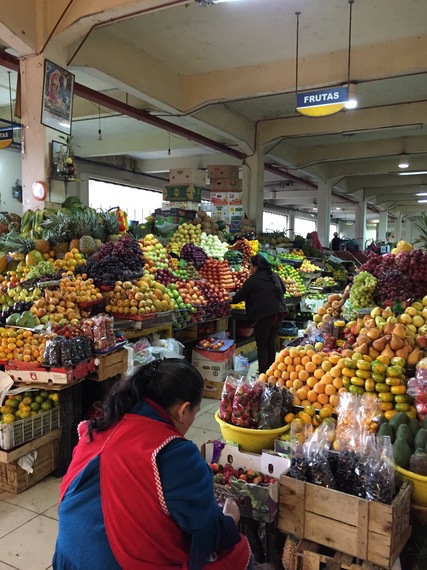 So far Cuenca is looking good to me. Charming, check. Comfortable year-round weather, check. Good quality inexpensive healthcare, check. Great housing options at affordable prices, check. Inexpensive transportation, check. Good and cheap food, check.
OK, so in theory it looks great. And I was actually there and it felt good being there. But I was just visiting. What would it be like to actually live there. What kind of people move from their country to another country. Would they be my kind of people? I asked David about this. He said there are a few different types of people who move to Cuenca. A lot of people are looking for adventure. I get that, you're not going to have a great adventure living in a gated community in Fort Lauderdale, as nice as it might be. Other people move to Cuenca because their money can go so much further and they can live a nicer lifestyle than back in the US. And then there are others who are disenchanted with the way things are going at home. So it appears there are a lot of different reasons why one would become an expat. Me, I'm looking for the adventure and would love to improve my Spanish (which by the way is something a lot of people want to do when they move to Cuenca and there are a ton of language schools.)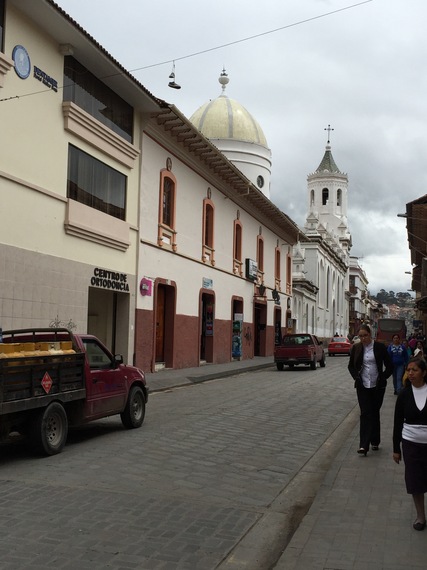 In terms of people visiting you and you getting back to the US, here's what I found out. According to David Morrill, not as many people come visit you in Ecuador as you think will. So you have to be prepared for that. But in terms of getting home, depending on where you are from in the US, it might not be so bad. You can hop a cheap flight from Cuenca to Quito that takes less than a hour and catch a connecting flight to Fort Lauderdale that will get you there in about four hours. You can easily get home in a day.
So is Cuenca Shangri-la? Maybe if you are looking for an inexpensive adventure, with nice weather, culture and nice living conditions and if you want to maybe learn a language and meet a lot of other like minded expats, Cuenca could be cool. Maybe you don't live there forever, maybe for just a few years or a few months (you can get a six month tourist visa. I know I'm thinking about going for a few years and using Cuenca as my base as I explore different parts of Central and South America and other places like Corozal, Belize, San Jose, Costa Rica, Granada, Nicaragua and Panama City, Panama. Maybe I'll see you there. Hasta Manana!
Like Us On Facebook |

Follow Us On Twitter |

Earlier on Huff/Post50:
PHOTO GALLERY
Dr. Colvin's Advice For Staying Active After 50