In Kildare, Ireland, St. Brigid's Cathedral was packed on that lovely sunny 9th of June, 2011 when horse racing's close-knit community came to pay respects to retired trainer, Sue Doyle on the Curragh in Co. Kildare.
Known for her eccentric ways and respected for so very much more, she'd come a stranger from England years before, and ended up an appreciated colleague and friend. If the measure of a person's character comes from the way they handle adversity, Sue Doyle shone her character like a beacon, with excellence as her standard.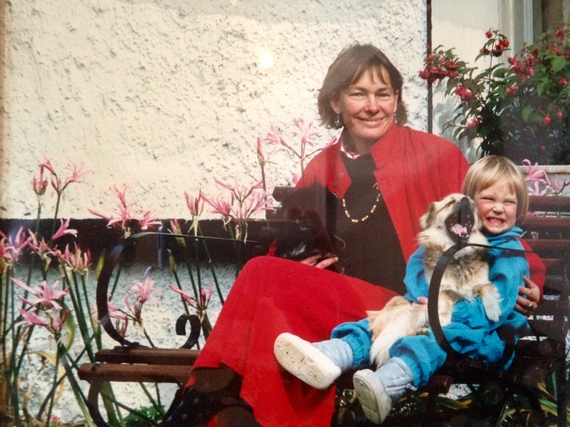 Sue Doyle with Baby Bella
When I met her and her father-in-law Jack Doyle in 1987, Sue was still mourning the death of her beloved husband Paul the previous year. The entire Doyle family, internationally known for meeting the highest standards of all aspects of the highly complex, exacting horse racing business, have known through the years that reputation makes or breaks a business. At their 150-acre farm at Ballysax Manor in Kildare, Jack and Sue were involved in brokering the thoroughbreds, breeding and training them, while other sons maintained separate establishments.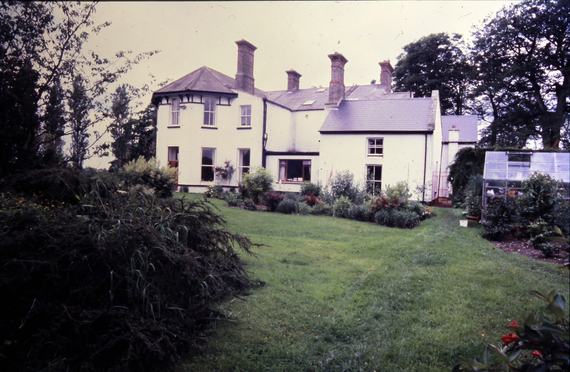 Ballysax Manor
Jack, a famed bloodstock agent (racehorse broker), was slowing down at age 72. In the past, though, during the season he would spend nearly as much time at the American, British and other racetracks as the Irish ones, building relationships in person, before the age of social media. Gradually, his sons Paul, Peter and Michael began to take over the bloodstock business. Paul and Michael also took on training the horses. Though, still working with the family, Mike moved his operation to North America where he covered the scene in Canada and the United States.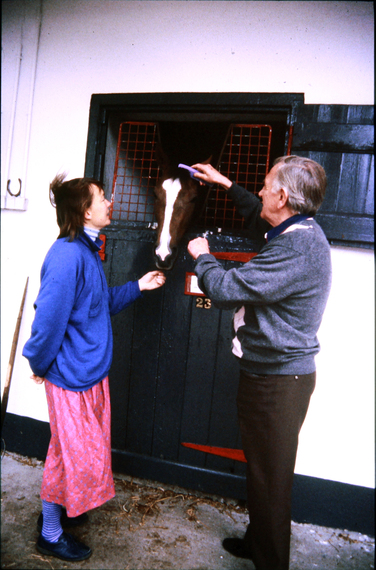 Sue and Jack Doyle visit a boarder
Back at home, 33 year-old Sue would care for the couple's young daughters; Tamso was 9 when I visited, and Bella a toddler. For a couple of years before Paul's death, the mother would also try her hand at training and she was somewhat familiar with the paperwork though, whenever he was home, Paul would mostly attend to that as well as management of the Ballysax farm and equine therapeutic swimming pool business.
After Paul died in 1986, it all fell on Sue's shoulders. She could have just thrown in the towel and cashed it all in but she decided otherwise. Horses were in her blood as well, and she opted to "carry the flag for Paul," as she said, with the training and breeding aspects of the business.
In addition to rearing her daughters, the highly individualistic young woman had to learn all the ins and outs of the entire business, and learn it fast. She couldn't afford to skip a beat.
Unique Style, Personality
Instinctively, Sue Doyle understood how to maintain her own unique identity while gaining acceptance in a separate culture. According to her eldest daughter Tamso, "She raised lots of eyebrows on the Curragh over the years, as she was a bit different; she'd do her aerobics there while waiting for the horses to come to the gallops, she drank herbal tea (unheard of at the time) and was into health food, poetry, art, culture, theatre, music, etc. As well, she arranged for Bella and me to learn the Suzuki method of playing the violin." Sue loved fashion and was usually ahead of the curve, rarely missing an issue of Vogue magazine; her colorful, individualistic outfits were another of her signatures.
The Business
Tamso continued, "Just after Dad died, Mum was training 65 horses, running a horse swimming pool business and doing three return (round-trip-) school runs a day as she wanted us both to go to a Montessori school (again thinking differently to others), so almost three hours a day driving back and forth as well as running the whole show and Ballysax Manor."
Ancillary responsibilities included attending numerous races, carrying out event-planning and execution for Ballysax Manor. On one Derby Day, said Sue, she planned and hosted a luncheon for 75 followed several hours later by cocktails for 100.
One of Sue Doyle's strengths was understanding the importance of building and maintaining relationships; from the top to the bottom of the social scale, she always had a friendly word. She cared about her employees, whom she was able to trust implicitly. And her friends knew they could count on her.
Gathering trusted employees in the house and outside, she learned to delegate as Paul had taught her - carefully, while respecting each one to know their jobs and to be motivated to do them well. Everyone who worked for her knew that the success of Ballysax Manor ensured their success as well, and they took pride in doing excellent work, with Sue setting the standard. "They (employees) see that I'm working really really hard all the time, and I never ask them to do longer hours than I do. Generally speaking, I do longer hours than anybody," she said.
Paul had always encouraged her to balance her responsibilities by delegating and, apparently she got the hang of that because, as jockey Kevin Manning said, "Sue was very easy to ride for, as she told you about the horse you were riding and left the decisions up to you. She was a lovely person both on and off the track." Manning rode Bold Jessie to victory in the 1990 Tattersalls Breeders Stakes, the third richest in Ireland that year, at £281,071.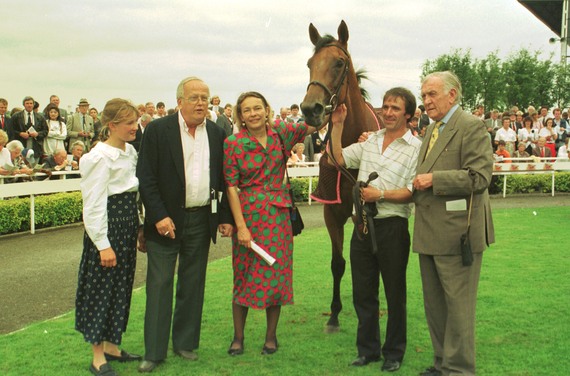 From left, Tamso Doyle (11), Edwin Cleveland (owner), Sue Doyle, Handler, Jack Doyle
Said Manning, "I recall Sue asking me to ride Bold Jessie after she had run at the Phoenix Park. I rode her work(-out) on the Curragh gallops shortly before she ran. Sue was present with her father-in-law, the well-known bloodstock agent Jack Doyle. She was adamant that the filly would run a big race even though she was not fancied by the bookmakers. The filly duly won at a big price (25/1 I think). It was a marvellous training performance on Sue's behalf as Bold Jessie was a highly strung filly and not easy to train."
Ballysax Manor's operations could be roughly divided into the inside part, and the outside. Inside, with the help of long-time family secretary May Finnegan who worked until 2 pm or 2:30, Sue kept up with the mountain of pre-computerized paperwork involving the international business -- breeding (periodic sonograms, weight, progress of fetus), travel (passports, visas for horses), sales, including international, (pedigrees prepared, trainers approached, prices suggested, that had to be sent off by Fax or Telex to America), training (feed, individual programs, condition of horses) and on and on.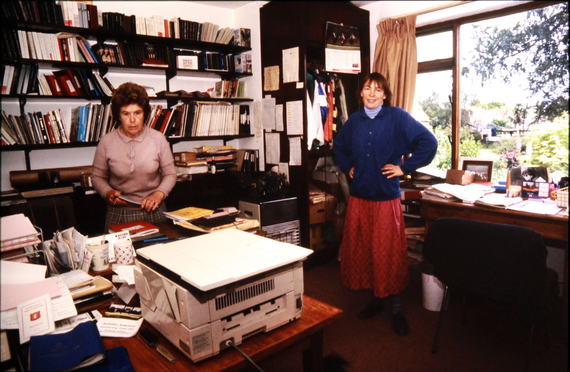 May Finnegan (l), Sue Doyle
Outside, Sue relied on Noel O'Toole, her 'head lad' for 15 years, to manage the details of her directives. His responsibilities included managing the stable staff and overseeing horses in the yard (walking, feeding, daily care). He was also in charge of breaking young horses, dealing with veterinary issues and carrying out medical treatments as directed by the vet.
For training, Sue was absolutely hands-on. On the day I accompanied her with toddler Bella for the training session, I still remember that dawn gallop on the Curragh -- the thrill of the thundering hooves suddenly appearing at the crest of a distant hill, pounding down toward us, louder and louder. Then, galloping past us so close we could almost touch them, they finally slowed and the riders formed them into a circle, walking slowly so that Sue could see each one and give individualized instructions. Some trained only once a week, others more often. And some would combine a therapeutic swim or substitute swimming for their training around the course.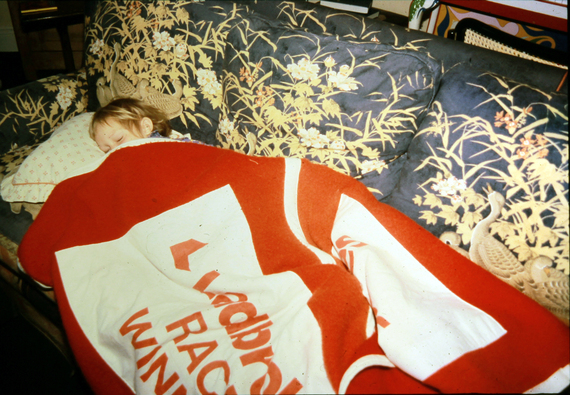 Toddler Bella Doyle, tuckered out after the morning gallop
In the equine swimming pool, racehorse owners from as far away as the West of Ireland would board their horses in order to heal sore, stiffened muscles while staff would exercise the animals aquatically. The horses would often swim three times a day. Other, healthy, horses would often alternate the aquatic training with gallops in order to strengthen their legs and stamina without stress. The horses seemed to love the experience!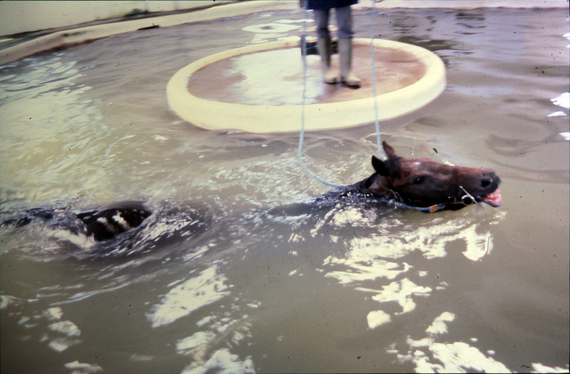 Water aerobics
Sue retired from training 16 years before she died. "The only reason she had to give up was bad debts; bills were not paid. She was too lenient and not good at the financial end of the business," said Tamso.
A voracious reader, artist and all-round lover of life, after her retirement from training in 1995, Sue went on to earn undergraduate and graduate degrees in psychotherapy. So, what this wonderful strong woman was able to pass on to her daughters is, 'it's not as much what you do, but what you are that counts,' and she was quality.
Today
Tamso owns her own PR and marketing consultation firm and, with her husband David Cox, they run Baroda Stud, a highly respected international boutique stud farm in Co. Kildare.

Tamso Doyle at Opening of 'Portrait of a Horse' Art Exhibition
Bella is a fashion designer in London and head pattern cutter for Richard Nicoll, a leading designer gracing the pages of Vogue Magazine.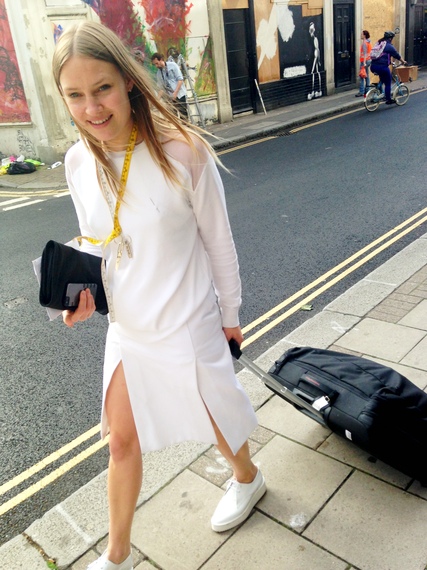 Bella Doyle en route to London Fashion Week
And, following those before her, Tamso's and David's toddler daughter India can look forward to a whole world of possibilities!