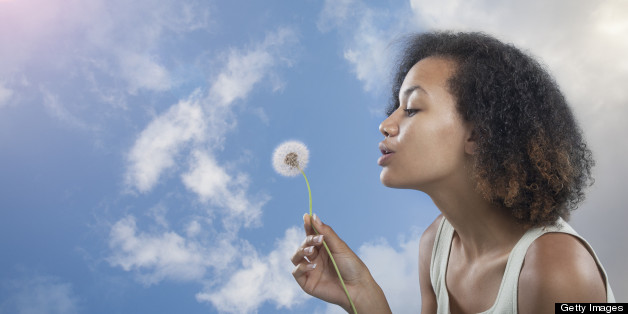 Those of us who remember the early days of Superman remember that he fought for 'truth, justice and the American way.' Over the years, America seems to have lost her way a bit; instead of living by ideals of morality, justice and excellence, much of our society has slipped to a greed and expediency-driven one. But on last Friday's Shark Tank three offsprings of immigrants, took a step forward.
What happened on Shark Tank last Friday (Episode 421) was a quintessential story of America's greatness, as an African-American, a Jewish-American and an Irish-Canadian-American came together in varying stages of following their dreams.
The way Shark Tank works is that entrepreneurs approach the 'Sharks' (self-made millionaires and billionaires), requesting support for their businesses. The petitioners announce the amounts and terms of their requests, make a presentation -- often passing around samples of their products -- and wait for each Shark to make an offer. One-by-one, Sharks probe for details of the business then either decline to invest ('I'm out'), or make a counter-offer.
Last on Friday's show was Carol Foster, a poor, hard-working African-American single mother of a 12-year-old daughter, who came with her dream and laid it at the feet of the five Sharks, reminiscent of W.B. Yeats' poem, "He Wishes for the Cloths of Heaven": "But I, being poor, have only my dreams; I have spread my dreams under your feet; Tread softly because you tread on my dreams."
She presented her business, Mee-Ma's Louisiana Gumbo Brick to them, seeking $200,000 for a 20 percent share. Passing samples of her product to the Sharks, they all said it was delicious. In a strong, dignified businesslike manner, Ms. Foster told them she was seeking assistance in increasing her inventory so that she could distribute her product to more stores.
Foster, a former truck driver and restauranteur who had fallen on hard times had begun making her Grandmother Mee-Ma's recipe, and started selling it, at first on street corners; she then went to Costco in Los Angeles, where they let her set up a 'sample' stand, and she started selling her Gumbo Bricks.
Because Ms. Foster doesn't know much about business, usually, someone in her position would hear the Sharks one-by-one say, "I'm out." As Canadian-born Shark Kevin O'Leary said earlier in the program. "The only reason to do business is to make money; that's the only reason for doing business," and the five sharks were there to pick winners in whom they would invest and from whom they would ultimately profit.
O'Leary, knows what he's talking about, his mother gave him him $10,000 to start a software publishing firm called SoftKey which, after acquiring several other companies, he later sold as The Learning Company to Mattel for $3.8 billion.
Ms. Foster lacked business acumen; three Sharks had already gone 'out', Mark Cuban, Daymond John and Robert Herjevec; only O'Leary, and Greiner remained.
Her mouth open, beads of sweat forming on her brow, Foster looked from one to the other. Finally, O'Leary spoke. "The product is so fantastic, but the infrastructure isn't there. Lori, what are you going to do?"
Greiner looked at Foster. "I love you and I love your gumbo, but I'm kind of on the fence because $200,000 is a lot of money, and...I don't think you're there."
Long pause. Then Foster looked them in the eyes, her voice still strong, still perspiring, and made her last-ditch pitch. "This is the smartest thing I've ever come up with to do. It's my life; it's all that I do," she said. "Right now, I'm homeless. I'm staying with friends, and when I'm not with them I go over to my sister's house and stay with them; and when I'm not, I have my van."
You could've heard a pin drop.
"Where does your daughter live?" asked Herjevic.
"She's with me; she's always been with me. By her being with me all this time she knows how to write a business plan; she knows how to check prices on different items that we use. When I decided to become a truck driver and reinvent myself, I felt empowered because I was doing a man's job but I was taking care of my baby at the same time. And that's why I'm here; I'm here for her."
"This isn't right", said the reputedly coldest shark of all; "I'll put up half; this is crazy," he turned to Greiner. "What do you want to do? She's got a product; come in with me."
Long pause. "OK," she said, "Here's the offer: $200,000 for 50 percent." (Foster had asked them to invest for 20 percent.)
"What you have is a lot of drive and a great product," said O'Leary. "The problem is you don't have a business, and we're gonna fix that for you.
"So we have to make sure that we run it, and we make you very, very successful," said Greiner.
"Oh, my God!" said Foster.
"Do you take their offer?" asked Daymond John.
"Yes!"
"Then get ready to work your ass off!" said O'Leary.
"And make a lot of gumbo!" said Greiner.
"Yes! Yes! Yes!" Eyes shining, she hugged them both.
"That's what happens in the Shark Tank", said O'Leary. "If you're willing to work. That's what makes America great; people like you."
Clearly, Carol Foster might have been a candidate for welfare, but she took another road; the road to entrepreneurial success via hard work.
The ancestors of Foster, O'Leary and Greiner had each travelled miles and miles across the sea to the new land. Each of them required strength, courage and hope in order to survive.
In their own ways, each of these descendants would have made their forebears so proud, because they showed that they truly understand what it means to be an American in the best possible sense. Lori Greiner, Kevin O'Leary and Carol Foster are helping to redefine The American Way. Hats off to them!