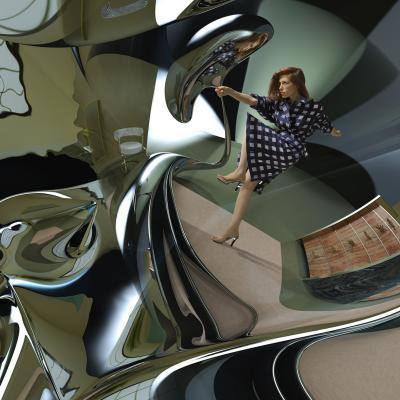 Photo Credit: Glasser Music's Facebook
Bay area artist Glasser put on a visually stimulating performance at The Chapel in San Francisco Monday night. Dressed in a classic '50s style belted dress and heels, with a bun on top of her head (and a ponytail in back) she bounced around on stage for a quick 60-minute performance.
Accompanied by only a percussionist and a few premixed tracks, the fresh-faced Glasser (Cameron Mesirow) produced a voice much bigger than expected. Comparable to Dolores O'Riordan of The Cranberries, its evident that she has a high-pitched range that she utilizes frequently. She tended to use her voice as an instrument in and of itself last night, sounding almost like yoga style fire-breathing with sound.
The percussionist tucked away in the back of the stage, who played a variety of drums and the wind chimes, was fairly impressive. I tend to be a fan of dense bass and drums in music that's also heavy with vocals. Glasser's compositions succeeded in this effect and it's obvious that her music would not be nearly as remarkable without the live percussion.
The stage was set with a back-drop screen, as well as a wide-screen LED television set on stage right, that continually played colorful, liquidy images in time to the music, which sort of made me feel like a stoned teenager watching milk drop on a PC laptop. It was also interesting to see this accompaniment in such a small venue, and not at an EDM festival. Glasser danced around the stage in front of the screen like a small child watching herself in the mirror, and offered sincere and breathless gratitude between each song, projecting her innocence onto the crowd.
She's headed across the pond to finish out her 2013 tour, but if you're lucky enough to be gallivanting around Europe soon, check her website for upcoming tour dates: http://www.glassermusic.com/tour.html