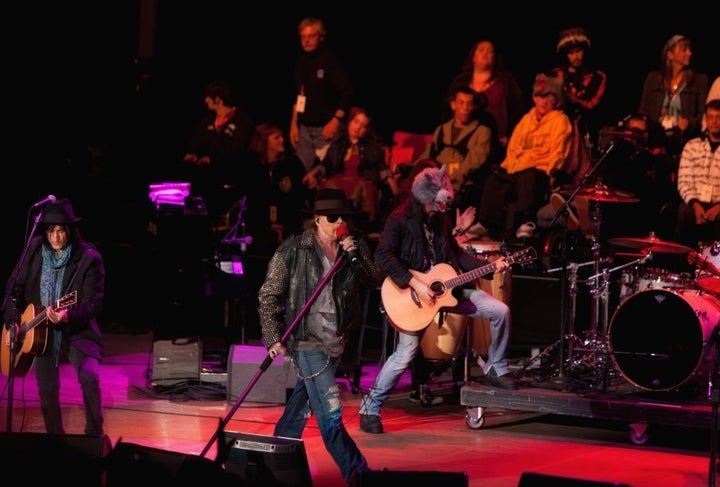 Have you ever wondered what the Guns N' Roses classic "Welcome to the Jungle" sounds like when performed acoustically?
If you were at the Bridge School Benefit concert at Mountain View's Shoreline Amphitheater this past weekend, you're wondering no more. Axl Rose and his band of rock rebels performed an acoustic set, as did many other notable acts, at Neil and Pegi Young's 26th annual nonprofit event to raise money for their Bridge School, an institute educating children with severe physical and speech impairments.
I was a bit skeptical about this year's show, especially because last year's set the bar pretty high with a lineup that included Mumford and Sons, Arcade Fire and Foo Fighters. (Not to mention that several of the acts scheduled for this year sounded a little too much like the Lilith Fair roster circa 1993: k.d. lang, Lucinda Williams, and none other than the painfully heart wrenching songstress herself - Sarah McLachlan.)
My skepticism turned out to be somewhat justified. While there's no argument that these women are talented and have beautiful voices, their ultimately lackluster performances failed to impress.
And then there's the issue of how a band will handle the acoustic requisite of the show. Acts such as The Flaming Lips and Foster the People were made famous in part by their utilization of electronic sounds.
The Flaming Lips took the approach of having a live beat boxer, comedian Reggie Watts, replace some of their psychedelic sounds. Front man Wayne Coyne only let the mellow tone of the evening calm down his stage presence slightly, still riling up the crowd as much as he could. Mark Foster of Foster the People took to using a xylophone to play most of the melodies in the group's catchy tunes, which very closely resembled their electronic counterparts and had a skillfully unique sound.
Earlier in the day, Steve Martin played a fun bluegrass set with the Steep Canyon Rangers, combining comedy interludes with impressive fast-paced fiddle playing (seriously, this guy was the Olympic gold medal sprinter for fiddling). Jack White's acoustic interpretation also had a southern twang to it, and he and his band played a good mix of newer songs from his recent Blunderbuss album as well as some old White Stripes classics such as "We're Going to Be Friends."
And of course, Neil Young ended the night with his set, which included all the artists from the day coming out on stage for an elaborate rendition of "Keep on Rockin' in the Free World."
The only real disappointment of Sunday's show was the fact that Eddie Vedder did not make a second surprise appearance, as he had the night before. Especially because he was one of my favorite performers last year when I heard how beautifully he plays the ukulele.
Nonetheless, this year's artists put on a great show, and it's truly remarkable that this event is able to happen every year. The money they raise is amazing in itself, but more importantly, it really gives Bridge School students a special experience. Children from the school sit on stage behind the bands as they perform, often times being sung to by the artists up close. It's hard not to tear up when you see the smiles and excitement on their faces.
Whether I enjoyed every performance or not, it's nice to know that the money I spent on my ticket went towards the Bridge School. I hope Neil Young and his wife are able to continue this tradition for many years.
Take a look at images from the festival below (photos by Jamie Soja):
PHOTO GALLERY
Bridge School Benefit 2012