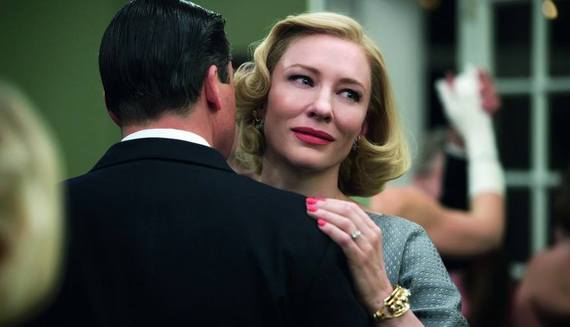 With Cannes in full swing, the topic that seems to keep popping up everywhere this year is female representation in the film industry. Carol, starring Cate Blanchett and Rooney Mara, which just premiered at the festival, has begun to drive the conversation towards female-centric storylines. Gender equality in film, both how it is portrayed on screen and how it's practiced behind the lens, has been a hot topic for many years now. But with more mid-range and big budget films presenting female driven plots and women as main characters, the issue is now at the forefront of cinema discussion more than ever.
In a recent Variety interview, Cate Blanchett discusses her role in Carol and the importance of this type of narrative in the film world. Carol centers on two women who begin an intense love affair with each other in 1950's New York. Right off the bat you have an uncommon Hollywood combination: two female main characters (in a non "chick flick" movie) who are also homosexual.
Blanchett comments in the interview that films such as these, with strong-willed female protagonists and a gay romance storyline, are hard to finance because many people are under the impression that movie-goers don't want to see this type of film. But that simply isn't true anymore. There have been a number of actresses who've played extremely strong, tough characters in recent years -- Meryl Streep and Reese Witherspoon to name a few -- which have been very well received and widely accepted by audiences. But the gay love story still presents a set of new challenges entirely.
It's unclear whether its actually the gay romance storyline that audiences aren't receiving well, or the lack of funding and promotional efforts that go towards films of this type, because of the fear that audiences won't receive it well. Brokeback Mountain was a breakthrough in the gay love story, but that was over a decade ago now, and the genre has yet to become fully integrated in the mainstream. Blue is the Warmest Color received quite a bit of critical acclaim, and did find some mainstream success, but unfortunately this was mostly due to the fact that it contains a number of provocative lesbian sex scenes.
Luckily it seems that more people are realizing how important the opinions of women and the LGBT community are to the art of filmmaking, and that they will continue to be an integral part of the film industry's evolution. This year at Cannes, The Hollywood Reporter is partnering with Kering, a parent company to designer brands like Gucci and Balenciaga, who has been at the center of women's rights issues since its inception in 2009, to present a panel called "Women in Motion." The panel will feature actresses such as Salma Hayek, Isabella Rossellini, and Frances McDormand, who will discuss female representation in the media today, as well as the role of women working in film, both onscreen and behind the camera.
It's quite thrilling to see so many influential media personalities discussing these issues and attempting to bring the female narrative to mainstream film. We need to tell the stories of women and of the LGBT community if we ever hope to live in a society where we understand and respect one another. I'm a firm believer that film, television, and music play a powerful role in the ideas we have of what is normal, acceptable, interesting, and important. These ideas must broaden to include the stories of gays, lesbians, and women. Their stories must be seen as normal, acceptable, interesting, and certainly important, if our ideas for the future include living in a peaceful society.