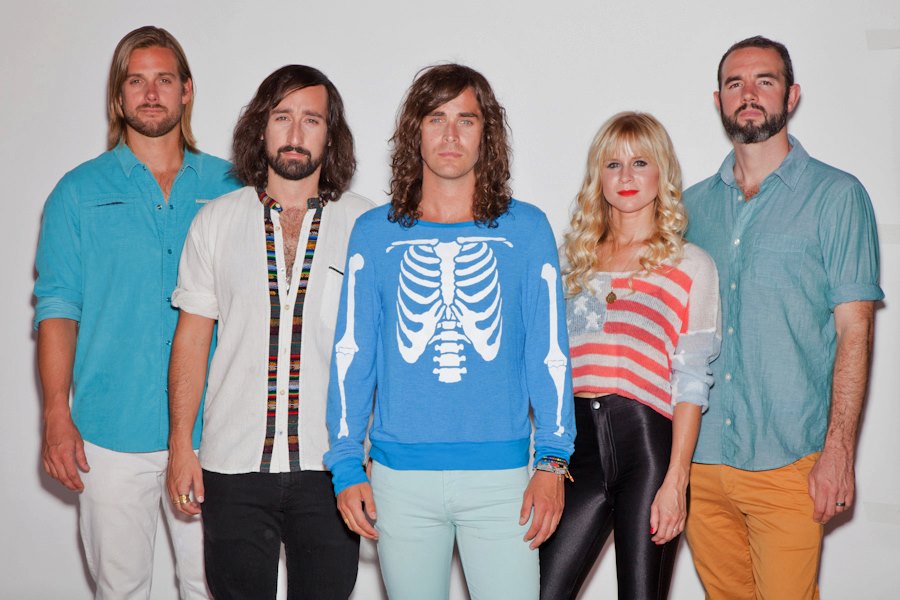 If you live in Southern California, you've definitely heard their single "We Come Running" on the radio, and by now you might even be able to sing along to the catchy, feel-good lyrics. Youngblood Hawke, a self-described "electronic rock, pop, and funk" band based in LA who just finished up opening for Keane on their U.S. tour leg, have gained massive popularity seemingly overnight.
But achieving this level of success so quickly hasn't been an easy road. The bandmates have all worked hard at their craft, playing in a number of projects over the years, including longtime friends Sam Martin and Simon Katz who saw some mainstream success with the pop-rock outfit Iglu and Hartly in 2008 and 2009, before parting ways with the other members.
This is a group of musicians who know what it means to work hard for what you love. Youngblood Hawke will be enjoying the fruits of their labor this spring with their first full-length album, Wake Up, scheduled for release April 30, as well as embarking on a headlining North American tour that kicks off with a sold out show at the Troubadour in West Hollywood on March 7.
I had the opportunity to ask Sam Martin of Youngblood Hawke a few questions about the band's music style, touring with Keane, and what we can expect from them in the future.
I know that Sam and Simon are former band mates from Iglu & Hartly, but how did the full group of Youngblood Hawke come to form? When Simon and I started writing demo songs for this project we basically had a "dream list" of people we'd like to have in our band. We sent those people the early demos and luckily they all said yes! We've all known each other for many years and have played together in different projects. Tasso, Simon and Alice grew up together in San Antonio. Alice was already living in LA and Tasso moved here from Florida to be our guitarist. We met Nik, our drummer, when he toured with our old band in the UK. It came together really easy and naturally. It feels good to play music with your best friends.

What are the musical backgrounds of each band member? How did you all collaborate to find your sound as a group? I think we all grew up playing different music in various bands. No one really has a specific style. Everyone brought their own unique flavor to the recording sessions. We worked off the early demos that Simon and I had made and the sound just evolved from there. Everyone added their own spice, which helped make the songs so unique.

How does your previous musical success affect the appreciation you have for Youngblood Hawke's success today? Do you think the members that are new to this level of success might not appreciate it as much? This means so much more because the music means more to us. These songs are exactly the songs we wanted to make. All these songs are deeply personal to us and this is the first project we've been involved with that we were able to express ourselves exactly how we wanted to. The whole band has worked extremely hard to get where we are and we've all been working in music for a long time. This is a dream come true for all of us.

Your music has been described as "upbeat and poppy." Would you agree with that description? I would say our music is upbeat with pop elements. I'd say it's a mix of electronic rock, pop and funk. Our songs are uplifting and positive, but if you really listen to the lyrics you'll find that they can be weird and dark too. We like to explore all sides.

How did you come up with the idea of having the West LA Children's Choir sing on "We Come Running"? Simon's always dreamed of getting a children's choir on some of our songs. The children's choir was perfect for this song because it really went along with the message. The song's about not giving up on your passion and believing in yourself, having a childlike view of the world. When you're a kid you think that you can be anything! Astronaut, firefighter, cowboy! So it was only natural to get kids on the song.

Are you finished recording your first full-length album or are you still in the process? We just finished the full-length. We're so excited! It comes out in April. It's an evolution of the EP. It's goes in weirder, different directions. We explore different styles and sounds, but all the songs still feel like us.

You recently finished touring with Keane - what was your craziest experience or most rock star moment from the tour? Oh man, I would tell you but then I would get in trouble... maybe in a few years?

The name of the band was inspired by the Herman Wouk novel of the same title. What other sources, literary, musical, or otherwise, have inspired each of you in your music career? We're all constantly influenced by different mediums. Whether it's a great movie, book, painting, you can't help but be inspired. Songs can pop up anywhere at anytime. Anything that challenges you or forces you to think a different way is inspiring to us.
Youngblood Hawke is: Sam Martin, Simon Katz, Tasso Smith, Alice Katz, and Nik Hughes.