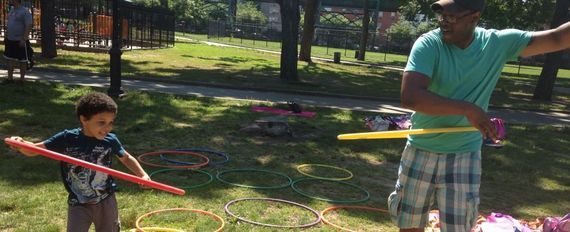 By Allison Cooper
So, you thought that date nights were simply for romantic moments of re-connecting with your spouse, and enjoying quality time together without the constant interruption of children's voices? Wrong! We have been shaking things up in our home, and scheduling parent-child "date nights." We're putting just as much focus on this precious one-on-one time as we are family time.
You see, my husband and I are very different and don't have a ton of common interests. I know, I know -- how does a relationship like this work? The truth is that we balance each other out and have just enough in common (though finding shows to watch on television together is often challenging!). Our son shares many common interests with both of us, and it recently became apparent that he was craving those one-on-one moments with us to share those special interests.
At first, since we're always so focused on creating this important family time, we questioned ourselves. Is it okay to give up that togetherness and branch off? The answer was a huge "yes," and here's why:
You will learn more about your child
I have a lengthy to-do list each day for my son when he gets home from school that completely takes away from us having important conversations. During these special "date nights," we are able to free our minds and toss aside these lists. I've learned so much about my little man during these dates. You might just find even more similarities with your child than you never realized!
Oh the memories!
Knowing that you are in a sense "off the clock," and looking to just hang out and have fun with your child, memories are made. Having these special moments that are just for the two of you will strengthen your bond and make your relationship even more extraordinary.
Quality over quantity
Life is busy! But, you don't need me to remind you of that. I've learned that when I'm able to put the phone away and spend this quality time with my son, it helps balance those moments that I just don't have the time to give him my full attention. This quality time with your child will always be more momentous than hours and hours of unfocused time. These are the moments where lifelong connections are made, where you become more than just the parent, but your child's hero.
The "left out" parent will get some much needed alone time
We could all use some alone time, and working out an alternating schedule of "dates" with your children will give the parent who is sitting out some alone time. If you have more than one child, then the parent sitting out will have some quality time with your other child. And lastly, if you have more than two kiddos, it's always easier to find babysitting for less kids -- so alone time can still happen!
Do you have one-on-one date nights with your kids? Let us know in the comments below!
Photo courtesy of Allison Cooper
More from Mommy Nearest:
You Know You're a Stay at Home Parent in the Summer When...
30 Things I Never Thought I'd Say Before Becoming a Parent
I Never Thought I'd Love Being a Stay at Home Mom...But I Do
This piece was originally published by Allison Cooper on Mommy Nearest. Allison is the Founder & CEO at Project Motherhood, which is a resource for moms learning to accept their post-pregnancy body and always rock their #MamaStyle! She also provides Styling Services for those in need of a little fashion assistance!

Please share your opinion below! And for more original content, check out the Mommy Nearest Mobile App, free for iPhone and Android.