With Airstream in tow we drive the windy roads of Oregon's high dessert slowly approaching our destination and I couldn't be happier. We just high-tailed it out of a campground that was dry camping only which would have been fine except that on this particular day the mercury rose to over 100 degrees F and I couldn't take one more minute of it. Dry camping literally means you are self-sufficient for power, water, etc. RVers typically travel with generators or solar panels for power when dry camping. Our energy of choice was a generator which on this trip we discovered did not have enough juice to power the Airstream's air conditioner. I don't think I ever packed up camp so fast in my life to leave for a destination that offered full hookups, which would mean, air conditioning!
Pulling into the Kah-Nee-Ta Resort was like experiencing a mirage in the Mojave dessert. A big beautiful blue pool, green grass, sprinklers spraying sparkly water -- we have arrived I tell you. I could have kissed the grass.
PHOTO GALLERY
Camping in Oregon's High Desert
We set up camp and bee-lined it for the pool where we enjoyed the cool life. In the evening the temperature dropped to a comfortable temperature and neighboring RVers started lighting up their grills for an evening feast. Kids played Frisbee on the perfectly manicured cool green lawns while parents watched with cool drinks in hands.
The next morning we woke early to take a full day fishing trip on the Deschutes River. Our friends and guides Matt and Nate from Deschutes River Outfitters ask us to meet them at the local grocery store and they would take us to the put in on the river. As I climbed into their truck, I noticed an assortment of colorful, feathery fishing flies stuck all over the driver's side sun visor along with a Salmon ornament dangling from the rear view mirror. These guys love to fish and we could hardly wait for them to show us fishing in their neck of the woods.
As we began our float down the river in our drift boats, I reflected back on the last few years where I have taken quite a liking to the sport of fly fishing. As a matter of fact, I remember specifically when I got hooked (pun yes) on the sport during our Montana trip along the Gallatin River during our River Runs Through It Tribute. I will never forget the feeling of fishing the river with the cool clear waters and the big beautiful fish we caught and gently released. After leaving the river I felt totally accomplished, like I really knew what I was doing.
Wrong. Turns out when you fly fish, you are continually learning. Each fishing adventure is a learning experience as there isn't a single method to any type of catch. You need to consider so many factors I learn from Nate on this trip that my head spins, thankfully he makes it easy for me to understand through demonstration and technique.
PHOTO GALLERY
Fly Fishing the Deschutes River in Oregon
We spent our day floating down the river experiencing some incredible views. Matt and Nate would remind us every so often to have a sip of water as the temperature was soaring but being inside of the boat and on the river you couldn't tell. Preventing dehydration is important and these guys were on the top of their game with that. We eventually went to shore to enjoy a riverside lunch of grilled chicken skewers and a cool crisp salad while continuing to fish from the shore.
Then came the moment of heart pumping fear for me. It was time to Chute the Chutes. Literally. The White Horse Rapids were ahead. These rapids are a class III+ (note the +). Class III simply means there are high and irregular waves, strong eddies, narrow but clear passages that require expertise in maneuvering and scouting from the shore is recommended. The + means it can get way more gnarly than that. I learn that kayakers from all over the world travel here to experience them. There are countless forums online dedicated to discussion of this particular rapid. This is all Nate tells me. All I can think is that we are not in a nimble kayak but rather in a heavy hard bottom drift boat and we are going to go through this?! What?!
But I trust Matt and Nate because they are confident and ensure me they know exactly what they are doing. So with that, I place all my 43 years of life into their hands along with that of my husband, son and little dog. We hang on tight and go for it.
PHOTO GALLERY
Chute the Chutes
The feeling of accomplishment of surviving that rapid was one I will never forget! Talk about an adrenaline rush. It is only afterwards when we hear other news about the rapids and horror stories. I'm so grateful that we are continuing along our float down this river and I am even more grateful that Nate spared me those stories until after our wild ride.
We eventually reach the put out on the river and it's time to head back to camp. I am ever so grateful to Matt and Nate for teaching us some invaluable fishing skills and showing us the beauty of the river.
I have taken back with me to Seattle those fishing skills which helped me catch and release some pretty beautiful fish here in the Pacific Northwest and for that I am forever grateful.
PHOTO GALLERY
Fly Fishing the Cle Elum River
The sport of fly fishing, for me personally, is the experience of how one connects with nature. From the thrill of the catch to the humbleness of the release, to the beauty around you, a day spent fishing is one of the best days I truly believe. As each season blends into the next I find myself longing for the spring, summer and fall where I will be able to fish to my heart's content.
Our Airstream takes us on a road trip next week through snowy Montana and maybe, just maybe I'll bring my fly rod along and give winter fishing a shot.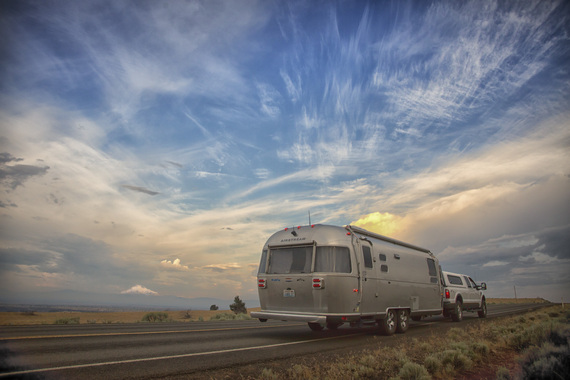 For more Airstream adventures, visit Just 5 More Minutes or follow along on Instagram
Photography by Monica Bennett