We are all aware of the fictional content of a comedy TV series but, in addition to jovial interaction between the show's seven main characters, the script for The Big Bang Theory is steeped with accurate scientific references and can claim fans from as far afield as the world of renowned physicist, Stephen Hawkings, to comic book legend Stan Lee.
Kunal Nayyar, who plays astrophysicist Raj Koothrappali, won audiences' hearts early on in the series with his inability to voice a single word in the presence of women and with his compassionate, caring and sympathetic attitude toward his friends. His character may be fictional but those compassionate traits transfer to reality and, when it comes to animals, speaking out certainly isn't a problem for actor, Kunal, who is calling on the US to ban all cosmetics testing on animals.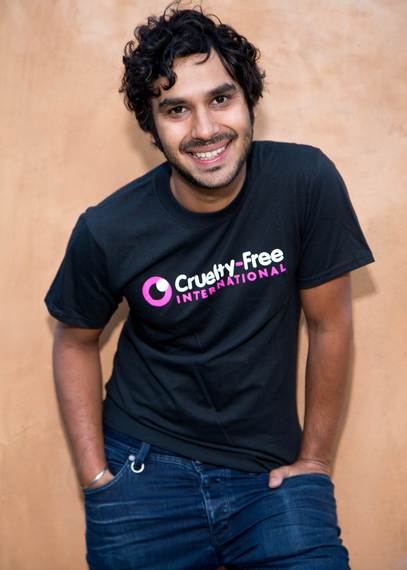 Kunal is the second cast member from the award-winning show to team up with Cruelty Free International to campaign for a United States ban on animal tests for cosmetics. Mayim Bialik, who plays Sheldon's girlfriend Amy Ferrah Fowler, joined the campaign last month and has recently supported State Senator Marty Block (SD-39) in urging the US to join California, the European Union (EU), and Norway, India, and Israel in requiring the use of humane non-animal tests for cosmetic products.
Kunal was born in the UK and grew up in India, thus having already spent significant time in two countries already leading the way with a complete ban on cosmetics testing on animals. Yet, despite the availability of humane non-animal tests, the US continues to allow cruel animal tests for make-up, shampoo, toothpaste and other cosmetics.
Kunal said,
"I am delighted to join the Cruelty Free International campaign to end the use of animals for cosmetics tests around the world. I am proud that in England, where I was born, and in India, where I grew up and have lived for many years, animal testing for cosmetics has already been banned. The U.S now has the opportunity to follow suit and I urge everyone to get behind the Humane Cosmetics Act. "
Hundreds of thousands of Americans tune in to watch each episode of The Big Bang Theory, which has made the actors some of the most popular personalities in the US because of their charm both on and off-screen.
Audiences are always keen to follow the lives of actors from their favorite shows and listen to what they have to day. That is why it is wonderful when actors choose to speak up for issues they believe passionately in and use their spotlight to divert attention onto global causes.
The introduction of the Humane Cosmetics Act in March means that the US is closer to potentially saving the lives of thousands of animals suffering in experiments and the time is now for us all to make our voices heard and encourage federal legislators to back the Bill and finally end this cruelty once and for all.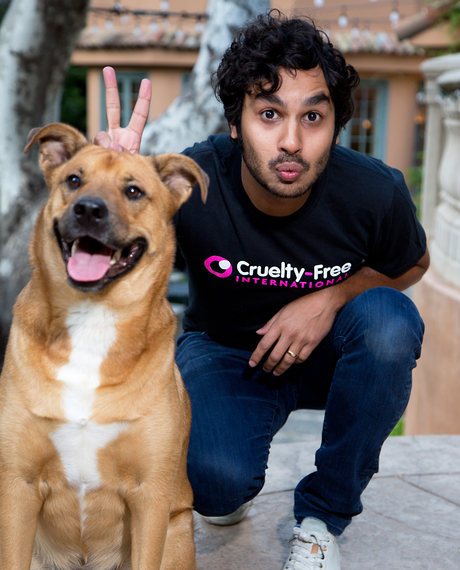 I hope you will join Kunal, Mayim and Cruelty Free International in encouraging the US to take this opportunity to spare animal suffering and get behind the Humane Cosmetics Act.
Find out more at crueltyfreeinternational.org/usa
Photo credit Leslie Hassler