The global bandwagon towards ending animal testing for cosmetics is gathering speed -- first Europe, then Israel, then India. Now as part of this year's Jakarta Fashion Week, Cruelty Free International and The Body Shop, joined by hundreds of supporters, called on the Association of South East Asian Nations (ASEAN) to make the region cruelty-free.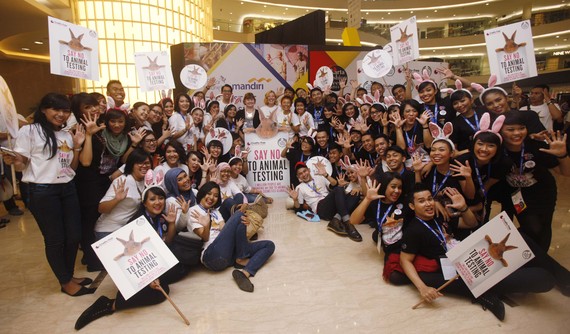 ASEAN, headquartered in Jakarta, consists of ten Southeast Asian nations including the rapidly-growing emerging countries of Malaysia, Indonesia and Thailand. ASEAN is the body responsible for regulating animal testing in cosmetics for countries in the region. As is the case in the United States, and many other countries, in ASEAN there are currently no regulations or laws banning animal testing of cosmetic products and ingredients or the importing of those tested elsewhere.
ASEAN's Heads of Delegation will now discuss Cruelty Free International's proposal to ban cosmetics testing across the region at the ASEAN Cosmetics Committee in Kuala Lumpur this November. This is a real breakthrough and follows a Cruelty Free International funded project in Vietnam to convert to non-animal alternatives. Vietnam is the only country in ASEAN that actively tests cosmetics on animals, but during a visit by Cruelty Free International last year the Vietnamese State testing laboratories reached an agreement in principle to convert to non-animal tests for cosmetics.
ASEAN has traditionally matched EU legislation and Cruelty Free International are hoping they will follow suit on the issue of cosmetics testing. Indeed, when it comes to cosmetics testing on animals the writing is on the wall -- animal tests are outdated, unethical, and ultimately doomed.
While the ethical case for ending cosmetics testing on animals has been well-established for years, the European ban on the sale of any new animal-tested cosmetic has made an economic case for companies around the world to change their business model and switch to modern non-animal testing methods. Cruelty Free International has been encouraging a ripple effect from the EU ban by working within a number of countries including Korea, Brazil, China, the USA and Vietnam.
To keep the issue at the forefront of the public consciousness and to draw further attention from decision makers around the world, Cruelty Free International partnered with The Body Shop to collect over one million signatures in support of a global ban on animal tested cosmetics by asking Body Shop customers in stores across 65 countries, including the USA, Canada, Australia, New Zealand, South Africa, Korea, Japan and Russia to sign the pledge. This was largest and most ambitious campaign ever to seek a global ban on the use of animals to test cosmetics.
In a global market it is important that all countries ban the practice to avoid animal testing from simply being moved around the world to those countries without a ban. The EU has shown that a ban is possible, and now over a million consumer voices have spoken and, it seems, that Southeast Asia is paying attention.