If you are anything like me, you were a fan of The Sopranos and you probably remember the scene leading up to the demise of Adriana La Cerva, excellently played by Drea de Matteo, as one of the most nail-biting, heart-wrenching of the series.
Again, if you're at all like me, you were drawn in to the FX drama Sons of Anarchy, and found yourself rooting for Wendy Case who, in the end, became one of the most redeeming characters on the show. This character was also flawlessly portrayed by de Matteo.
If either of the above is true for you then you'll understand why I am thrilled that Drea is the latest celebrity to lend her support to the Cruelty Free International campaign to end cosmetics testing on animals in the United States.
"Animals shouldn't suffer for the sake of beauty. I'm proud to join Cruelty Free International in calling on the United States to end cosmetics testing on animals." -Drea de Matteo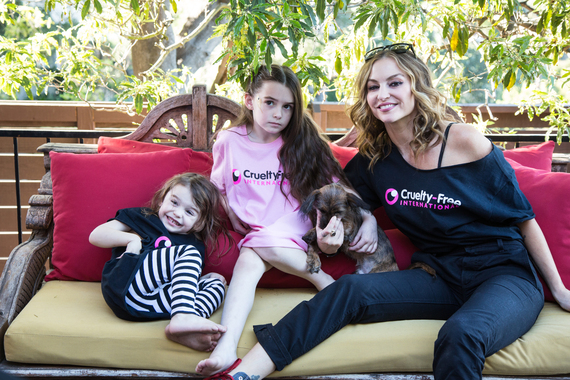 The Cruelty Free International photo shoot became an activity for the whole family including her daughter Alabama, son Blackjack and rescue pup Blankie.
Shopping cruelty free is also often a family affair, with conscientious shoppers actively looking for products that are not tested on animals for themselves as well as for their kids and companion animals.
Thankfully it's not hard to shop cruelty free for everyone as many Leaping Bunny certified companies offer products for the whole family. For example, for furry friends, there is John Paul Pet, by luxury beauty brand Paul Mitchell and Halo, Purely for Pets® owned in part by award-winning talk show host Ellen Degeneres which offers a range of grooming supplies. Kiss My Face and Badger Balm are among the many companies that offer a range of cruelty free products from bubble bath to sunscreen specially formulated for kids and babies.
For cosmetic companies forgoing animal testing, it is not only the right thing to do for animals but it's also a smart business move. A March 2015 Nielsen survey found that "not tested on animals" was the most important packaging claim among those surveyed.
"When it comes to claims in the beauty aisle, consumers appear most invested in animal welfare, as "not tested on animals" was the most important packaging claim among those surveyed" - James Russo, SVP, Global Consumer Insights for Nielsen.
One of the things I found most interesting about this survey was the span of generations it included. Of those surveyed, 37 percent were Millennials (age 19-34), 29 percent were from Generation X, 24 percent were Baby Boomers, 5 percent were from the Greatest Generation (age 69+) and 5 percent were from Generation Z (age 18 or younger).
That's right, Generation Z is officially a consumer demographic and, according to a recent Forbes article, they are a force to be reckoned with. Clearly the demand for cruelty free products isn't going away.
With high consumer demand for cruelty free products across multiple generations and fantastic celebrity supporters like Drea de Matteo helping to keep the awareness high, we are getting closer to a day when animal testing for cosmetics in the US will be a thing of the past.
If you're like me, you think that day can't come soon enough.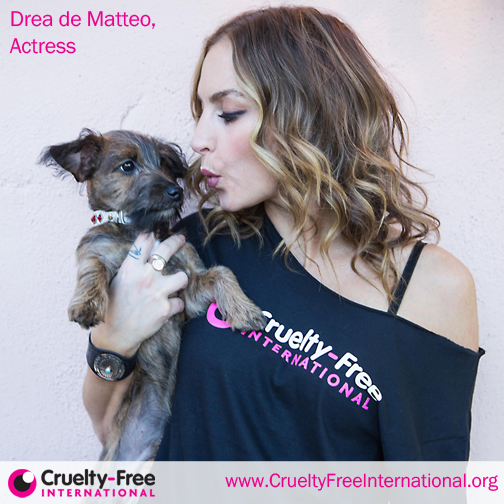 photos by Leslie Hassler