Oscar Nuñez, perhaps best known for his role as accountant Oscar Martinez on the U.S. version of the hit television comedy series The Office, has teamed up with Cruelty Free International to call on the United States to match the European Union in ending cosmetics testing on animals.
Fans of the show will recall that the character Oscar Martinez was known for being one of the few level-headed, rational characters on the show, which made for hilarious interactions with the quirky co-workers and downright inappropriate boss. In fact, in one episode Oscar refers to himself as part of the "Coalition for Reason" along with other "sane" officemates Jim, Pam and Toby. And what fan of the show could forget Oscar's "Finer Things Club"? I laugh every time I think of that episode ("Branch Wars").
I was lucky enough to meet Nuñez, as well as his adorable senior rescue dog, Gus, for the Cruelty Free International photo shoot. As you might expect, he is very funny, but he knows that animal testing for cosmetics is a serious matter. He said, "I am proud to join Cruelty Free International in urging the United States to end cosmetics testing on animals."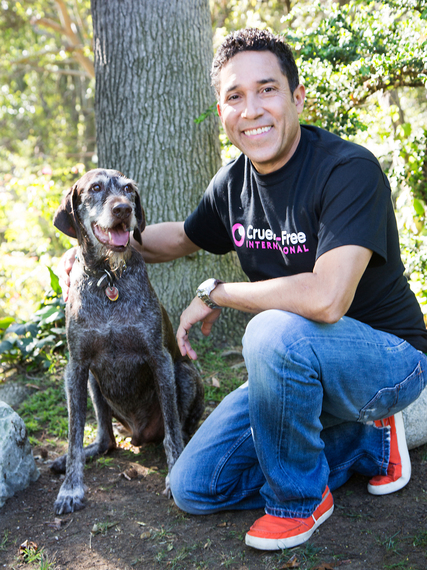 Photo by Leslie Hassler
It is high time that the U.S. take positive action on this issue or risk falling even further behind the global trend. In fact, this week marks the second anniversary of the historic ban on the marketing of new animal-tested cosmetics in the European Union, which went into full effect on March 11, 2013.
Furthermore, India now has a testing and sales ban in place, while Brazil, New Zealand and South Korea recently made significant strides toward ending animal testing via legislation or policy decisions. Vietnam has agreed to end animal eye- and skin-irritation tests, and there have been promising changes in China's acceptance of non-animal tests for regular cosmetic products manufactured in the country.
Alternative methods are tests that use simple organisms like bacteria, or tissues and cells from humans (in vitro tests), and sophisticated computer models or chemical methods (in silico and in chemico tests). Such tests are usually cheaper, faster and more predictive for humans than the now-antiquated animal tests that were first developed over 70 years ago, when product testing was in its infancy.
Despite all the innovative science and global progress on this issue, I am constantly surprised that many Americans are completely unaware that the U.S. still allows cruel tests for cosmetics. I find that, once informed, they overwhelmingly oppose the practice. Multiple opinion polls have found the same. For example, a random telephone survey of U.S. adults conducted by ORC International in 2011 found that 72 percent of respondents agreed that testing cosmetics on animals is unethical, and that 61 percent believed that it should be disallowed.
Bringing this issue to the forefront of the public's mind is a key step toward finally bringing about an end to the practice in the United States. How lucky we are to have celebrities like Oscar Nuñez to help bring this information to the public attention. Thanks, Oscar!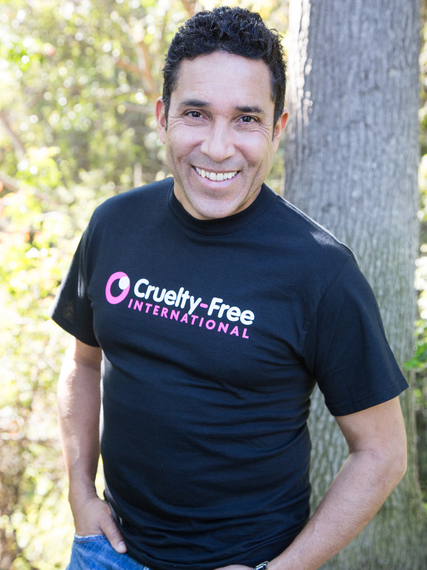 Photo by Leslie Hassler