Laverne Cox is the new American Dream. Bold, beautiful and openly flawed, the transgender star of the hit series Orange Is the New Black emerged from a childhood of being bullied for acting feminine as a biological African-American boy in Mobile, Alabama, to becoming a worldwide celebrity and beloved public symbol of the transgender movement in America. The first transgender woman ever to grace the cover of Time, the self-made star has sparked a national conversation around the trans movement.
The reality is that many trans people, particularly African-American women, feel invisible. Even in 2014, laws that provide basic civil rights for lesbian, gay and bisexual individuals fail to explicitly cover trans people, who are discriminated against in numerous employment, housing, military and credit policies.
What does it mean to be "transgender?" According to the NLGJA Stylebook, the term refers to people whose "physical, sexual characteristics may not match their gender identity."
Until recently, I'd been largely unaware of specific challenges that many trans individuals face. In the past, I've posted short videos on the difficulties of being gay in America, and on the hardships endured by gay men living with HIV/AIDS who are over 50. But I've overlooked the unique challenges impacting America's trans community.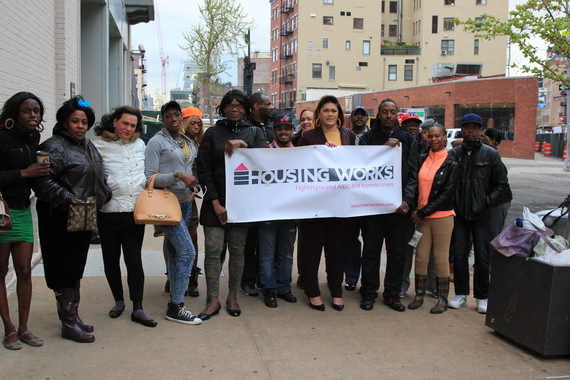 That changed about a month ago. I was invited to tag along on a bus trip with transgender activists from N.Y.C. to Albany, N.Y. to attend the New York LGBT Equality & Justice Day. Sponsored by Housing Works, a nonprofit with a mission of "relentless advocacy" on behalf of those affected by AIDS and homelessness, the group was lobbying for the Gender Expression Non-Discrimination Act, or GENDA. The bill would outlaw discrimination in N.Y. based on gender identity, and would expand the state's hate crime law to explicitly include crimes against transgender people.
There, on the steps of the N.Y. state capitol, I had the opportunity to speak with three transgender women: Tanya Walker, Maileann Teighlor and Kiara St. James. Check out the video to hear what they had to say.
These women are not alone in their experiences. In a recent study, the National Gay and Lesbian Task Force and the National Center for Transgender Equality polled over 6,000 transgender and "gender non-conforming" folks across all 50 states. In sum, they found that transgender discrimination is pervasive throughout America.
The report echoed many of the same issues raised by Walker, Teighlor and St. James, indicating that people of color, in general, fare worse than whites -- with African American transgender respondents faring "far worse" than all others.
Additionally, most of the transgender participants polled lived in extreme poverty, and were four times more likely than the general population to have a household income of less than $10,000 per year. And sadly, an astounding 41 percent of respondents reported attempted suicide compared to 1.6 percent of the general population, with rates rising for those who were victims of sexual assault (64 percent) or physical assault (61 percent), or those who lost a job due to bias (55 percent), or were harassed/bullied in school (51 percent).
Like Walker, Teighlor and St. James, survey respondents also experienced similar challenges related to employment. Those sampled were unemployed at twice the rate of the general population, with rates for people of color up to four times the national average. The results also indicated widespread mistreatment at work: 90 percent of those surveyed reported experiencing harassment, mistreatment or discrimination in the workplace.
In the video, Walker starts off by stating that she is an honorably discharged Army veteran. While the U.S. military's "Don't Ask, Don't Tell" policy ended in 2011, the ban on transgender service remains in place. It is estimated that there are over 15,000 transgender people in military service that cannot reveal their true transgender identities for fear of being discharged. This is in spite of the fact that several studies, including a commission co-chaired by former U.S. Surgeon General Joycelyn Elders, have found "no compelling medical rationale for banning transgender military service." In fact, their research indicates that eliminating the ban would "advance a number of military interests, including enabling commanders to better care for their service members."
U.S. Defense Secretary Chuck Hagel recently offered a bit of hope when he stated on ABC's This Week that the medical regulations currently preventing transgender participation in active military service should "continually be reviewed," and that "every qualified American who wants to serve our country should have an opportunity if they fit the qualifications and can do it." This is certainly a step in the right direction, but much remains to be done.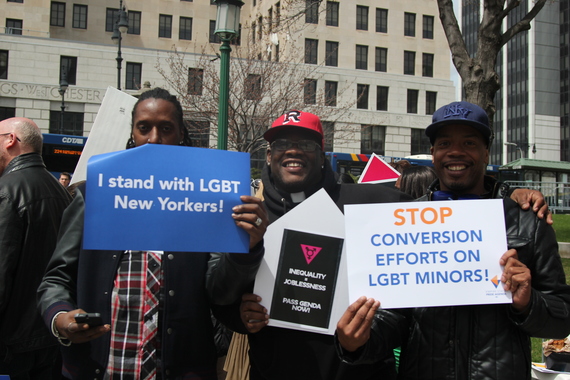 Beyond the military, some progress is underway on the state level. Maryland Governor Martin O'Malley recently signed into law a bill banning discrimination against transgender people, making Maryland the 18th state to do so. O'Malley called the bill an "important step to protect the dignity and equal rights of all Marylanders." But 34 states, including New York, are still behind the curve.
The rights of transgender individuals are human rights. The general population should tune in at this critical juncture in the policy debate, as we so enthusiastically do for Laverne Cox on Netflix. The time is now for New York to step up and finally help transgender citizens like Walker, Teighlor and St. James by passing the Gender Expression Non-Discrimination Act before the legislative session ends on June 19. And the rest of the country should follow suit.