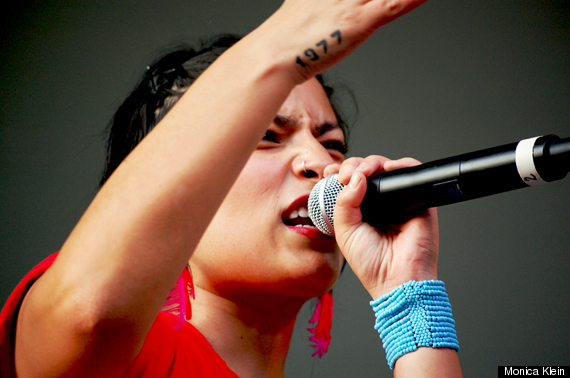 Last night, Nortec Collective graced SummerStage with a performance that included two iPads, two Stetsons, an accordion, a tuba and an enormous, 60's computer-style blinking machine.
Performing as part of New York City's week-long Latin Alternative Music Conference, the Mexico-based foursome Nortec Collective played alongside French/Chilean rapper Anita Tijoux and Barcelona based El Guincho.
As the crowd began to slowly trickle into the outdoor venue at 6pm, Anita Tijoux took the stage wearing a red "1977" logo t-shirt to promote her second album. Although many attendees were lying on blankets or draped over the bleachers, Tijoux suddenly unleashed a torrent of Spanish hip-hop, and even the most sun-stroked audience members began to crowd around the stage as she screamed and chanted into the microphone.
Tijoux is incredible on recordings, but far more impressive in person -- the 38 year old is incredibly petite, and the endless stream of Latin American hip-hop that she emits is almost perplexing in its energetic intensity. Covering various songs, including her newest album's namesake, "1977," Tijoux worked the crowd into a frenzy as devoted fans began chanting along with her every word. While Liz Phair is poisoning the atmosphere with her rank attempt at rap, Anita Tijoux proves that female rappers can still produce impressive vocal feats.
Following Tijoux was El Guincho, the project of Pablo Diaz-Reixa, whose combination of "Tropicalia," afrobeat and experimental rock has been enticing the NY crowd for a few years. While El Guincho played a riveting set, Diaz-Rexia's performance was somewhat lackluster, through no fault of his own-- it was merely difficult to leave a memorable trace when sandwiched between the stellar performances of Tijoux and Nortec Collective.
El Guincho's performance was reminiscent of the multi-dimensional instrument that Bert the chimney-sweeper plays in Mary Poppins; as Diaz-Rexia belted out alternately soothing, dreaming melodies and catchier, Spanish rhythms he continuously drummed with his right hand while simultaneously playing keyboard.
By 10pm, as El Guincho finished their set and the crowd began to conglomerate tighter around the stage, Nortec Collective's stagehands came out to prepare for the upcoming band. An enormous tuba was carried out, and placed next to a machine that looked like an multi-screened computer from the 1960s. Combining traditional brass and technological innovation, Nortec Collective blew the crowd away with their unique style of electro-norteno.
On paper, this genre sounds like a confusing, possibly disastrous conglomeration of sounds and styles. And yet Nortec Collective manages to combine this bizarre miscellany of noises into effortless live dance music, fusing together the traditional and experimental in songs like "Shake It Up" from their latest album, Tijuana Sound Machine.
Perhaps most endearing was Nortec Collective's general demeanor throughout the set, as they beamed down on the audience and continued to point at each other, attempting to give their bandmates due credit. While one played accordion, another switched between trumpet and tuba, and the last duo of the foursome stood with their iPads out, somehow creating a plethora of echoing sound from the touch-screens at their fingertips.
While synthy-electro pours out of every corner of the music industry today, Nortec Collective's performance offered a much-needed reminder that innovative approaches to a typical genre can create entirely novel subsets of sound.

PHOTO GALLERY
Nortec Collective, El Guincho and Anita Tijoux at SummerStage