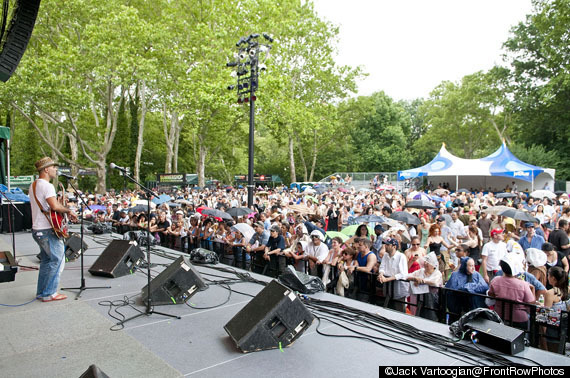 In 1986, the Central Park Conservancy held the first SummerStage event in Manhattan. Since then, the City Parks Foundation has taken over and expanded the event immensely, and SummerStage has become an intrinsic part of a summer in New York City. While New Yorkers suffer through subway construction delays and slow-moving groups of tourists, SummerStage offers an array of free cultural escapes, with theater, dance and music events lasting from June through late August. This year marks the 25th anniversary of SummerStage, as well as the program's expansion into parks throughout the five boroughs. The Huffington Post sat down with City Parks Foundation Executive Director David Rivel to discuss upcoming musical events, Japanese curry hot dogs and how to avoid Drake-style crowd rioting at SummerStage's free concerts this summer.
Huffington Post: What is the role of the City Parks Foundation?

David Rivel: We've been around since 1989 and our mission as an organization is to improve neighborhood parks all around the city. The first thing we do is programming in parks, because when parks are failing it's generally because they're empty and people don't use them... The second thing we do is we work with communities to help them get involved in their parks. So we create friends groups, we help teach those people how to raise money, how to work with the parks department, how to get money for capital projects, how to work with elected officials....So when it comes to programming, we do a lot of different kinds. We do arts and cultural programs, including SummerStage, but also kids programs; we have a marionette theater in Central Park and a traveling puppetmobile.
HP: When did the City Park's Foundation begin to organize SummerStage?
DR: The Central Park Conservancy started SummerStage for the same reason that we do programs now. At the time, Central Park was dilapidated, it was a scary place to go into, especially at night, and the idea was that if you started doing some programming there people would come out in groups, the park would be safer, it would drive out the negative activity, and that was in fact what happened...We took [SummerStage] over in 1994, because by that time City Park's Foundation was already known as an organization that was doing a good job at producing large-scale events in the parks. We had a concert series that took place at that time in three other parks around the city -- now it's in 16 other parks.

HP: How do you curate SummerStage and decide what bands to feature?


DR: We have an Arts & Cultural Program staff headed by a man named James Burke. He has working for him a music curator, a director of theater programs, a director of dance programs, and a director of family programming...These people work year-round, although most of the work that they produce takes place during the summer...They're going to festivals, they're going to South by Southwest, they're going to France...And they talk to people and they find out what's hip and what's worth listening to, and they put it together. It takes a year, and we're already working on next year, and the year beyond that too.
HP: Are there specific genres you try to encapsulate?
DR: [SummerStage] has always been designed for the different communities that live in New York City...There's a huge Haitian community in New York City so we did a Haitian dance program couple of weeks ago in Brooklyn because we feel like its important -- if you live in the city, if you're a community that's represented here -- that you have art that speaks to your community, and your experience. So over the course of two or three years, we'll touch on almost every artistic genre that's out there. In music alone, we do everything from the Metropolitan Opera and the New York Pops to hip hop to gospel to jazz to music of all kinds. In dance, same thing. In theater, same thing. So it's an incredibly diverse series, but the point is to reflect the music, the art, the people of New York City.
HP: And you pay all of the bands that perform at SummerStage's free concerts?
DR: Yes. People think that because it's free, the bands donate their time, but no, we pay them. We pay all of our staff, we have union contracts, and we buy stages, and it costs $4.9 million to put on SummerStage.
HP: How do you deal with the concert crowds and the long lines, and avoid problems like the recent Drake-Hanson riot at Southstreet Seaport?
DR: Well we actually click people in, so at any time we have a head count as to how many people are in the venue. We know what our capacity is, and we click people when they leave the venue, because the shows go on for 2 or 3 hours and sometimes, if 50 people leave, we'll let 50 people in. So we always have control over it. And on the handful of occasions when we have had to say, I'm sorry, capacity is filled, people understand that and they just kind of sit around the park, they can still hear it, and its not a problem.

HP: Can you tell me about the benefit shows?
DR: To put together the $4.9 million, the money comes from a lot of sources. So in Central Park, we have some concessions, food and beverages, some t-shirts, we do benefit shows, we make some money from that, and also on days we're not producing SummerStage, we're allowed to rent the venue out to other people.
One of the purposes of the benefit concerts, in addition to raising money, is letting artists perform at SummerStage who we couldn't put on for free. We could not do Black Keys for free, because we would get the same thing [referring to the Drake-Hanson over-crowding.] We couldn't do Pavement for free. We'd get 30,000 people showing up. We have to be careful. Our venue fits about 5,000 people, and we have to be careful to book things to attract about 5,000 people. We very rarely have to turn people away. It pains me when we have to turn people away.
HP: In terms of your audience, what kind of people do you aim for?
DR: Well our audience is different for every single show. That's what's great about SummerStage -- you really do get every community in New York over the course of the season coming out. I was in Red Hook last night for Dan Deacon, which was 2,000 hipsters... But two weeks before that, we had Jay Electronica out there, and it was the hip-hop crowd, so that's what really fun. To just be able to do a little bit of everything.
HP: Who are some highlights from the upcoming two months?
DR: Well, of course we love all of our children equally. But if forced, I'm really looking forward to St. Vincent, in Central Park. I've never seen her live and I'm a big fan of her music. And Gil Scott Heron, who's performing in Marus Garvey park in Harlem, as well as in Central Park... And then for dance of course, Alvin Ailey, its very rare that they do a free show, anywhere, and this is their main company.
HP:What else can audience members look forward to at SummerStage this year?
DR: The food at SummerStage this year is done by Brooklyn Flea, which is this flea market that started in Brooklyn a few years ago and it became wildly popular, immediately... So if you go to SummerStage, you're going to get a choice of the Red Hook Lobster Pound, making lobster rolls and shrimp rolls, and one of the Red Hook Food vendors is doing pupusas, a central American tortilla-type of food, its delicious. Marlo and Sons is doing organic beef hamburgers and homemade salsas, AsiaDog is out there, which is hot dogs with Asian toppings like kimchi and Japanese curry and things like that. And PizzaMoto brings out a brick oven pizza maker. And this is all going to be in the main stage area. We used to just have hot dogs and hamburgers, so this is a real upgrade for us. And then we have all the different beers from Manhattan Beer Distributors, and we have City Winery with their wine trucks.
For up-to-the-moment information on SummerStage concerts, including concert lines, waiting time, and other news, check out SummerStage's twitter at http://twitter.com/SummerStage