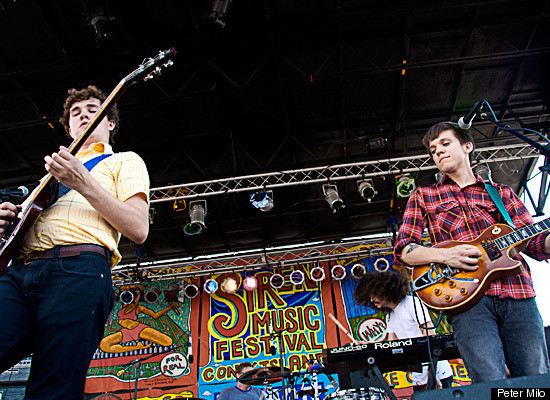 In the upcoming weeks, CMJ darlings Surfer Blood will be playing in Australia, Japan, and Norway. For a band that formed one year ago, this is hardly a small feat. Nevertheless, as drummer Tyler Schwarz explained, "I feel like just a normal dude, with an extremely awesome opportunity, but definitely not famous. I didn't like, save something."
Whether or not Surfer Blood is "famous" is up for debate; nevertheless, the screaming crowds that came out to hear the band play at Siren's summer music festival on Saturday proved that they have amassed a devoted following.
The five boys (yes, boys--with the possible exception of stud-in-the-making precussionist Marcos Marchesani, it would be a lie to call them men) that comprise Surfer Blood are making impressively catchy, stand-out singles, carving out their niche within the over-crowded genre of indie beach-rock.
Sandwiched between sets from the Screaming Females and Night Marchers, Surfer Blood arrived on the main stage at 3pm. Determined to fill their entire slot, lead singer JP Pitts ran through their set list and then conversed with his bandmates as to what songs they could fit in at the end of their hour.
Covering a range of songs from their debut album, Astro Coast, Surfer Blood easily moved through dreamy pop songs and simple, catchy bass riffs, although occasional amp issues had JP signaling to technicians.
JP belted out "Harmonix" early on, displaying a voice that sounded far older than the young singer appeared. Surfer Blood managed to take the haphazard, made-in-a-college-dorm room quality that is somewhat clichéd among indie-rock bands and keep it surprisingly fresh, as they slowly sang through their catchiest number, "Twin Peaks."
Unsuprisingly, the band's hit single "Swim" drew the largest applause, as bassist Brian Black acknowledged the song's success by introducing the number as the "Toyota song of the week." Marcos kept his head bobbing, and his incredible mass of hair moving, through the entire set, pausing only to run offstage and hand his floor tom and drumstick to the eager crowd.
Not to be outdone, lead singer JP cautiously climbed down off the stage as well, making it only to the press pit as he strutted around on an enormous speaker and offered the surrounding photographers some of his practiced poses.
JP's practiced impression, much like Marcos' antics, somehow came off as adorable, rather than annoying. The band manages to avoid Beach Fossils bass-the-bay comparisons because they emit an overall impression of laid back musicians, rather than press-seeking performance artists.
As Tyler attempted to predict Surfer Blood's upcoming material, he explained, "I think the next stuff's gonna be a little more, uhh, sophisticated..." Yet after seeing the band play, 'sophisticated' seems to be the least appropriate adjective to describe them. It is hard to see Surfer Blood as anything other than five unpretentious musicians, who are slightly unaware of their music's commercial potential--and this unsophisticated, somewhat childlike mentality is a large part of their appeal.