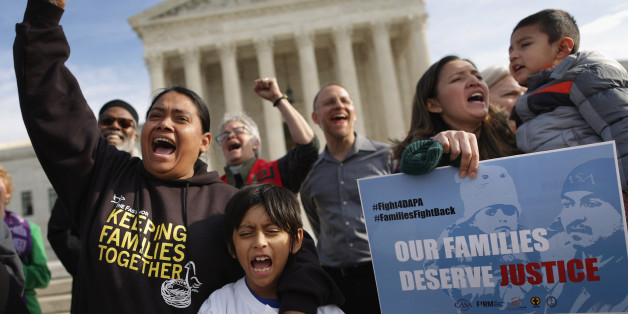 With the 2016 election season upon us, the Latino vote is again grabbing national headlines. At 55 million strong and growing, Latinos make an impact on ballot boxes in red states, blue states, and battleground states. Will 2016 be a year that proves demography is destiny or will Latinos continue to punch below their weight at the ballot box?
This November, there will be 27 million Latinos eligible to vote, up from 23 million in 2012 when they accounted for a record-high 10% of the electorate. But in 2012 more than half of all eligible voters, 12.1 million in all, stayed away from the voting booth. A recent study from Pew Research Center indicates that the growing numbers of Latinos have not succeeded in forcing action on policies like immigration reform and deportations.
Republican candidates tend to ignore or actively incite fear of the growing Latino community. But Democrats also do a poor job of turning out Latinos in high numbers and, when in office, are unable to deliver on priority issues for the Latino community. Low voter turnout is a symptom of civic disengagement by Latinos in American society. To unlock Latino civic potential beyond 2016, the title of a report by the Aspen Institute Latinos and Society program, we must consider the broader context of civic engagement and create institutionalized long-view strategies to integrate Latinos so that they are fairly represented in American society. Four promising practices emerged from the report.
The first step is to focus on immigrant integration and naturalization. English language acquisition must become a national imperative. Nearly all Latinos (95%) say it is important to speak English, yet according to the Migration Policy Institute there is an acute shortage of teachers and classrooms. A campaign to learn English led by the private, public, and nonprofit sectors will serve us well as a nation.
Naturalization should be a goal of our immigration system, including the creation of a U.S. Department of Citizenship Services. An estimated three million Latinos are eligible to naturalize and data shows that once a person becomes a citizen they engage more by voting, volunteering, and advocating for their communities and families.
The second and third steps are to increase civic education and leadership development opportunities. Every month, 80,000 U.S. born Latinos turn 18. By bringing civic education to the classroom and providing opportunities for leadership development, the pipeline will be fortified for years to come. We must inculcate civic habits and convey civic knowledge at an early age so young people become active, knowledgeable, and engaged voting adults. Leadership incubators like Teach for America and the Peace Corps must reach out to young Latinos. Leadership and civic training matters. Just look at how powerful youth-led movements such as the DREAMer's can be.
The fourth step is voter engagement. Latinos cannot only hear from their elected officials once every four years. Nor should Latinos be thought of as a single-issue voting bloc motivated solely by immigration. Latinos, like all Americans, care deeply about jobs, wages, healthcare, quality education, the environment, and national security. In 2012, Kantar Media CMAG analyzed political ad spending and found that Spanish language television got a meager 4.57 percent of all dollars spent. Only sustained engagement by politicians, in both languages and across a variety of platforms including social media and mobile, will yield results. Candidates and parties who successfully engage this community will be able to build a powerful voting coalition.
Every four years, the political muscle of the Latino community becomes a story. Will it flex or fail? Voting in national elections is an imperative and we must do all that we can to encourage it. But voting every four years is just one round. The real knock-out punch will be when our nation's civic health is fortified beyond 2016 because we turned the key to unlocking Latino civic potential.