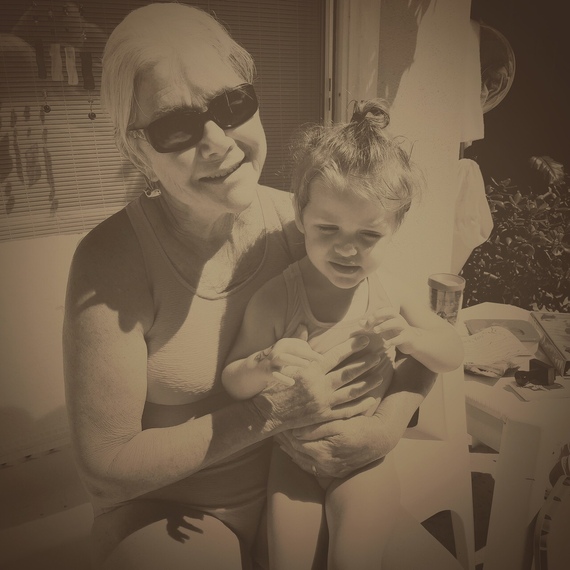 Every morning, I drive off a winding main road. I tip my wheels onto the red Georgia clay-mud over emerald grass-blades. My daughter and I flip-flop down the driveway, pointing at and naming garden statues and lush flowers, the pines tilt to sweet shade.
We step down stones, along the path, inhaling chlorine and soft sun, our faces in the new breeze. We slide the poolhouse door open to a gaggle of anxious parents and kids. We pick a book from a shelf. Children shovel in last-minute power snacks.
We are going swimming.
In Macon, Georgia Julie Bragg is an institution, a living legend, her name recognizable, revered. Julie is strikingly beautiful, a throwback to Shirley MacLaine in Can-Can, with swimming legs and cropped white hair. Her voice is commanding. There is a wisdom and magnetism about her, startling you into showing up with your best self.
She is equally quiet and self-deprecating as she is sharply intelligent, well read and irreverent. The cool kids refer to her as "friend." You want to know her, to sit at her feet and soak it all up. After that, I suspect you'll hardly know her.
Julie is a study in masterclass education, with an enthusiasm for learning, intuitively differentiating instruction to individual children's needs, without any obvious or shaming affectation. Her expectations are clear, and they do not change.
Her grace is palpable, cutting through bullshit, but with tenderness. She has impeccable grammar and carries herself with a decorum that is lost art. She is present in the moment. She offers her students the gift of learning, really learning.
Anything worth growing over is frightening. Julie knows. Like toddlers who boldly jump into her pool, swimming to the opposite end, Julie has experienced life as terrifying and unexpected. Her two sons, in the prime of their young lives, were simultaneously killed in an automobile accident over a decade ago.
Like the babies baptized by fire into her pool water, Julie teaches that our human intuition is to swim on and survive.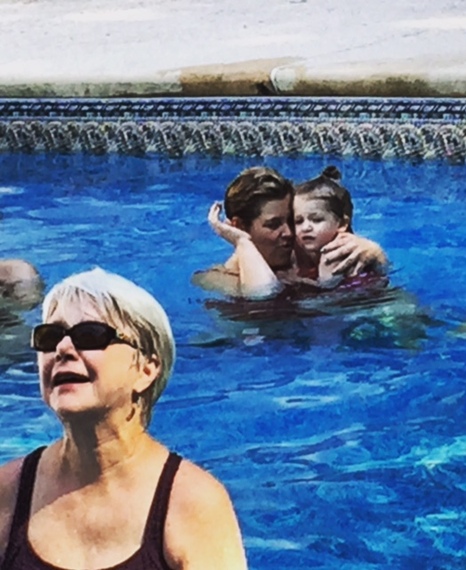 Julie has done more than survive; she's thrived, memorializing her sons' love of music with an annual festival, Bragg Jam. Julie and her family, including her two daughters, are ambassadors of Bragg Jam, staying up into the wee hours for events that are the culmination of the non-profit http://www.braggjam.org. A dedicated board and tireless volunteers see every detail of the operation through, all year. Julie incorporates her swim-whisperer magic with children into events specifically geared to young kids and families.
This year marks the 45th anniversary of Julie's legendary swim school. In 1969, most of her current students' parents were not even born. I was six months old when Julie tossed me to my mother in the local health club pool. I don't remember concretely, but I can pull my intensely curated baby book from a shelf. A 1970s pre-Instagram photo shows Julie doing her thing.
When I inquired about lessons for my daughter, I was met by parents with this pat response, "She's tough." With respect for many I admire, I remained curious about what "tough" meant. Was Julie a crazy old swimming lady who enjoyed bullying children? Was she a grown-up version of the mean 8th grade boy in the pool, holding heads underwater, threatening to drown; then laughing maniacally as they pop from the surface with empty tanks?
How can a person earn a reputation for being "tough," amid her annual swim school, a coveted rite of passage, selling out within hours? I was a rabid mommy-beast, dialing her number at the stroke of midnight. I called nine times, her voicemail finally accepting my breathless demographic spell-out, like a hotline riding out with me and my full-blown panic attack.
My husband and I are older parents. Maybe harkening back to an older generation, or maybe because we both work with kids, we agree that "tough" is not correlation or causality to Baby PTSD.
To learn is to work, invoking courage, living with fear. Lives can be frittered away on the diving board, speculating outcomes of deep waters and whether or not we will bob back up to swim to the ladder and get out.
Stand there, squirm, refuse to move, insist on bathroom breaks. Learning is action, requiring us to submit ourselves to a Wise One, understanding that trust is also earned.
Diving in, held in safety, guided from the deep, onto the pool deck, we emerge transformed, with surprising confidence. "I did that all by myself."
At the end of each lesson, children, wrapped in towels, line up to meet Julie at her bench where she moves to sit and stamp blue ink onto tiny hands. Her tenderness is spoken in words and felt in the affirming touch by those who are gathered.
"Mommy, was Pippa a good swimming girl?" Her words to parents are the same as her words to our children. We have no choice but to acknowledge good.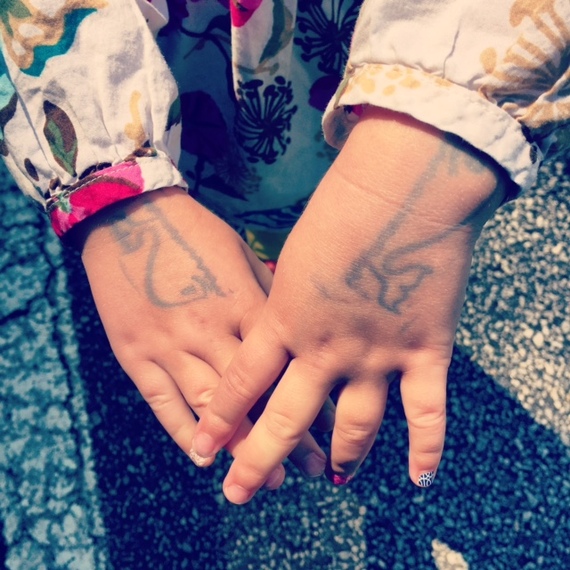 Before the ink rubs off by day's end, or bathtime, my daughter steals glimpses of that whale on her hand, a symbol of the giant, gentle, complex and misunderstood creature. She wears it like a fine ruby gilded in gold.
And in these golden days of summer, this mother cries little tears, in anticipation of leaving the poolhouse with the tin whale on top.
There is a magic to a sweet house, a pool and dewy grass, the smell of morning, the chatter of parents and tired children, screaming and laughing, both, at once.
Emerging from water, the womb, from whence we all come, my daughter will swim to the steps, and we will walk uphill, stepping up stones. We'll slip back into a banal world, where tough is not tender, just ordinary and cruel.
Julie will go about her life, and we'll go about ours, and, as I did as a child, I will grieve the loss of summer, so sacred. I am a little girl all over again in Julie's pool. I have just as much growing to do.