As the Co-Founding Director of Sing for Hope, I am thrilled and excited that we are bringing The Sing for Hope Pianos back to New York this summer! From June 1st through June 16th, 88 pianos will be outdoors for all to play and enjoy.
You can imagine the questions we get with a project of this scope and size, so I thought I would come up with a list of what people love about the project... and maybe a few things they didn't already know.
So here is my short list of 8.8 reasons to love The Sing for Hope Pianos:
Reason #1: Art For All, Year-Round
This is my favorite reason, because it speaks to Sing for Hope's programs that bring the arts to everyone, 12 months a year: after their two weeks outside, the pianos are gifted to schools, hospitals and community centers, where they become part of the fabric of their new homes. Then, Sing for Hope volunteer artists visit and perform for these new audiences, and the pianos gain countless new friends and a renewed purpose.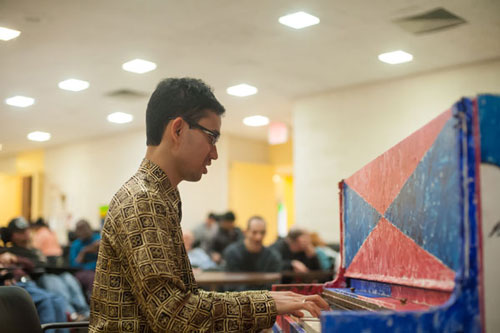 A Sing for Hope Piano played by Volunteer Artist Nial Djuliarso has found its home at United Cerebral Palsy of New York City. Photo by Shawn Hoke.
Reason #2: They Are Everywhere!
No matter where you go in any of the 5 boroughs this June, you are never far from a unique, colorful piano that beckons you to sit down and tickle the ivories, from Times Square to Brooklyn Bridge Park to Snug Harbor to the Rockaways. Visiting the pianos also makes for a great pub crawl. No joke. Try playing after you have had a few - you'll find that your playing gets prettier and prettier.
Reason #3: We've Got Culture
In an act of extraordinary generosity, some of the most philanthropic New Yorkers, including The Arnhold Foundation in loving memory of Sissy Arnhold, The Anna Maria and Stephen Kellen Foundation and Ann Ziff, have committed to supporting Sing for Hope to make this happen, and to bring art to under-served communities year-round. And our favorite yogurt in the universe, Chobani, is our wonderful presenting sponsor - and the tastiest partner around!
Reason #4: I Dare You...
...to resist touching a piano sitting outside on the street, especially if you have never played before, or you have memories of your mean Aunt Gladys telling you not to touch her parlour upright. Here is your chance to play your tunes outside in public!
Reason #5: 88 Individual Artworks
Each piano glows with its own individual piano artist's vision. These artists, who are chosen through an open application process and donate their time, range from students to iconic New York figures. And each artist create piano artwork that is uniquely theirs and makes you want to play, sing, tango, polka, channel your inner Duke Ellington, etc...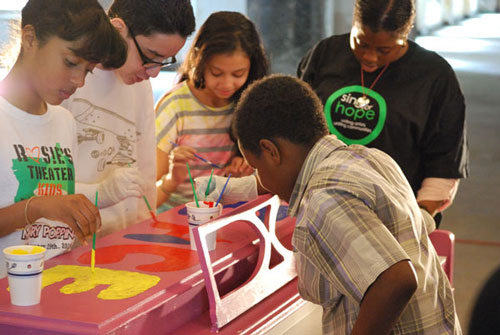 Students from PS 34 ready a Sing for Hope Piano for this summer under the guidance of a Volunteer Artist. Photo by Roderick Lapid.
Reason #6: Rain, Rain Go Away
Probably the most asked question is, "What happens to the pianos when it rains?" Like an always prepared New Yorker, the pianos stay cool and dry even when it rains, because they are outfitted with tarps that cover and protect them. "Piano buddies" check the weather each morning and come by to cover the pianos if rain is forecast. So if you ever wanted to learn more about the people in your neighborhood, here is your chance. For more info on how to become a piano buddy for your neighborhood piano, email us: pianos@singforhope.org
Reason #7: How Can You Be In 88 Places At Once?
Even though you can't be in multiple places at once, you will wish you could so you could see all the community moments taking place: weddings, proposals, concerts, piano lessons! And this is your chance to explore the boroughs. If you have never been to Staten Island, why not take the ferry to visit the pianos there? It's amazing to see what's going on at each location, and the pianos will give you an easy in- a way to talk to someone new, share a laugh, a story, a moment in time that makes the heart sing. I think we need more of that everyday.
Reason #8: Learn To Play Something Other Than Chopsticks, and Make Your Lincoln Center Debut!
Since you have been putting off learning to play, now you have a little less than a month lead time to learn something to dazzle your friends! Go ahead, add to you repertoire. And if you ever wanted to make your Lincoln Center debut, now's your chance - though we caution you, at those locations, the critics can be harsh ;)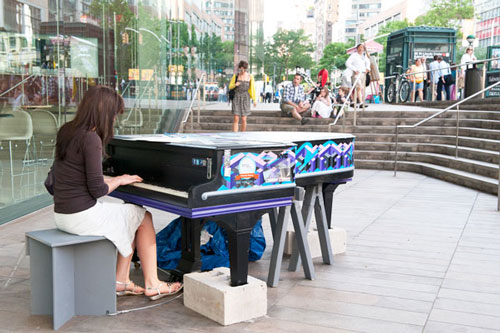 A previous year's Sing for Hope Piano by Volunteer Artist Chris Soria outside Alice Tully Hall. Photo by Nan Melville.
Reason #8.8: Bet You Didn't Know...
Why 88? Because there are 88 keys on the keyboard. And because 88 signifies "double happiness" in Chinese numerology, as one of our piano artists pointed out. And because 88 is the infinity symbol turned on its side twice. And because 88 is a lucky number, we have been told. Find out if that's true this summer at a piano near you, and experience 88 reasons to fall in love again with summertime, art, music, and New York City.
For a special preview of all 88 Sing for Hope Pianos before their street debut, join us Thursday, May 16th for our launch party. More info.
This post is part of a series produced by The Huffington Post and Sing for Hope, to mark the latter's Sing for Hope Pianos project and its mission of "art for all". For more information, click here.