Summer festivals are something artists look forward to: the settings are usually exotic and gorgeous, and the people more relaxed, and you can feel that resonating from the audience. My summer travel included a trip to Beirut to sing in concert at The Zouk Mikael International Festival with José Carerras accompanied by The Lebanese Philharmonic Orchestra, David Gimenez conducting. I adore going to Lebanon -- the people, the food, and my favorite designer, Georges Chakra, always equal an amazing visit. This time was no different.
My first trip to Beirut was in 2008 when I opened the Al Bustan Festival. Just before I left, I was telling a colleague where I was headed next and when I said Beirut, he commented on how unsafe it was. I shook my head in response saying that I had great friends there that all deemed it safe and I was looking forward to visiting a new country with such a storied history. Besides, that was part of my job as an artist to travel to far-flung new places and it was something I enjoyed immensely.
This year similarly, I would be naive not to address the safety concerns that traveling to the region can entail, given all that is happening in neighboring Syria. In fact, it was a question posed to Mr. Carerras and me at the press conference, when we were specifically asked, "Were we worried about coming to Lebanon?" Mr. Carerras and I both answered that we came to Beirut to perform and since we were already there, clearly we didn't have an issue traveling there.
A few days later, our audience was in fact, a very appreciative one who gathered under the stars in a gorgeous open-air setting. The concert at Zouk was wonderful -- great audience, great vibe, and of course, great music making with one of the world's most famous tenors. What could be better?
The only thing that can add to this unforgettable experience is being dressed by one of the world's fashion icons -- Georges Chakra.
I have had the privilege of wearing Georges' dresses on several occasions. Everyone from Beyoncé to Jennifer Lopez to Fergie has worn his creations. I get to add myself to that lucky list.
Being an opera singer isn't always glamorous, I can assure you, but when you do experience a perk, especially a perk having to do with fashion, which I love so much, it's fantastic. What woman is going to turn down the opportunity to walk into her favorite designer's hometown atelier and pick out dresses to wear and be fitted by the designer? A perk indeed.
A trip to Georges' Beirut atelier is everything you would expect it to be -- chic, fun and totally decadent. From the moment you walk into the boutique you are surrounded by beauty -- chiffon confections and silk satins line the entranceway. Heading upstairs, you encounter more of a showroom atmosphere. It is here that I was fitted with not one or two but four dresses for the concert as well as a few other events.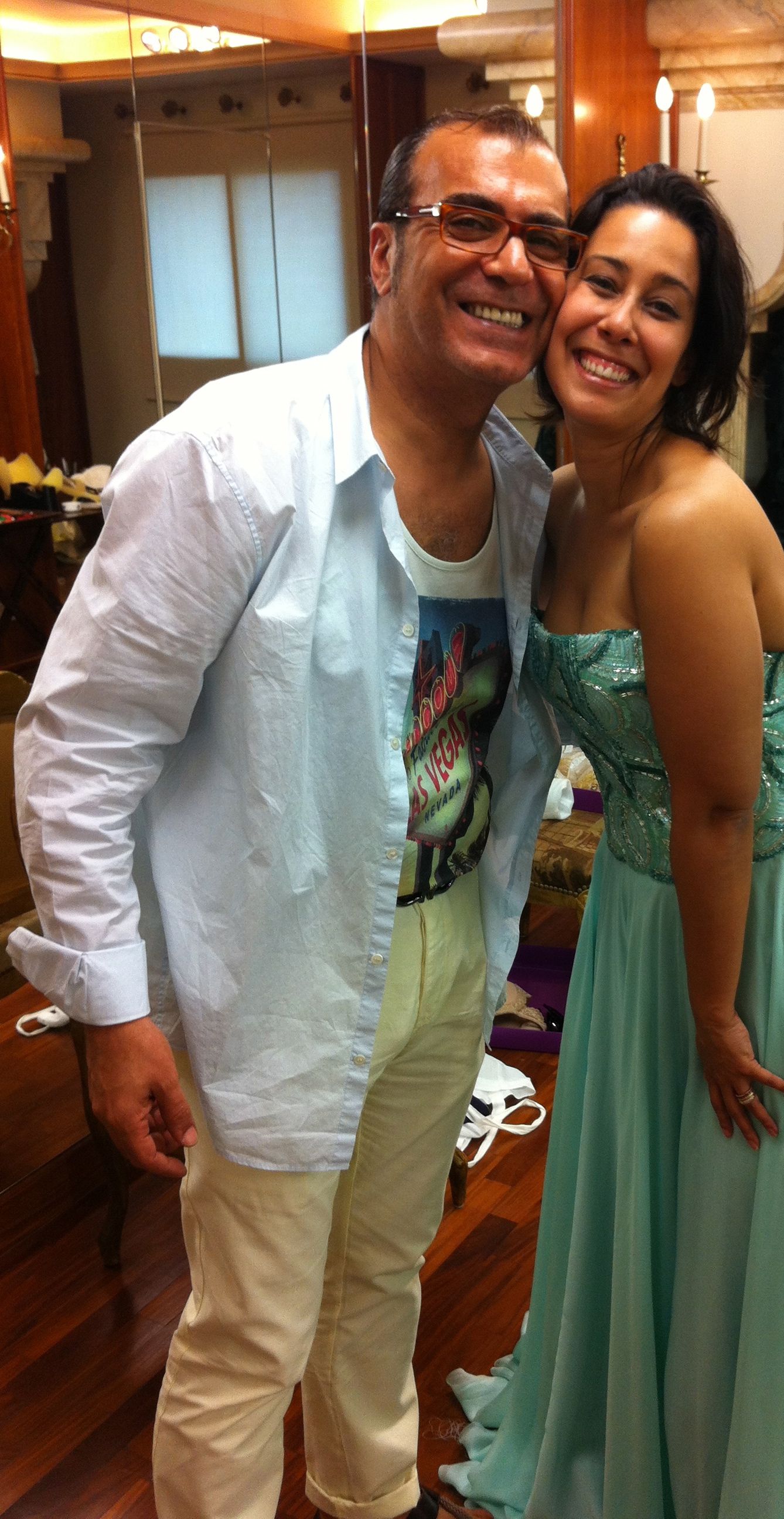 There are a lot of factors to consider when choosing a dress for stage. All eyes are on you, not to mention the hot lights. Can you carry off the dress or does the dress wear you? Does it flatter your shape? Is the color for you? Do you like the dress?! I love big bling on a dress, but if there is too much of it, you can end up looking like a disco ball. I also love strapless gowns, but if the dress hasn't been fitted properly, you end up pulling it up all evening, which is just not attractive -- ever. For me specifically, I have to figure out how high a shoe I am going to wear so the hemline works or that too needs to be altered. The last thing I want to do is come out onstage and trip. And if you have any kind of train, you have to hope your colleagues don't step on it either. Little things like that matter and the audience always notices.
In the showroom, Georges had selected several dresses for me to try on -- cocktail dresses as well as gowns. After trying them all on, we settled on a sea foam green gown that was a sequined halter-top, which he turned into a strapless gown. The other dress was a deep green, almost black couture gown with large, shiny accent sequins, with a voluminous train. For cocktail dresses, I was quite taken by a simple fuchsia silk crepe dress and another sea foam green dress with white stripes. After Georges made sure of all of the details, the atelier's master seamstress executed the alterations. I have a deep admiration for the craft and detail that goes into Georges' designs. Hand made stitches and the cut of a fabric makes all the difference in the world as to how something will fit. For me, the better I feel in the dress has a direct correlation with how I feel onstage under a ton of lights and an orchestra behind me.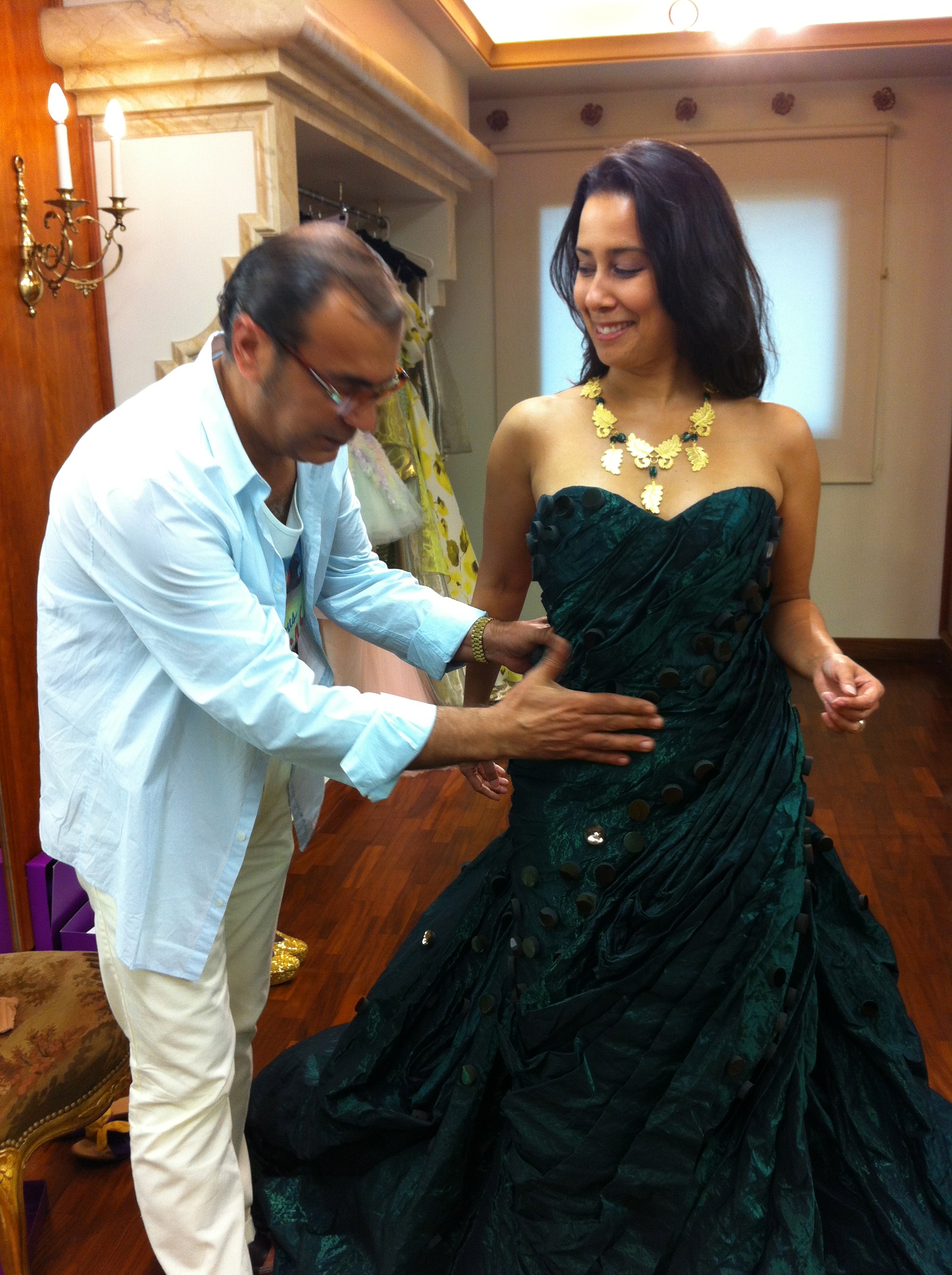 The dresses were whisked away to be fixed for the events. One dress had to be altered in just three hours to be ready to be worn for the press conference -- all easy for one of the most well known ateliers in the world.
And then before you know it, you are dressing for the evening's performance.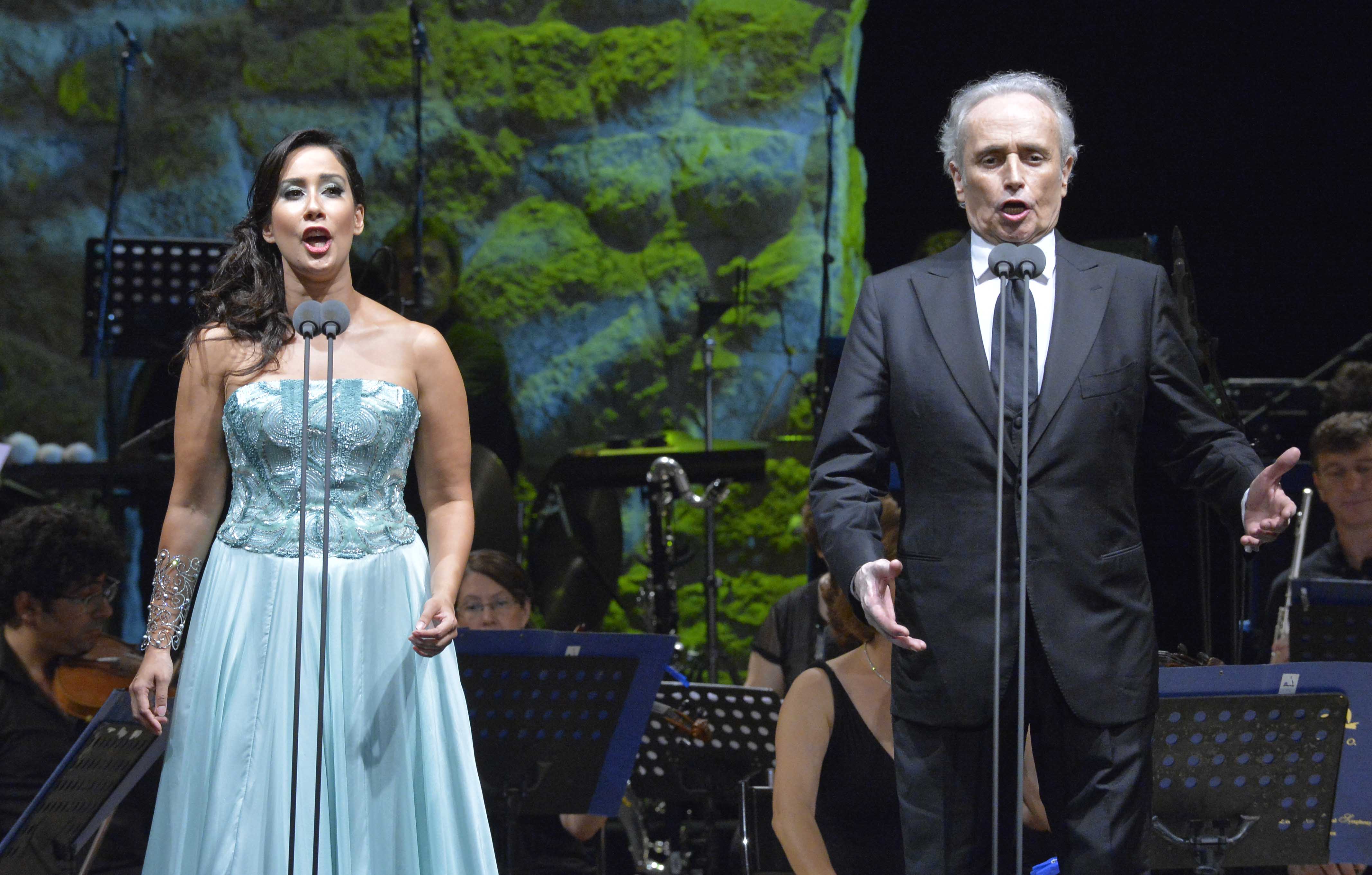 You know you have picked the right dress when the audience gives an approving ohh, and ahh when you walk out onstage. Thanks, Georges.