Few things have the power to surprise and delight the inhabitants of the city that never sleeps.
Let's face it, New Yorkers are just not easily impressed.
But at Sing for Hope, we know that putting 88 pianos around town makes New Yorkers look up and take notice. And of course, make music!
This year, we decided to celebrate the final day of the project by going one better: why not bring all 88 pianos to one iconic NYC spot -- Lincoln Center -- for a day of art for all?
This Sunday, June 16, all 88 Sing for Hope Pianos will be brought to Lincoln Center Plaza for a one-day interactive exhibit. Open to anyone and everyone, the day will includes free performances on the :08 of every hour from noon to seven, kicking off at 12:08pm with a special performance by the cast of Broadway musical Once. Did I mention it's FREE!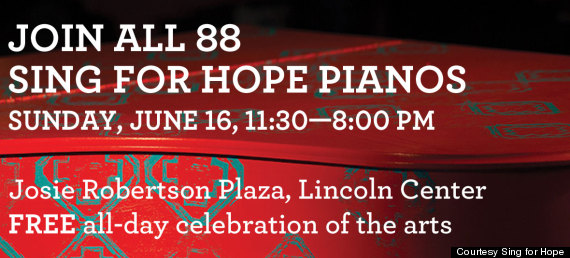 Other featured performances will include The Sing for Hope Youth Chorus, The Chevin, Christina Pegoraro, Tara Kamangar and more, and at 7:08, all 88 pianos will be played in unison for the finale. Since no day is complete without some great food, Sing for Hope Pianos sponsor Chobani will be on hand with samples of Chobani yogurt. All performances will take place at the Josie Robertson Plaza, Lincoln Center, Broadway at 65th Street.

For the cultural mecca that is New York, with Lincoln Center as a crown jewel, the bringing together of all 88 artistic pianos is the perfect gift to the city on Father's Day.
But what does it mean to put all of the Sing for Hope Pianos on Lincoln Center Plaza?
A few things:
It means our cultural institutions belong to us and are open to all of us, artists and non-artists alike (though I like to think we are all artists in our own way).
It means that we as a culture embrace what the arts do not only for our great city but for our individual lives. As the Huffington Post piano so aptly puts it: the arts are the GPS of the soul.
It means that we have a great team capable of wondrous feats of piano coordination (yes, all instruments will still be in their public spots throughout the 5 boroughs through Saturday, and then make their way onto Lincoln Center Plaza as though by magic during the midnight hours!).
It means that you now have something actually fun to do on Father's Day.
And it means you can make your long-awaited Lincoln Center debut even if you have never played a note before.
So drop by, play a note or two, listen and enjoy, if for nothing more than for the spectacle of seeing 88 pianos in one spot in this uniquely New York-y, artist-created, interactive happening. We look forward to seeing and hearing you there!
This post is part of a series produced by The Huffington Post and Sing for Hope, to mark the latter's Sing for Hope Pianos project and its mission of "art for all". For more information, click here.