Over the weekend, ¡Q'Viva! The Chosen, debuted on Fox. Yes, it's airing on Univision, but this non-Spanish speaking girl didn't know that. I did end up watching it in Spanish, but realized they're already a few episodes in. So, I kind of got a sneak peek at some of the finalists. Oops!
If you don't know what television show I'm talking about, then you're missing out. Well, you're missing out if you like "reality" entertainment and talent competition shows.
¡Q'Viva! The Chosen features superstars and ex's Marc Anthony and Jennifer Lopez. Along with show producer and choreographer, Jamie King, they travel to over 21 Latin American countries. Their goal is to "discover the most authentic, genuine, and talented entertainers."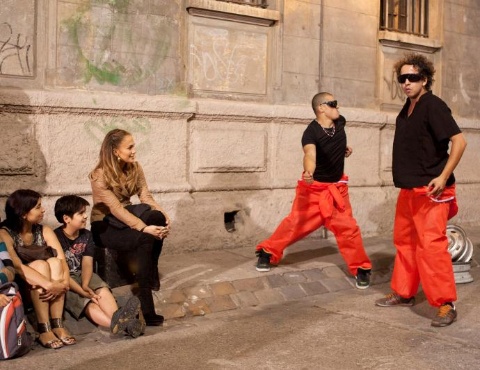 As I sat and watched the most passionate Argentinian Tango ever performed, I realized something. This really is more than a talent competition. It's about pride in where you come from, tradition, and what you're passionate about in life. It's about showing the world that we're more than the stereotypes they've placed us in.
Yes we love music and yes we love to dance, but there's more to it. At one one point Jennifer says, "This is like me being able to really really go, I am Latina and this is who we are!"
This is who we are and now it's time for the world to see and learn.
It is also a realization for me. It's a look inside the different countries values and expectations. Many of the performers speak about how their families don't take their art seriously and are told that they will never succeed. Or how they will just end up poor and hungry. One woman even goes as far as describing how her family doesn't want her to see her own daughter because she's a dancer.
On the other hand, there are some very supportive families. A young Puerto Rican man, surrounded by his family and with tears in his eyes, expresses how being chosen to move on to the next phase will serve as an example to his daughters to never give up on their dreams.
Throughout the show, goosebumps covered my arms as each singer, dancer, acrobat, performer, and musician auditioned in their native country. And tears filled my eyes with each emotional moment. Maybe I'm biased because I'm Latina, but it has definitely touched me in a way that no other talent competition has.
It's like each and every person was born to perform. It's in their blood.
In the end, this is a television show and the winners will be part of a showcase in Las Vegas. But, this doesn't take away from each performer's desire for the "American Dream." The look on their faces and the joy they experience when they find out they've been selected to head to the United States and represent their country. And the sadness when they find out they didn't make the cut.
Say what you want about Marc and Jennifer, but I think they've got something here.
(Image courtesy of Kohl's via Business Wire)