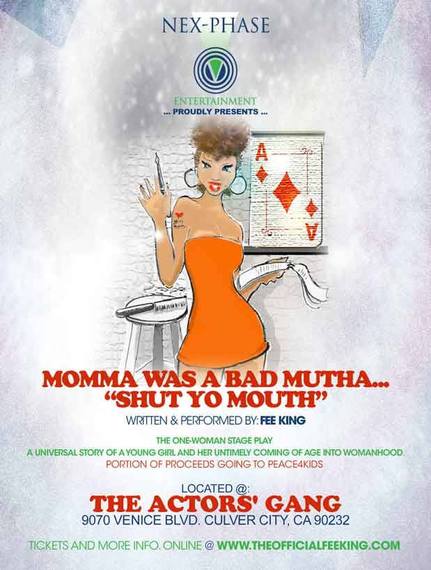 Momma Was A Bad Mutha... "Shut Yo Mouth" , a one woman show written and performed by Fee King, directed by Sammie Wayne IV tells a universal coming of age story about Felisha King (A.K.A Fee).
Fee performs the story of her life in a way that will have you asking yourself, "How is it possible that one girl could become a happy woman, after enduring such a roller coast life?" Yes, her momma was one bad mutha, in all the good ways and some of the bad ways too.
This African-American tale is familiar because you will pulled in by all the R&B Music of the 80's and 90's, reminisce about card games like bid wiz and spades and reconnect with the good ole part y days of your childhood. Fee delivers this story with poignancy and skill. She is able to entertain her audience as she shares the struggles and joys of being raised by a single mom, who was looking for love in all the wrong places, while attempting to do the delicate balancing act, of living her life having fun and raising two girls.
This one-woman show cleverly brings recognizable characters to life, which many women may have encountered in their extended families, and offers heart wrenching experiences that leave you grateful to know the ended. The main character lives to tell the story because you're watching her and rooting for her victory from the time you meet her as a cute little girl dancing at her mom's house parties.
By the ending of Momma was A Bad Mutha.... "Shut Yo Mouth", Fee King had me in tears and on my feet applauding, not only for her performance which was great. I also applauded her life and her astounding ability to be on this stage after having endured life's challenges. This one woman show is a tribute to the human spirit, authenticity and a daughter's love for her mother. Turning difficulties into art, is a gift worth witnessing.
To purchase tickets for Momma Was A Bad Mutha... "Shut Yo Mouth"
Partial proceeds going to Peace4Kids, a nonprofit organization dedicated to uplifting youth in foster care (www.peace4kids.org).
Location: The Actors' Gang
9070 Venice Blvd.
Culver City, CA 90232
Show Dates:
June 12, 13, 14, and 15
June 19, 20, 21, and 22
June 26, 27, 28 and 29
Show Times:
Thursday - Saturday, 8:00 p.m.
Sunday, 2:30 p.m.