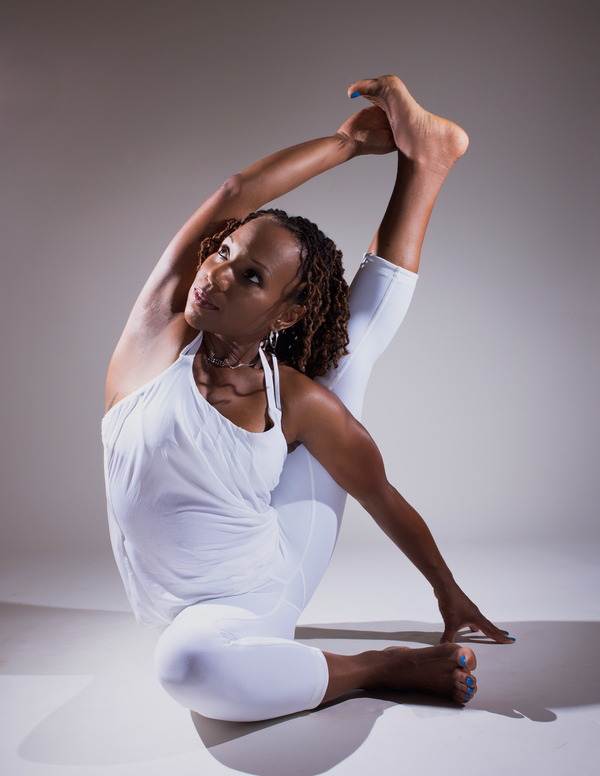 Photo Courtesy of Michel Pinto
Small and strong, Kali Sampson is overflowing with power and happy energy. When you look closely at her you can see the muscle definition in her body, and you know this mom means business. Her name, Kali, is also the name of the Hindu goddess of destruction and rebirth, and I'd say this modern-day Kali is on a mission to destroy old ways of approaching health and fitness and reconstructing new ones using the practices of yoga, acupuncture and herbal medicine.
I met her for this interview at the Baldwin Crenshaw Plaza mall when the class was over. There was a long line of mostly African-American women of all ages waiting to ask questions about various yoga poses. Sampson was on the floor adjusting a woman's feet to help her understand what mountain pose should feel like. "Balance your pelvis, root the outside of your feet from your baby toes to your heels, and rotate your inner thighs," Sampson instructed the woman.
As an undergraduate student at UCLA, Sampson was very interested in political revolutionaries, leading her to the biographies of Malcolm X, Angela Davis, and many more. But the story of Assata Shakur's life was so compelling that it sent Sampson on a on a pilgrimage to Cuba to meet her. Sampson can't recall the details of their conversation, but she does remember her spirit. "Shakur was beautiful, inside and out. I was able to give her several books and fabrics from the states and that made me happy." The trip to Cuba made a deep impression on Sampson, and she credits the journey with inspiring her practice as an acupuncturist. After seeing a dentist there use acupuncture to manage the pain of oral surgery, she decided that was something she wanted to learn.
Sampson has created Yoga Classes for the Masses where she says you literally see people of all ages and shapes, and all levels of expertise. She speaks about the synergy of the group--an evolving energy that allows participants to do things they never imagined they could do. Sampson recalls one gentleman who consistently attended her class. He had a lot of back pain and could barely squat down to sit on his mat. When Sampson saw what a difficult a time he was having, she thought, "I hope he doesn't get discouraged." He continued to show up and practice, and one day she noticed he was walking with a certain bounce in his steps. He was very comfortably carrying his mat over his shoulder. "I just love seeing the restorative value of a regular practice," she declared with a wide smile.
Sampson's abundant energy is tested by parenting. "Who you are on the mat is who you are off the mat. The way you approach your yoga practice is the way you approach everything. You want to change your approach to something in your real life? You have your yoga practice to help you take transformative steps to live more authentically" she said, "and parenting requires patience. My energy is not naturally slow or patient." Sampson co-parents three children (ages eight, nine and eleven). "I have one son who is slow, methodical, and precise with all he does. I am a busy bee, and I have to go within myself to be a supportive parent. My yoga practice helps me in that respect. It helps me cultivate patience with myself on the mat, so I can then take that lesson and show up more patient and attentive with my children."
Sampson envisions the expansion of Yoga Classes for the Masses and her video web series Yoga Intervention, as she wants to make yoga accessible to everyone who desires to practice. On Yoga Intervention Sampson goes into people homes and workplaces where she works with everyday people solve everyday issues with the therapeutic power of yoga. "It's easy to get distracted by the allure of able-bodied practitioners moving into seemingly gravity defying, contortionist level postures. It's beautiful to see. But one of the true jewels of a yoga practice is its healing potential. Whether it's shoulder pain, uterine fibroids, restless sleep, etc., an approachable yoga practice can help you live your most vibrant life possible. She says anyone who can breathe can do yoga. She believes that yoga is the best form of self-care, while acupuncture and herbal medicine is the best form of practitioner administered holistic care.
As we completed our time together, women continued to approach us to say hello to Sampson. They wanted to ask questions about yoga or about the flaxseed bread she was eating with an avocado. She graciously answered each question and offered interested students a bite. While Sampson has not followed in the footsteps of her revolutionary heroes, she's started her own quiet revolution--changing the world by bringing restorative and healing techniques to people of all stages, shapes, and sizes.
For more information please visit www.momschangetheworld.com