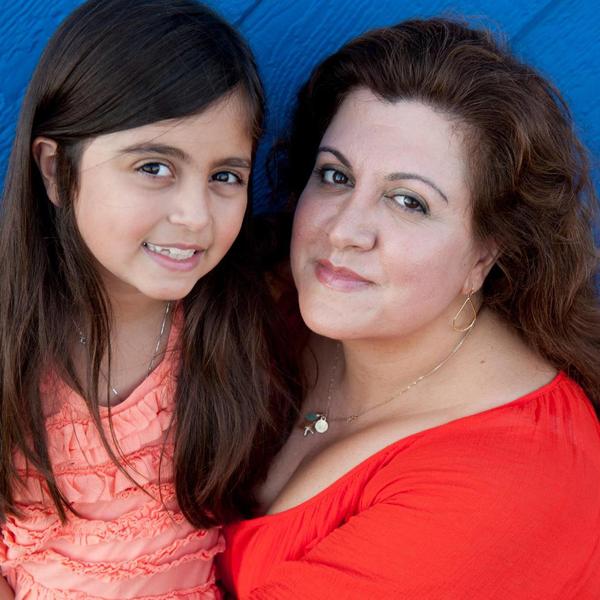 I often tell people that I've never met a mom who doesn't work. This is my response to those who want to have what I consider the ridiculous conversation about whether moms should moms work or stay at home. What I've learned from being a mom and from talking with other moms is that no matter where we spend the day, we are working. Working is what moms do, and Manda Ghaferi is a working mom. She is a wife and a mom of a daughter and a son. She is also one of the moms cited by the recent Pew study that found that women are the primary earners in 40 percent of American homes. She works as an attorney at AIG , where for fourteen years she and her colleagues help assure that the company's financial products are in compliance with laws designed to regulate the securities and insurance industry.
Ghaferi was born in Iran and recalls leaving her home country in July 1981 for America in early morning dawn hours to escape the impact of the Islamic Revolution which happened in 1979. Ghaferi recalls the terror she experienced as a little girl from the sound of bomb sirens and planes flying overhead in connection with the Iran Iraq war which began in 1980. "When those sirens went off, I was terrified we'd all be killed. As a child that anxiety changed me and to this day, I am still a very anxious worried person, always thinking of the worst case scenario. ," she says. "Without much advance notice, my parents told us we were moving to America. We didn't tell many people about our move and I barely said good-bye to my extended family or friends. Still today I have a hard time saying good-bye to people for fear I will never see them again," she admits.
It was Ghaferi's early years that embedded in her a deep sense of empathy and connection to humanity. Her empathy leads in all she does including her work as an attorney. She has always been compassionate, extending her heart and sharing her resources with those who are in need. This was true before she was a mother or an accomplished attorney. Recently, Ghaferi agreed to head an outreach program called Street Law serving local high school student in low-resource communities. Attorneys in the program taught students about what lawyers do, culminating in field trip to the AIG office in LA during which a mock-trial event and career training was provided. Ghaferi was overwhelmed by the impact the program had on the students and the attorneys who participated. It really reiterated to her the idea that it only takes one person to make a difference. "I live by Ghandi's idea that we must be the change we wish to see in the world," she says. "I take those words very seriously. My parents taught me to be charitable. Not just with money, but with my thoughts and deeds as well. I believe that if I'm a part of a community, I must do my part to see that the community flourishes."
When she was growing up, Ghaferi's parents gave she and her two siblings two career choices, you can be a doctor or an attorney. She chose law, and her brother is a very accomplished young surgeon. "My sister," she says, "always followed her own wisdom, not choosing either." Ghaferi admits she admires her sister's courage. "And with her as an inspiration, I really want my children to do what they love. I want them to find the thing that brings them joy before they think about money. I encourage my daughter to dream and give her the tools to follow and explore her dreams," Ghaferi says. Ghaferi acknowledges that while she loves her work, it's hard to leave her kids at home with their grandma and father. "Getting out of the house is no easy task. But I do what I do for my family. I understand the opportunities that exist here in America and believe that if young people have support, they can achieve their potential."
"I don't always make the right choices when balancing work and parenting. I make mistakes," she says. "Just last week my daughter had an end of year party that I planned as the room parent at her elementary school. I had a conflicting meeting that day, and although I'd done a lot of the work preparing for the party, I decided that it would be okay if I didn't attend. I later learned that the entire class had made cards for me and planned to present me with a gift at the party. I felt awful. A couple of days later I took pizza to the kids and apologized for being absent. I'm still having a difficult time creating balance. Even though my children have my mother and husband at home, they still want their mommy. There's no easy fix."
Ghaferi is one mom who is really always working. She is working at work and at home. She is also volunteering her time for pro bono projects and at her daughter's school. Ghaferi does everything she can to provide for and serve her community. "Although I was very young when I left Iran to come to America, I still cry every time I hear the 'Star-Spangled Banner.' I love this country, and I appreciate the opportunities it provides for us to make a difference. I'll do everything I can to help the causes I take on be successful. If just one of the people I touch changes the trajectory of his or her life because of something I've offered or said, that's everything."
For more information please visit www.momschangetheworld.com