There's nothing I love more than marveling at a mom who has discovered her ability to make something out of nothing. You know those women who can take two sticks, a rock, and some dirt and build a home. Okay maybe that's a little far-fetched, but you get my point. Rosanna Llorens is that mom. She is busy making something out of nothing while being a wife and caring for ten-month-old daughter and running a business from her home.
When I arrived at her home, she said, "I was just trying to grab a nap." "Of course she's trying to nap," I thought to myself. Every mom with a child under two-years-old is sleep deprived and looking for the perfect moment to steal some rest. But in addition to being a new mom, Llorens has had other reasons for sleepless nights. When Llorens was nine months pregnant she laid off from her job as an English teacher in the Los Angeles Unified School District. Concerned about how she and her husband would stay afloat financially, she decided she would find a way to make some money in her downtime--when she wasn't caring for her home and daughter and working toward her master's degree in School Administration. "I've always been the type to do more than one thing," she told me.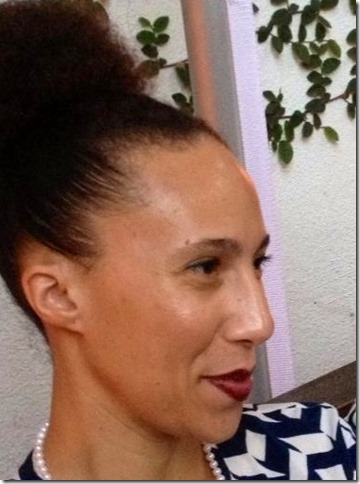 "I've always had one or more jobs or worked and attended school, so it seemed normal that I would find a job I could do from home to make extra money." Llorens had always quilted as a creative outlet, but she didn't feel like making quilts would be the right fit for her business venture. After some research, she decided to pull out her sewing machine, and La Petite Covers, a baby-bib business, was born.
It took some research on Etsy to see what other moms where buying and selling from home. "I knew there were others like me who wanted to contribute financially," she said. "I don't feel good--or safe--if I'm not contributing to our home and finances. At first it would take me an entire week to make five bibs, but as with all things, practice makes perfect. I can now make fifteen bibs in a couple of hours. She also studied her competition for ideas on how to generate a strong variety of patterns and organic fabrics, along with packaging options so as to give her clients choices they would like. And she did her SEO homework to drive business to her site. Within three months, Llorens's sales skyrocketed.
"I love that I'm making something that's useful," said Llorens. "I've sold bibs to a mom whose baby was in the hospital due to breathing challenges and would need a tracheotomy. She planned on using my bibs to cover the device," she said. I sell bibs to moms in Australia, Canada, and Europe. Each time I know that what I make will add some value to a baby's day. On days when I feel cranky, I don't work, because I don't want to put any nasty energy into the bibs that babies will wear. I want them to have my best." Llorens says the best part of her business is receiving pictures from moms of their babies wearing the bibs she's made and shipped to them. "I get pictures and notes. It feels like love is coming through the Ethernet, it's a high arc of love directed toward me, and I feel it."
Recently, Llorens was offered a position as a counselor in one of the highly ranked private schools in Los Angeles. It's a position she couldn't turn down. "Before I was making bibs, I thought that to be hired by this particular school would be a dream come true--and now it's happened," she said happily. "I was thinking of shutting the doors to La Petite Covers, but I thought, Why can't I have both? I love making these bibs."
Llorens says making bibs has taught her what she's capable of doing with very little. "I've learned my strengths, weaknesses, and how to give good customer service. I've learned I can build on something to make it valuable for my family and others. When I first started, I only knew how to sew. Now I know how to connect with customers, work with competition, create value where there was very little and make money doing what I love. The best lesson has been that I can do work that I love." A downside of working for herself, she's discovered, is that she's working all the time. Llorens's goal as she returns to work as a counselor is create a better balance to her life. Parenting, running a business, and being a wife are just a normal day for this industrious mom who managed to weave a profitable business from a little square of fabric.
For more information please visit www.momschangetheworld.com