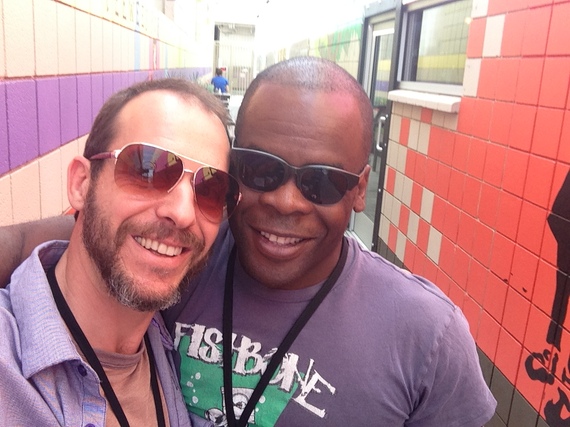 Photo of Ray Ford and Roman Zenz, director of Urban Fruit, a documentary.
We stood at his door with the box marked Crate and Barrel. He marveled at the wedding gift, astonished that gifts would start arriving at the house right after creating a wedding registry. I watched him in awe, my lovely genuine friend who is in the middle of planning a wedding to his partner. This was the first gay wedding I would attend, but it was certainly not my first wedding experience. I've been a bridesmaid and a flower girl on many occasions. And while I'd been dreaming of weddings since I was able to dream, my ex and I eloped. At our wedding was a minister, a photographer (who were also the groom's mother and stepfather), the groom and myself. At the time of our marriage we were in no place financial and emotionally to indulge my childhood fantasies of being a princess bride.

My friends announced their engagement at their annual holiday party. We all stood and applauded. This was not only the engagement of people we loved, this was also California and just a month earlier Proposition 8, outlawing gay marriage in the state, had been struck down.
After the engagement we got together as we often did being next-door neighbors. "I guess we're planning a wedding," my friend would say with a confused look on his face. "Yes!" I'd excitedly respond. With no dreams of dresses, color schemes and floral arrangements, no pictures of diamond rings and honeymoon destinations, my friend just had no wedding-plan groove.
I'd listen as they discussed a venue, a pastry chef and florist. There was such a practical, steady approach to each decision -- no histories or fantasies clouded their thoughts. Once during a discussion about the wedding, I heard one of them say, "The wedding will be fine, the marriage is where we need to focus." In that moment I realized this was something different than I'd ever experienced. Never had I heard people planning a wedding acknowledge the uncertainty about creating a successful marriage. This did my heart so good. They didn't pretend to have the answers. They simply shared an intention to honor their commitment and to celebrate, with loved ones, the start of their lives together.
I knew firsthand what residents of California were up against as I campaigned against Proposition 8 in my predominantly African American community in LA. Christian black people were not going to take this one lying down. I had seen up close and personal the perspective that homosexuality is sinful and that a gay marriage cannot be blessed by God. I'd witnessed decades of denying gay people the freedom to be themselves openly within the church community. So when Prop. 8 passed I was sad, but not surprised.
What I love about the way this couple is planning their wedding is that they treat the event like it is very special, but it is not an end in itself. They see that there are many more great things that will transpire in their lifetimes. They do not hold this marriage as a sense of validation or worthiness. They both come feeling whole and significant, not expecting the other to complete them. Finally they are surprised by the generosity of their friends and family, and are grateful in a way that inspires me. "Yes honey, there will be lots of gifts coming," I told my dumbfounded friend.
As I think about what this experience is doing within me, I guess Christians were right in one instance. Gay people will surely ruin weddings and marriage as we know them, because they set an example of what love between equals can be. They show up as two adults who create a life that works for them as they see fit, rather than two children acting out their delusions about what a wedding and marriage should be. I'm witnessing two people who love one another and are designing a life together based upon shared values and vision. They have no road map or historical references of marriage to influence their emotions or mold them into what is expected. Finally marriage and weddings as I've known them, are officially ruined.
Congratulations to Romen Zenz and Ray Ford on their upcoming nuptials.