We were in the lobby of George Town's Traders Hotel in Penang when we felt it, a queasy movement, subtle enough that I couldn't place it until I heard someone say "earthquake." Our fellow Anglophone travelers were quicker than us to realize what was happening. Then we heard the chiming glass beads of the gigantic crystal chandeliers. I jump up from my seat and ran to a spot unadorned by thousand-pound ceiling fixtures.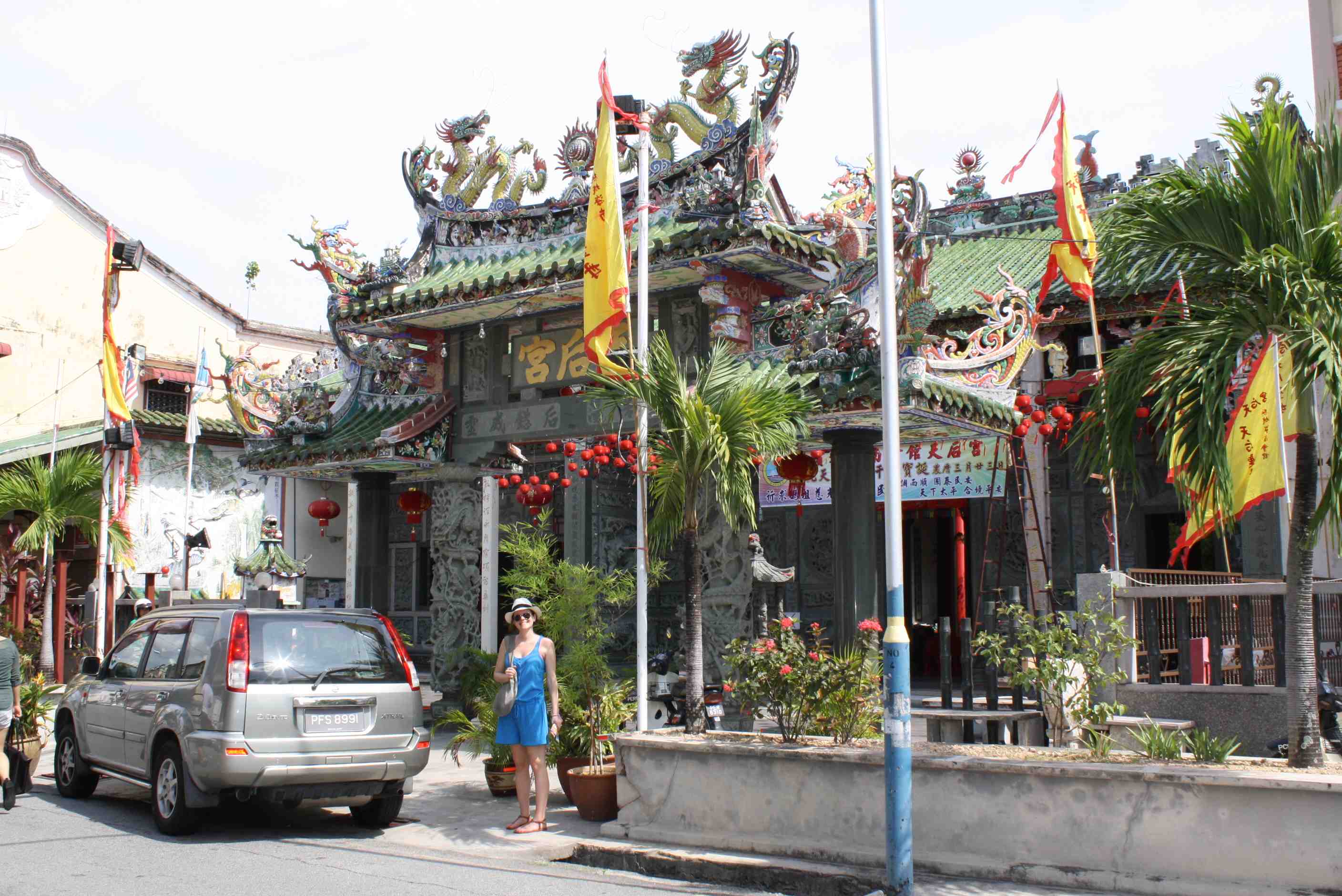 Pre-quake in front of one of George Town's many temples
Thankfully, the shaking was only the ripple effect shocks of the 8.6 magnitude quake in Sumatra. We were waiting in the lobby to catch a shuttle back to our hotel the Shangri-La Rasa Sayang, a beachfront resort a half an hour down the coast from George Town. Back at our hotel, the tsunami watch was on, guests told to clear the beach as the security team kept watch, cellphones in hand, waiting for word from the nearby island of Langkawi, which, in the event of a tsunami, would experience the tidal wave about 20 minutes ahead of us. Director of Communications Suleiman Tunku Abdul Rahman was on hand to allay our fears, explaining that the type of earthquake it had been made a tsunami unlikely and pointing out that the height of the hotel (a lofty three stories and set back from the beach) made even the worst-case-scenarios not that threatening.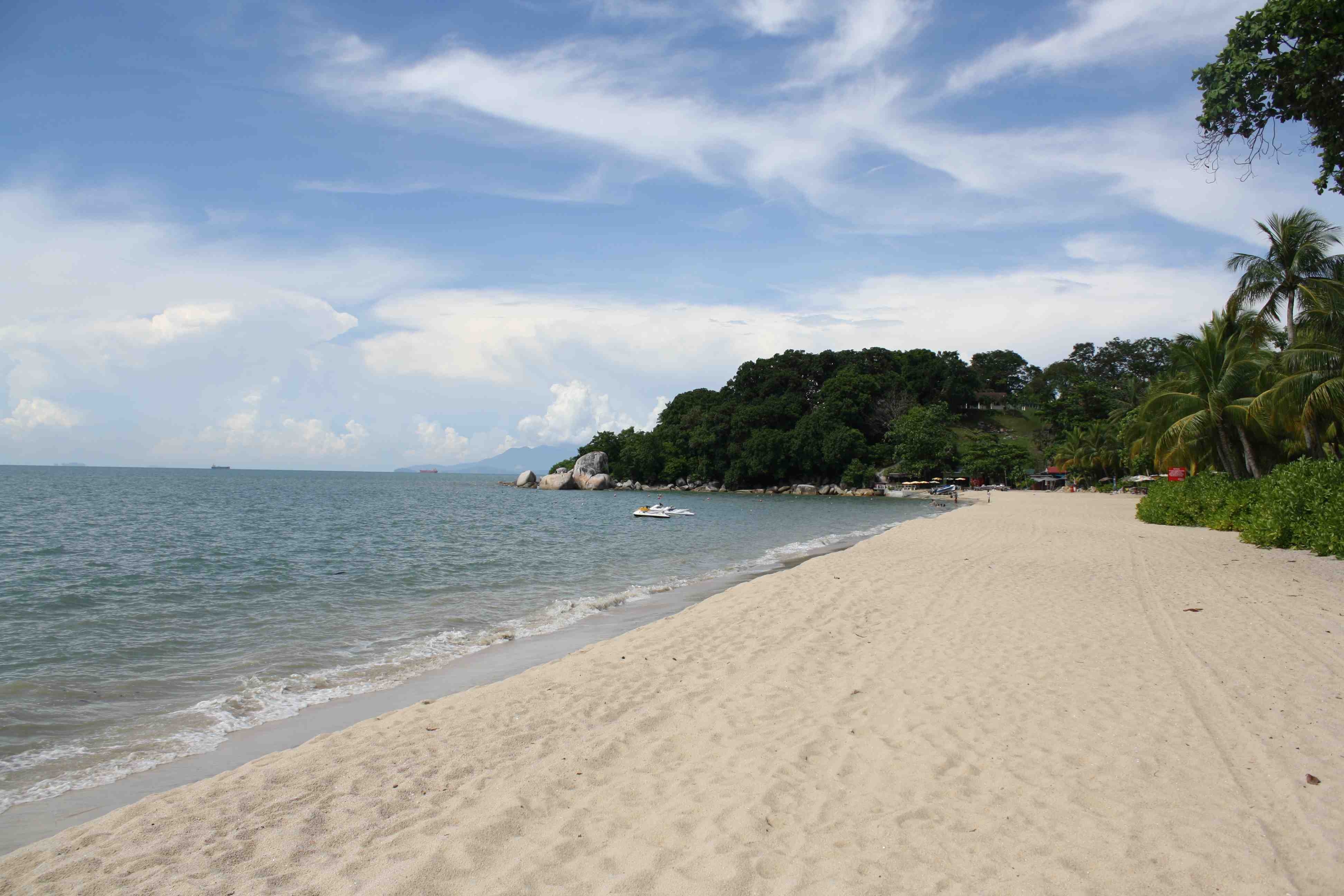 Beachfront at Batu Ferringhi
In addition to the impressively capable way they handle possible emergency situations, Rasa Sayang is a lovely place to stay when visiting Malaysia's most historical island. Penang's capital George Town was named a UNESCO world heritage site in 2008 for its well-preserved 19th century colonial architecture. A British colony for almost 200 years, George Town bears this legacy gracefully--from the 18th century stockade of Fort Cornwallis to the Eastern & Oriental Hotel, a gilded era structure whose teak verandah beautifully captures the opulence of the 1890s.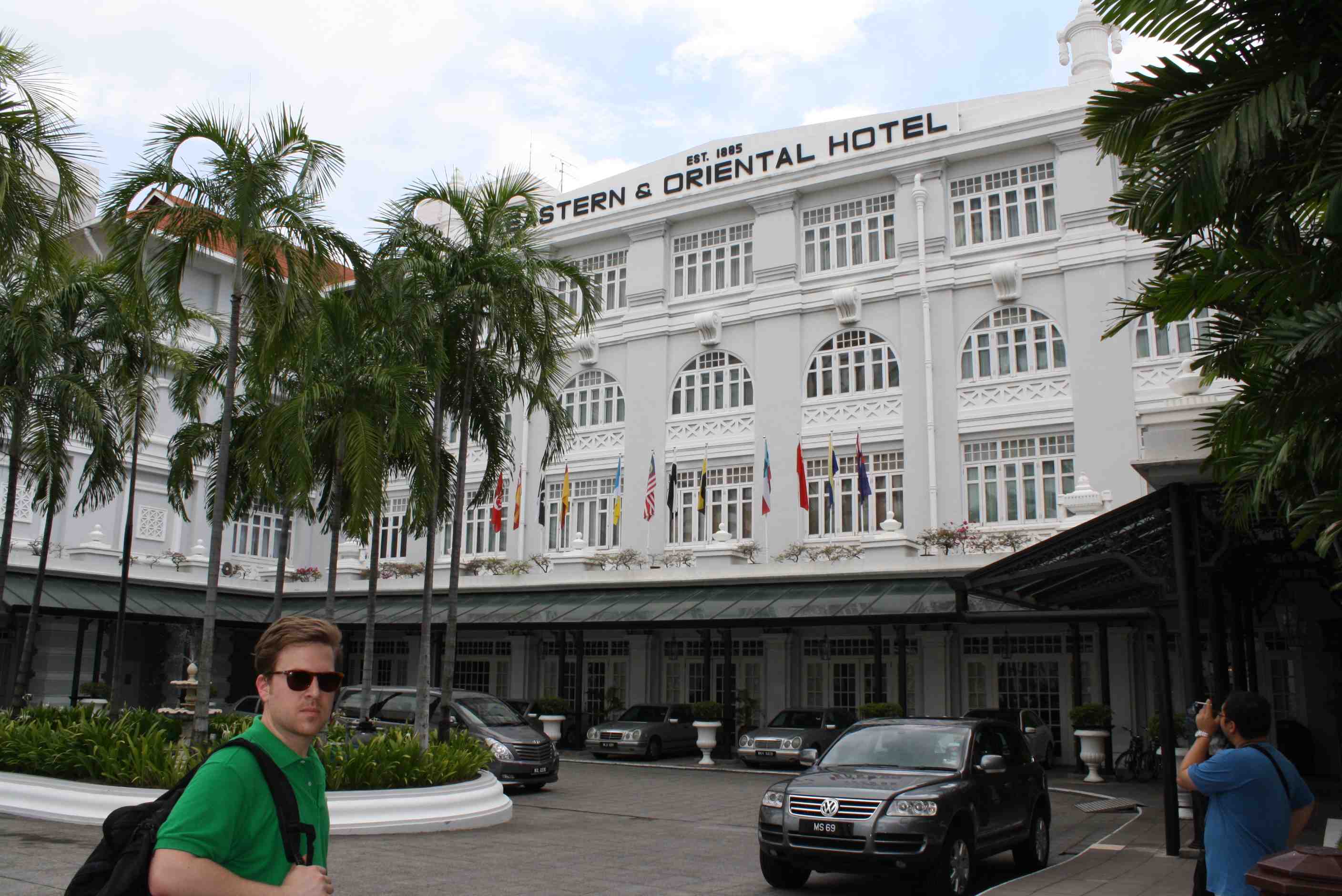 The driveway of the E & O
Penang is also considered one of the best places for eating in the world. Malay cuisine borrows from India and China, its dishes shot through with coconut, tamarind and fish sauce, a rich mix that references Vietnam and shares much with Thai cooking. In short, it's its own thing, but seems to capture all the best parts of its neighboring cuisines.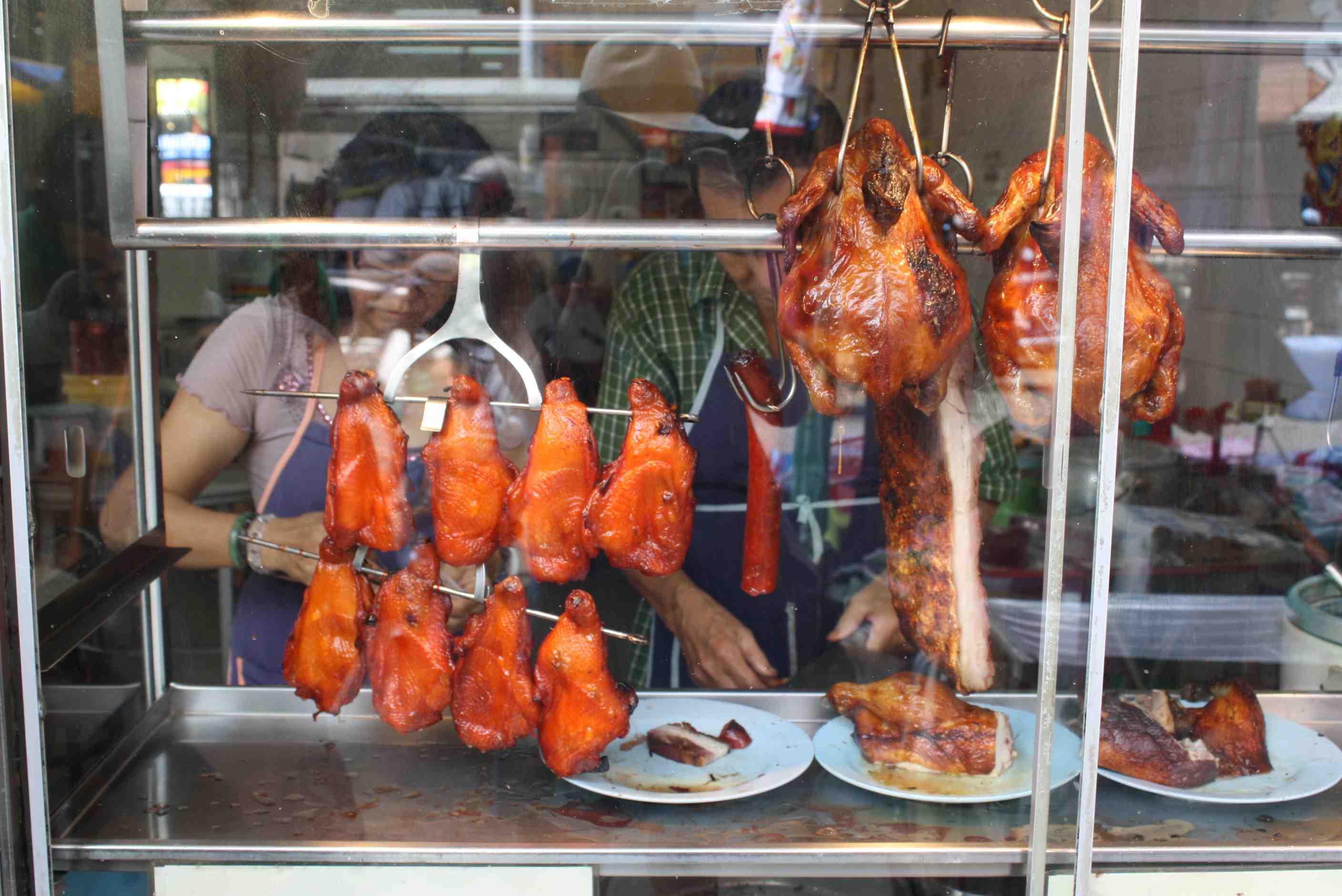 Barbecued ducks in Penang
Two hours after the earthquake, Rasa Sayang officially called off its tsunami watch. Apparently, if nothing happens for two hours, you're in the clear. Crisis averted, we set out for Batu Ferringhi's night market, a kilometer-long strip of hawker stalls and craft sellers a two-minute walk from the resort. Having already experienced the hawker stalls of Singapore, Kuala Lumpur and, earlier that day, George Town, Batu Ferringhi was much less chaotic.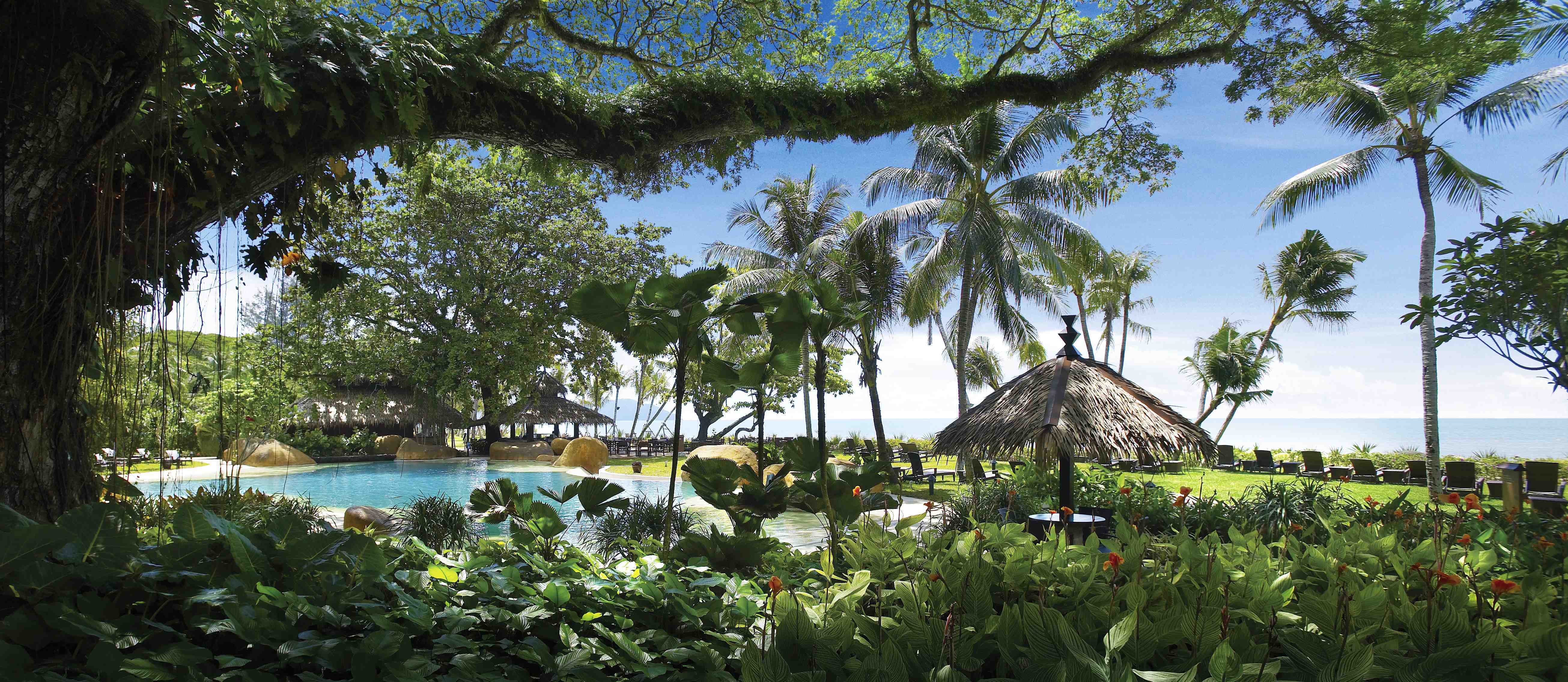 The grounds at Rasa Sayang
You can take your time, leisurely walking the strip, weighing your options for satays and curries, grilled meats and spicy noodles. We settled on a dark wooded restaurant with an outdoor garden, ordering beef rendang and kari kapitan, a rich chicken dish studded with insanely hot red peppers. I ate one whole by mistake and had to sip water and wait for the numbness to wear off, a memorably imperfect moment to end a memorably off-kilter day.