Earlier this week, my husband and I arrived at Singapore's Changi Airport as we began a trip that will include visits to Kuala Lumpur, Penang and the beaches and jungles of Langkawi. As first time visitors to Singapore, neither of us knew what to expect.
Of course we had done research: DVRing Anthony Bourdain's The Layover Singapore episode, buying a Lonely Planet book and picking the brains of my parents, who recently traveled here. One of my favorite things about traveling -- second only to guessing where other tourists are from -- is seeing how much expectations match the reality of the place. In spite of all the information, there are always little surprises in store, things you just don't know until you go.
I knew there was lots of shopping but expected it to be mostly high street brands and massive luxury houses like Prada, Louis Vuitton and Chanel. What we weren't prepared for and were pleasantly surprised by were the less obvious boutiques. We wandered into a glass box Comme des Garcons Play store that carried the line's ubiquitous heart tee, perfume and wallets as well as myriad styles I'd never seen before. Across the street was a Tsumori Chisato boutique, a Japanese designer whose whimsical pieces that can be hard to find in New York.
And to cap it all off they've got Coffee Bean & Tea Leaf. Starbucks I expected, but New York only got its first CBTL outpost a couple of months ago.
The main shopping area, Orchard Road, offers more than just opportunity revamp your wardrobe. It's a bustling, air-conditioned center of activity. The 600,000-square-foot ION Orchard is the grandest shopping mall, home to some 400 shops and restaurants since its 2009 opening. The food court was unlike any I've ever seen: dim sum, Indian rotis, sushi, ramen, Malayan "hawker food" and so much more all side by side in the gleaming basement area.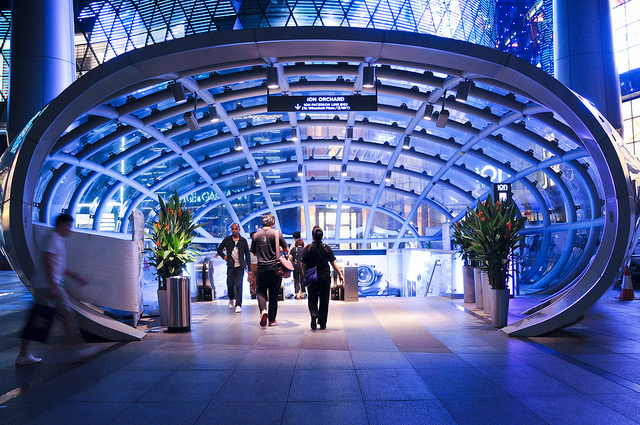 ION Orchard
Our hotel, the Valley Wing of Shangri-La Singapore was just off of Orchard Road, a five-minute walk from the action. The most luxurious of the three wings at Shangri-La Singapore, the lobby of the Valley Wing is covered in white orchids and hung with silk murals and crystal chandeliers. The service is impeccable and guests are treated to complimentary champagne and high tea. We sat and enjoyed Moët and finger sandwiches one afternoon while it poured outside -- our teatime coincided perfectly with a three o'clock thunderstorm.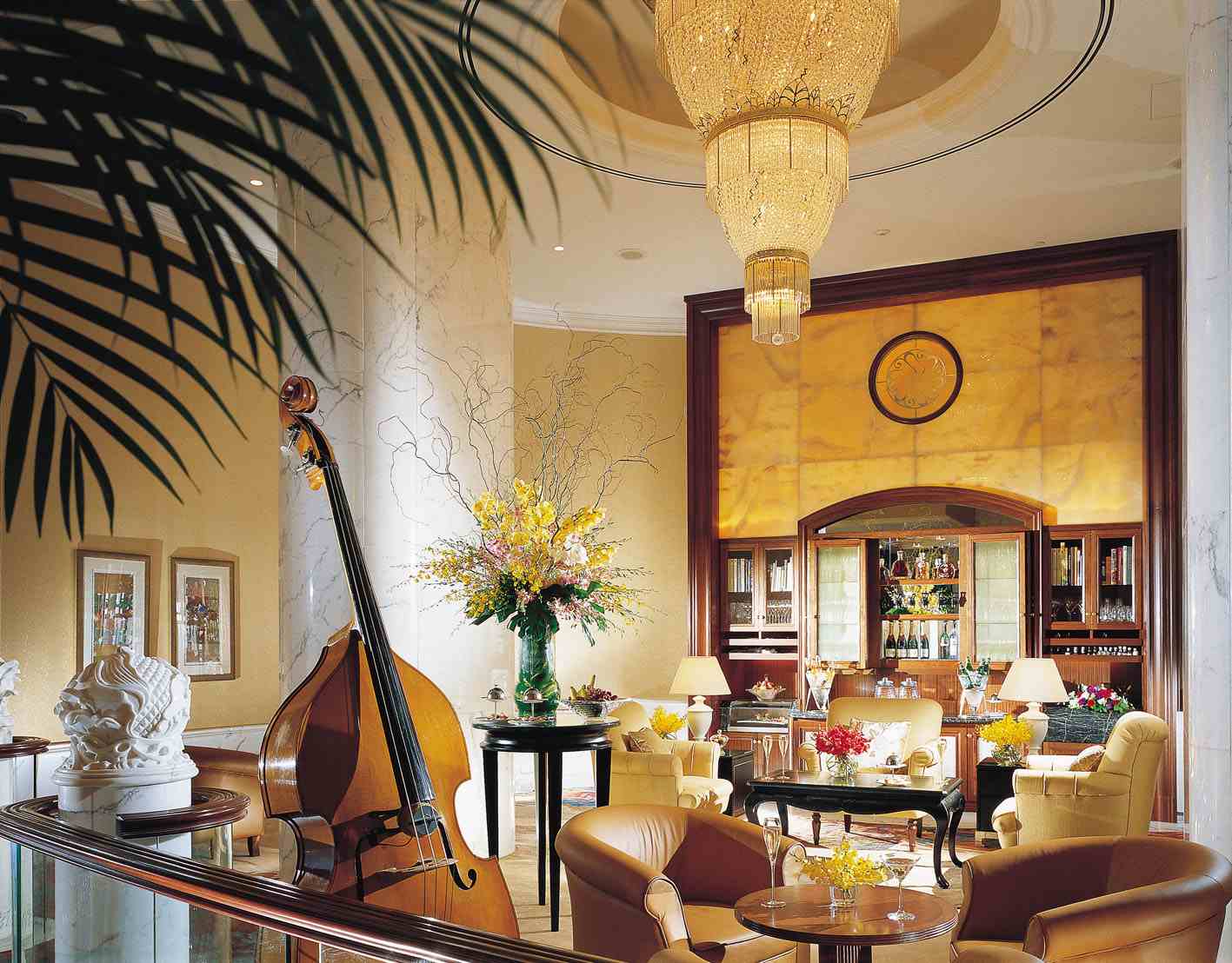 Champagne Bar in the Valley Wing Lobby
The hotel had a strong sense of place, not unlike The Raffles Hotel, a historic property founded in the late 1800s. Tourists come here for the Singapore Slings, but the museum is just as appealing as the bar. Featuring photos, letters and memorabilia from the heady days of late empire travel, the museum includes correspondence from Somerset Maugham and other characters. It makes for a fun look into a past that seems worlds away from the Singapore of today.
Longbar at Raffles Hotel
The much-touted hawker stalls are a pretty amazing sight to see and the dim sum and chicken satays I had were good -- but the culinary standout of my short stay in Singapore was the Indian food! From fish head curries to buttery naan and mutton mysore, a dry rubbed dish that I'd never seen before, it was seriously the best Indian I've ever had, not a designation I take at all lightly.