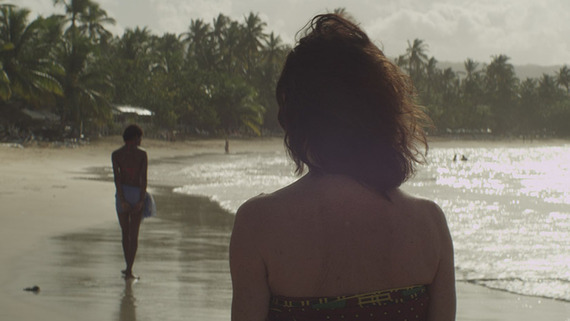 (Photo courtesy of the Bushwick Film Festival and Sand Dollars)

A friend of mine recently returned from a trip to the Dominican Republic and found herself en amores with a young man from her youth whom she had reconnected with. She told me it wasn't serious, but they were chatting 24/7. She was shopping for clothes to send him and making plans to go back -- next time for longer. It didn't matter that he had children or that his supposed ex-wife still lives with him.
Without passing judgment, we concluded that there is something about visiting an island in the Caribbean that will make you fall in "love." What I really wanted to tell her is that to foreigners, paradise creates an illusion of love and money supports it -- an illusion that my friend (and a few of my aunts) have fallen victim to.
Chances are if you are of Dominican descent, this type of scenario, as irrational as it might seem, is all too common; the expression Sanky Panky comes to mind. Often used for comedic relief, Sanky Panky is a popular phrase used on the island to describe opportunistic people who prey on tourists and foreign residents. Offering a refreshing take on the intricacies of Sanky Panky, "Dolares de Arena," is one of the highlights of this year's Bushwick Film Festival in Brooklyn, N.Y.
Loosely based on the book "Less dollars des sables" by Jean Noel Pancrazi, "Dolares de Arena" or "Sand Dollars" is a co-production between the Dominican Republic, Mexico and Argentina and the latest film by Dominican filmmaker Laura Amelia Guzmán and her Mexican husband Israel Cárdenas.
The film follows the love triangle between two young Dominican locals and an elderly French expat. Noeli (Yanet Mojica) and her boyfriend (Ricardo Ariel Toribio) make ends meet through the tourists that wander the beaches and hotels of the picturesque town of Las Terrenas. For three years, Noeli has maintained a steady relationship with Anne (Geraldine Chaplin), an older woman deeply captivated by the beauty of the island and her connection with Noeli. Passed off as her brother, Noeli's boyfriend encourages her to extract money from Anne. Compounding one lie with another right to her face, Noeli convinces Anne to help her obtain a visa to Paris -- where Noeli will then send money back to her boyfriend.
Noeli's insensitivity is flagrant, but the film refuses to pass judgment on her or the couple's operation. The cinematography is tight, creating an intimate tone: the actors' bodies speak louder than their dialogue. The movie relies upon the acting chops of Chaplin (yes, she is the daughter of Charlie Chaplin) to convey the story's emotional gravitas. It's a cold reality check every time Noeli shamelessly asks for money and la doña wears her angst plainly around Noeli. Only the girl never wavers, and this dynamic swallows their scenes whole without overpowering them.
Noeli's exuberant blackness juxtaposed with Anne's withered, pale skin is spectacular and also serves as a reminder of the way Caribbean destinations and women of color are fetishized by foreigners. Above all, the most striking theme explored in "Sand Dollars" is the way both of these women use each other as a form of escape.
When she is not lounging around an empty hotel, Anne often stares at Noeli, yearning for more but never articulating which placeres she desires of the girl (borrowing phrasing from the song that bookends the film). Does she want Noeli's passion or her youth?
In a similar way, Noeli stares at her boyfriend and at her country unable to see an exit or the value of her existence. Noeli and Anne are too busy indulging in the haze surrounding the idea of what they can provide for each other; there's a painful awkwardness to their dance. Disconnected from her family, Anne is searching for redemption, while Noeli innocently believes a common notion in the island that migrating to another country will solve her problems. They lock eyes but cannot yield any truth.
As complications arise, it becomes clear that Noeli's feelings for Anne have moved past convenience, and even with her chosen lifestyle, there's innocence to her behavior. Uncertainty is even more obvious when set in paradise. Even the perfect soundtrack of classic Bachata -- not the mainstream Romeo Santos you are used to -- cannot ease discontent.
Revolutionary in it's portrayal of homosexuality in a country that is largely homophobic, as well as blackness where natural curly hair is deemed pelo malo, "Sand Dollars" is easily one of the best films to come out of the Dominican Republic in recent years. It's honest portrayal of tourism (a large driving force of the economy) is deeply tied to Dominican culture. Where many seek a vacation, locals struggling with poverty and lack of resources want a way out. Both of these depend on each other and help create the relationships explored in "Sand Dollars."
"Sand Dollars" will be screening on Saturday, Oct. 3 in New York as part of the 8th annual Bushwick Film Festival. Visit BushwickFilmFestival.com for more information and here for tickets.