Oh Lightning in a Bottle, you beautify my soul, gathering minds of greatness is your pure and cosmic goal. We dance, we listen, we clean, we glisten, not animals who survive but spirits who are alive. Relinquish all hate and give into fate, where the weird are revered and creation meets celebration. Oh Lightning in a Bottle, you have helped me find, an earthly realm, where at last, mankind can feel aligned. Less than 6 months away from The Do Lab's Lightning in a Bottle, the preparations are already in full swing. For the life of a festival junkie, however, the preparations last all year long.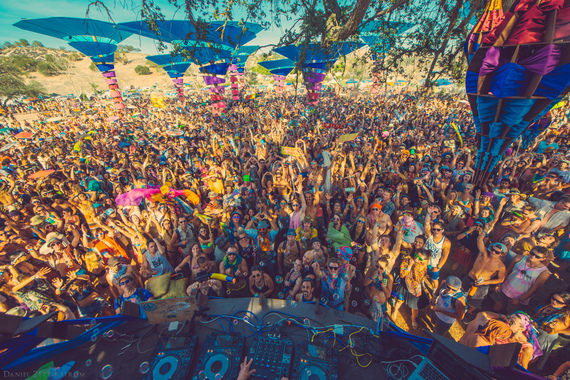 Photo Credit: Daniel Zetterstrom
While the lineup is still being arranged, the preliminary announcement of date and location has been released. Lightning in a Bottle will be spending its second year at San Antonio Recreation Area in Bradley, California on Memorial Day Weekend, May 21st-25th. It has also been announced that ISO50, Scott Hansen of Tycho, will be the lead visual designer for LiB 2015. With the growing number of patrons attending the festival, it was imperative that The Do Lab found a place that can accommodate so many powerful spirits. Having struggled the last 3 years with finding a solid location for the festival, it seems that Lightning in a Bottle can now call Bradley its home sweet home.
2015 celebrates Lightning in a Bottle's 10th year in existence and because it is their second year in Bradley, The Do Lab will be able to improve and build off of last years creations, lending hand to the festival's rapid evolution. One of the first, largest, and most well-known transformational festivals, LiB promotes community, eco-consciousness, growth, education, creative expression, healthy living, and most importantly, a passion for life and humanity. Thanks to the magic of Woodstock, transformational festivals are beginning to reshape society and not just within the youth counterculture. These festivals give back where as many popular music festivals simply take.
The first round of tickets go on sale Monday, January 5th at 10am for the Rush-n-Get-Em 24-hour ticket window starting at $235 for the full weekend pass. Up-And-at-Em tickets go on sale Tuesday, January 6th for $260. Seemingly far away, but just around the corner, purchasing tickets early is the best way to secure limited car camping, boutique camping or lightning bus spots. Also, stay tuned to the Lightning in a Bottle website for opportunities to work or volunteer at the festival.
Family friendly, human friendly, and earth friendly, Lightning in a Bottle is an electrical current that zaps inspiration deep into our souls. It frees the body and the mind by providing a safe playground where being weird is worshiped, dancing is a language, and music is seen in color. New artists are discovered and established artists are exalted. Crystals are more valuable than currency and even the common pine cone has been redefined. Music festivals like Lightning in a Bottle are important for the advancement of our race. Minds are opened, perspectives are changed and bonds are strengthened. These spiritual connections between humans are what will push us toward a world of higher consciousness, beyond the dollar signs. Lightning in a Bottle is not a place to escape to but rather a place to come home to.
Keep your third eye open for upcoming lineup announcements and more LiB news in the New Year!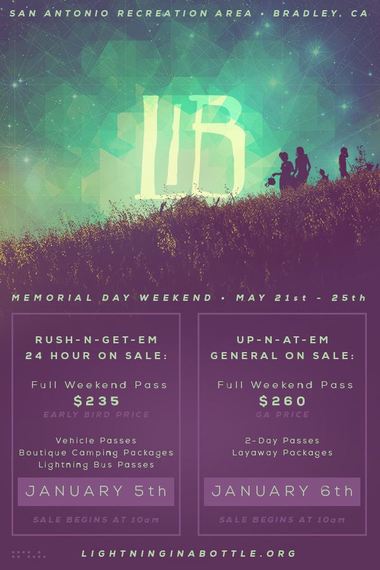 Lightning in a Bottle Website
Lightning in a Bottle Facebook
The Do Lab Website
The Do Lab Facebook