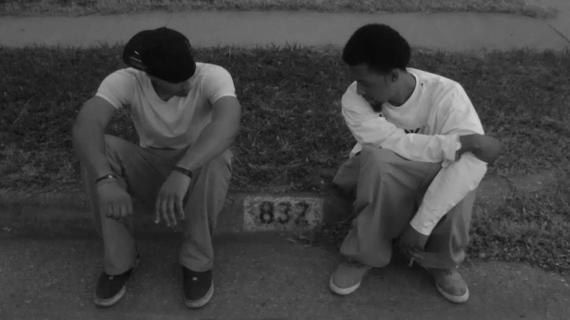 Music has the power to reach far and wide, speak every language, and even control our pulse. Of the many genres of music that exist, hip hop has always been at the root of urban culture. It has undergone evolutions of change, but certain sensibilities have stuck with hip hop from the days of its origins to now. Creating a rhythm and carrying a message are the heart and soul of hip hop music. While a strong message has become lost in a mainstream mess of exploitation, money, sex, material possessions and decadence, there are still artists who stand by their roots. Brother duo 832 are true prophets of the underground, holding true to their passions and originality.
Nawlege 405 and Solomis are brothers who were raised in the 1980s during the birth of hip hop. Hailing from Oklahoma City, the moniker 832 is an homage to the address of the home in which they were raised before it was burned to the ground. In 2013, the duo won the 6th Annual Street Music Award for Best Duo despite being invited to the show only one week prior. Their experimental flows are a reflection of the true essence of hip hop as they rap about reality instead of fantasy. Dark and sometimes aggressive, 832 utilizes what lies within them to produce deep and alluring tracks. The album The RAP-ture is a collection of experimental flows, emotional lyricism and various styles of instrumentals. The uplifting track "Skyline" is one of inspiration with an infectious beat and a tribal feel. Its catchy melody also reflects their wide spectrum of sound. "Psycho Woman" bleeds into the world of trap with aggressive lyrics and tones. "Ragtime" has a powerful beat and message; a rolling lyrical cadence that takes you on a trip of empowerment. Including female vocals and even violin samples, The RAP-ture encompasses a well-rounded album that takes you full circle, from dark to light and every hue of color in between.
On their prior album, Love And Fear, they refer to themselves as "political rhyme peddlers." Many of their tracks discuss deep issues that openly express pain and anger. Within these emotive tracks, however, there is also a light that exists. A message of hope, change, and learning from our past. Embracing the turmoil along with the happiness, letting the anger consume you and then releasing it from your mind. Hip hop is extremely influenced by the area from which it originates. Oklahoma is not known for its hip hop scene, so these siblings utilize sounds from multiple generations and regions, creating the perfect recipe for a truly unique style.
832 is not music that preaches escaping from your world, but rather encourages facing your world exactly as it exists. Our brains are constantly absorbing and interpreting experiences from our day to day lives. 832's brains convert these experiences into lyrics and flows, creating a very powerful musical experience. By rapping what you know, you are opening a door of perception, that anything is writable about if you can arrange the words in an evocative way. 832 speaks to the mind's eye, allowing us to perceive the world as it is to a beat that moves our souls. Hip hop is the poetry of a generation, and as long as there are rappers who remain honest and original, hip hop will never die.
Soundcloud: https://soundcloud.com/beatsdemand832
Bandcamp: https://832music.bandcamp.com/album/the-rap-ture
Facebook: https://www.facebook.com/beatsdemand832
Website: http://832.bandzoogle.com/
Music Video: http://www.vevo.com/watch/832/burn/QMGR31407889