Every USA Network ad boasts about its characters. Apparently, at USA Network they are welcome. This has lead USA to develop a crop of shows in the Monk mold: big stand-out characters doing wacky things. This isn't to disparage the formula because it produces some very entertaining programming. Just this summer I fell in love with the network's quirky and addictive sports psychiatrist dramedy Necessary Roughness and if Golden Globe nominations are any indication, I wasn't alone.
USA shows always remind me of summer, every series seems to be a built-in frothiness that calls to mind warmer climes. Curling up on my couch in the middle of January, I won't lie; having that summer feeling back again was welcome.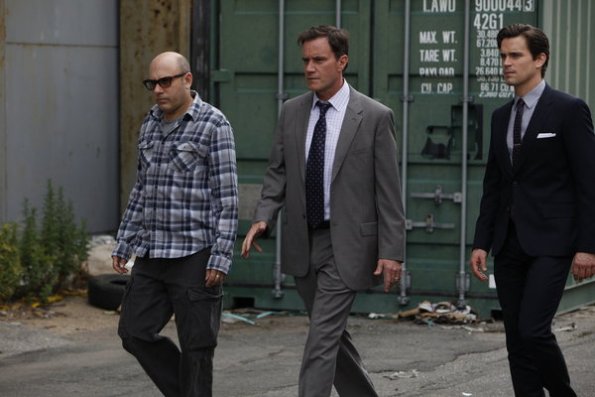 White Collar is one of the network's best outings, marrying its signature brand of over-the-top characters with charismatic actors. For the uninitiated, Neal Caffrey (the dreamy Matt Bomer) is an ex-con artist who is forced to team up with FBI agent Peter Burke (Tim DeKay) to earn his freedom from jail. Like every crime-solving buddy cop narrative it survives on the chemistry between this appealing odd couple.
USA loves to split up seasons, a trend I've seen with increasing frequency lately in the world of basic cable. At the end of the first part of season three, Neal had gone back to his bad boy ways with friend Mozzie (Sex and the City's Willie Garson) and some stolen Nazi treasure. This led to the kidnapping of Peter's wife Elizabeth (Tiffani Thiessen).
The series picks back up on January 17 with the action-packed "Checkmate". Without giving too much away, the race against time to save Elizabeth is front and center in the premiere. Not revealing her ultimate fate, the hour really allows Elizabeth to show off her smarts. If the FBI is hiring, I think she'd make a great addition, especially after the downright MacGyver-esque skills she shows off in the premiere.
What "Checkmate" does best, however, is set up a taunt sense of tension between our favorite partners. Peter's anger and lost trust in Neal are palatable and the schism in the friendship will be a tough one to repair. The tension between the two reverberates through at least the first three episodes of the show's six episode winter run.
While I wouldn't call the partnership irreparably damaged, I would expect to see some long-standing consequences from Neal's actions. The witty, easy dynamic between these two is certainly the heart of the show, but all good relationships on television need to be shaken up from time to time. It'll be interesting to see how this changes the familiar dynamic going forward towards the finale.
The other change going into the last stretch of season three episodes is with Neal himself. Is he really a con artist at heart or has he actually changed? And what does he really want from his life now? There are no easy answers to these questions, and if his recent exploits are any indication his criminal days aren't completely behind him yet.
Still, he talks a lot in the first batch of episodes about his desire to finally stay in one place and change for the better. Of course, there's also a little traction on his jail sentence that may come into play. Should Peter believe Neal's a changed man? Looking into Bomer's baby blues, I'd buy just about anything he's selling, which is why he's so perfect for the part.
Keep a special eye out for the January 31 episode "Upper West Side Story", a really fun undercover romp that still deals with the fallout between Neal and Peter. It also has Neal playing both cupid and substitute teacher. If I had teachers that looked like Matt Bomer, I would've enjoyed high school way more.
By now White Collar knows what it's doing and does it well. Dropping in this winter are some notable guest stars, including True Blood's hunky werewolf Joe Manganiello as a neighbor who's not so friendly. With added tension between Neal and Peter and good screen time for the show's quirky ensemble, the end of season three looks like it's headed in the right direction.
Season three of White Collar returns on January 17th at 10 p.m. EST with "Checkmate".
Are you looking forward to White Collar's return? What do you think will happen with Elizabeth's kidnapping? And will Peter ever trust Neal again? Sound off in the comments!