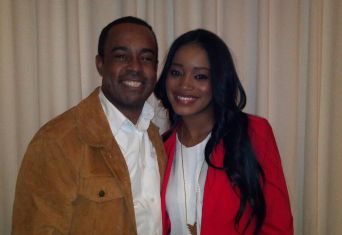 Hopefully, African-American cinema will mature right along with her.
Keke Palmer is far too composed for only having been on this Earth for 18 years.  She's avoided scandal despite matriculating from child to fully-grown film star, a rarity to be sure.  Not only that, she is genuinely affable and comfortable in her skin despite her fame. Few of us could say as much when we were teenagers.
As I expressed in the beginning, the real question is, has the African-American movie industry also matured with her? The marketing push behind Joyful Noise (opens nationwide Jan. 13) has not been limited to niche or ethnically marginalized outlets. Commercials for the highly-anticipated film can be found everywhere from the middle of college and pro football games on ESPN to prime time slots on the traditional networks.
For a movie featuring a majority African-American cast with an interracial love story and gospel theme at its center; it's a bold marketing statement by Warner Bros. Pictures. We should collectively take note.
Don't get me wrong, I get the fact that this is a movie designed to reach the diverse fan bases of its ensemble cast, which also includes Queen Latifah and Dolly Parton.  The three featured actresses offer different fan bases, traversing different generations and genres.  Expect country, gospel, R&B and hip-hop fans to support this film... or at least that is the hope.
I get it, really I do.
On the surface, Joyful Noise is willing to offer a colorblind look at America today through its casting and marketing; and that's a beautiful thing. But at its heart, it's music and story against the gospel backdrop are straight out of the annals of African-American cinema.
The gospel-themed movie has been a staple for African Americans for decades and likely the film will need to resonate with the demographic to be fully successful. Let's be honest, it has been some time since a majority African American, gospel-themed movie has hit the theaters without the protagonist donning a dress. No disrespect to Tyler Perry, but there is no baggage or controversy attached to Joyful Noise. That's a beautiful thing, too. There is nothing standing in the way of its success from that standpoint.
Colorblind marketing aside, African-American audiences have been clamoring for movies that don't feature the stereotypical violence, materialism, misogyny and dare I say buffoonery all-too-often found in "Black" movies... whatever that means. Despite what is highlighted on the silver screen, it really is OK to feature African Americans in movies not named Get Rich or Die Tryin' or rely on drugs or prison as key components of telling a "Black" story.
Back to Keke Palmer...
Palmer is no stranger to positive and substantive work as an actress. From starring alongside Laurence Fishburne in the critically-acclaimed Akeelah and the Bee to her Nickelodeon sitcom, True Jackson, VP; Palmer has consistently elevated the conversation as to how African-Americans actors and movies need not flaunt stereotypes or other demeaning imagery in order to make a commercially successful product.
I recently sat down with Palmer to get her thoughts on Joyful Noise, her approach to her career and how she hopes her fan base will mature right along with her as she moves further into adulthood.
Click HERE for audio conversation with Keke Palmer.
Morris W. O'Kelly (Mo'Kelly) is a political correspondent for the BBC Radio and Television networks and author of the syndicated entertainment column The Mo'Kelly Report. For more Mo'Kelly, go to his site. Mo'Kelly can be reached at mrmokelly@gmail.com and welcomes all commentary.