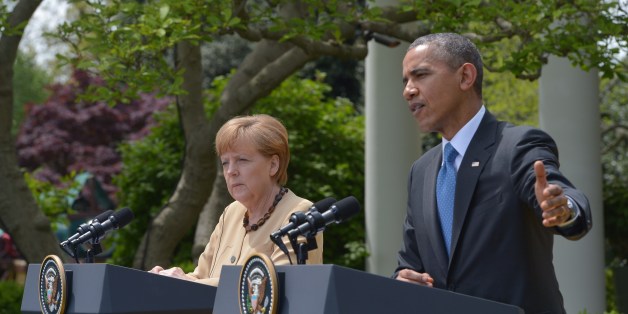 During their visit last week, U.S. President Barack Obama and German Chancellor Angela Merkel did not succeed in resolving their disagreement about American spying on German officials and private citizens.
It appears that Germany still wants a "no spy" agreement with the United States, meaning that the two countries would cease and desist from spying on each other's government officials and citizens.
But such an agreement was never a real possibility. No two nations have ever had a total ban on spying on each other. All governments seek to read the diplomatic traffic of all other governments, friend or foe. And all spy in some circumstances on residents of other countries as well as their own citizens.
There sometimes can be good reason for this (some of the pre-9/11 plotting happened in the U.S. and some in Hamburg). But this does not mean that the chancellor's mobile phones or the emails of all German citizens are fair game for the U.S.'s National Security Agency (NSA).
The interaction between the two governments on this issue got off to a very bad start in light of the understandable outrage of the German government and people about these reports of American spying. The U.S. government's failure to respond constructively was in turn based on its belief that German demands were unrealistic and to some degree hypocritical.
The American government does seem to have wisely ended its practice of routinely seeking to listen in on the cell phone calls of friendly leaders, including Merkel. At their meeting in Washington, D.C., the two governments recorded some progress but noted some unspecified differences and agreed to set up a working group.
This bilateral group should consider a new approach to resolving this problem.
The work must focus on reaching agreement on the circumstances when the use of surveillance against residents of democratic countries is legitimate. Achieving a public agreement along these lines is necessary to remedy the breach of trust between the United States and not only Germany but all of Europe and other countries such as Brazil.
The starting point should be a commitment by the two governments to reach an understanding that provides for reciprocal restraints in their surveillance of private U.S. and German citizens.
President Obama took the first steps toward such an agreement in a speech in January and a Presidential Policy Directive. Those documents may constitute the first public statement ever made by any government accepting the notion that citizens of other countries, not physically in the host country, have privacy rights that need to be respected.
As a reciprocal measure, Germany should announce that it shares the view that citizens of other countries are entitled to have their privacy respected and that it will refine and make public the limitations it is imposing on its intelligence services.
Building on this common understanding, the two governments should agree to initiate a process designed to develop standards and guidelines for surveillance of private persons that each government would commit to incorporating into its own domestic laws. Other democratic governments, both in Europe and across the globe, should be invited to commit to the same goal and join the effort along with other stakeholders, including Internet companies and civil society organizations.
The guidelines should require that the rules governing surveillance of private persons be enacted into law and that each government be required to provide a clear and complete explanation of what surveillance is permitted and under what circumstances.
The guidelines should cover direct surveillance, searching large data bases, and minimizing the use of personally identifiable information. The guidelines should provide for effective oversight of the intelligence activity consistent with each country's traditions and provide for the right of redress for anyone improperly surveilled.
The successful negotiation of such standards will go a long way to restore the trust of democratic governments in each other and of their citizens in their governments and intelligence services.