By Sara Ferree
How do we create spaces that hold expecting and new mamas safe and supported?
In the first days after my daughter's birth, I knew how to do all the bits and pieces -- diapers, dressing, bathing -- from years of babysitting. But the big things, like feeding her and holding her for hours on end, were things I didn't know how to do naturally.
When she wasn't getting enough milk from me, I asked for help and got some, but not enough. A visiting nurse came to check on me. In her effort to make sure I was doing everything right, she seemed too eager to point out everything I was doing wrong. I felt judged, and within minutes my fragile confidence was undermined. The little energy I had to parent my child slipped away.

I then sought help from the pediatricians and the lactation consultants. But it was all relatively cold and technical. Family came to see my baby, but they tried to stay out of the way and let me do it all. And, then they left.
I was alone. I was fraught with anxiety and determined to be in complete control of every detail -- timing every feeding, pumping extra to be prepared for anything and to give my baby as much as she could possibly need. I was exhausted and slowly fading out of my own mind. I thought if I scheduled everything and followed it to a "T" then I wouldn't mess anything up.
I was so anxious and had so many fears. I was scared to let my daughter crawl on the wooden floors or get too close to the dog.
I was desperate to get it all right--from every piece of advice in every book I read, to every word of advice from every person I asked. I desperately wanted to get it all right so no one could accuse me of failing or making mistakes as a mother. I didn't want to be seen as a bad mother. And, I felt such guilt for not getting the feeding right in those first days-- something I thought would be so basic and was so crucial to her well-being.
All of the anxiety made it really hard to make a strong connection with my child. I loved her. We snuggled. We sang. But I was so afraid to do it wrong, that she became like a science experiment that I couldn't let fail.
Six months later, things changed. I joined a mommies group and gained the support of the other mamas and the facilitator, had space to talk, to share, to see how other people were with their babies, the challenges they had, and was introduced to less rigid and medicalized ways of parenting. Finally, I was able to relax.

I was able to trust my intuition, and that's when we really began to connect. I was fully with my child and not worried about the next feeding or nap or task. This is when parenting became both enjoyable and a whole lot easier.
With my second daughter, I sought and found that support system right away. I had an OBGYN who was checking in, a friend who referred me to an angel of a lactation consultant with a flock of kids of her own who totally got it, and the amazing Pacific Grove Parents Place where I had a supportive group of mothers in a class that went on for 11 weeks and was filled with kids my child's age and an amazing teacher. The curriculum (and price!) was excellent, but more than that, the space for talking and figuring things out together made it possible for me to get through those challenging days.
How do we create more of these spaces for mamas who want them? How can make them affordable--or free? How do we connect women who feel isolated in their new roles -- no longer connected to work, and launched head first into motherhood?

I was younger than most of the mamas in the group. That was a challenge because many had created the nest before the egg, whereas I had the egg and a less stable nest. These classes were expensive in private settings, but because Parents Place was part of the Pacific Grove school district, I was able to participate.

MotherWoman is another amazing example of an organization providing free, supportive communities where moms can share and feel heard in a space of respect, non-judgment, and a belief that mothers are powerful. They also train mothers to support other moms by leading support groups in their own communities, greatly expanding the number of women who have access to the program.
In addition to these support circles, we also need a medical system that is filled with supportive doctors and nurses who are trained to help mothers transition from their first appointments during pregnancy to taking their baby to the pediatricians' office. MotherWoman's CPSM (Community-based Perinatal Support Model), brings together medical, mental health, and social service professionals, as well as community leaders, to form a coalition in local communities to create a safety net to "catch" mothers who experience perinatal emotional complications.
I'm so grateful that I eventually got the support I needed after my first baby was born, and that I had a solid support network when my second baby arrived. Shouldn't every new mama have that? A healthy and happy mom is a much better mom.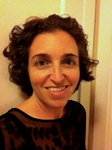 Sara Dowd Ferree loves to connect people, organizations, and resources together, to see women's and children's needs met and stronger communities formed. As a lifelong advocate for increased opportunities for women and children, Sara saw the power of women organizing in support of each other and their communities when she worked with the Global Fund for Women and in the Peace Corps in St. Elizabeth, Jamaica. Sara is a non-profit consultant and freelance writer in San Francisco. She's on 74 of 100 thoughts for her daughters at saraferree.tumblr.com
LIKE MotherWoman on Facebook: www.facebook.com/MotherWoman
FAN MotherWoman on Huffington Post: www.huffingtonpost.com/motherwoman/