By Jennifer Shiao Page
Last year, I made a career change and I'm now working for the University of Massachusetts, Amherst. But prior to that I had an 18-year career in the consumer products industry. When I became pregnant several years ago, I was working for Procter & Gamble, the largest consumer products company in the US, and in the world. P&G has a very generous maternity leave program. Full-time employees get six weeks of fully paid leave. So, when my daughter was born, I took my six weeks of fully paid leave, plus my three weeks of fully paid vacation time for that year. And when my daughter was nine weeks old, I went back to work. During my nine weeks of fully paid leave, I was able to recover from childbirth, I was able to get comfortable with breastfeeding, I was able to get to know my newborn baby girl, and I was able to get used to operating on very little sleep, all before having to go back to work. I am very grateful to my employer, to the Family Medical Leave Act, and to all the working mothers who came before me. All these made it possible for me to spend nine weeks worrying about diaper rash, instead of deadlines.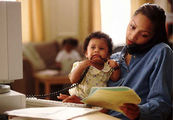 I like to think of those nine weeks as a blissful period of new motherhood, but in reality, it's all a blur. But I do remember one moment, when I was wearing my daughter in a sling, and walking through downtown Northampton on a sunny spring day, thinking to myself, I am so grateful for paid maternity leave, no matter how short it is.
Now, I say paid maternity leave, because I was, and still am, the primary breadwinner in my family. At the time, my salary accounted for about 75% of my family's income, and we needed every penny of it, for our mortgage and all of our bills. So, I couldn't afford to take any leave that was less than fully paid.
Now, I consider myself to be one of the lucky ones. I worked full time, for a Fortune 500 company that was, and still is, known for being "friendly" to working moms. As hard as it was for me to go back to work at nine weeks postpartum, I can only imagine how hard it is for a single mom who works in an hourly minimum-wage job, and who doesn't get any leave, because her employer doesn't have 50 employees, or who does get leave, but doesn't get a paycheck during her leave. At the very least, FMLA sets the floor so that most people don't lose their job if they have a baby or have to take care of a sick family member. Honestly, I have a hard time thinking about how people are able to manage without it.
Today, to be frank, I'm a little cynical about "maternity leave." Whenever I hear people use this phrase, without any modifiers, as in "I get 12 weeks of maternity leave," I always want to ask them, "Is it paid or unpaid? And if it's paid, is it fully paid or partially paid?"
So, I am very grateful for our country's current policies, but I think that we are only part of the way there. I don't know what all the answers are, but I know that we will get there thanks to organizations like MotherWoman, who work to advocate for family friendly policies that value mothers and families. And hopefully, someday soon, we can come together to celebrate a country that supports all working parents, and doesn't force people to choose between caring for their loved ones, and earning a paycheck.
To help MotherWoman help families, visit MotherWoman's 'Advocating for Mothers' Campaign.
Jennifer Shiao Page had a successful 18-year career as a data analyst in the corporate world, when she decided to re-focus her career with an organization that is mission-based, as opposed to profit-based. Now, as an instructional designer with the University of Massachusetts Amherst Continuing & Professional Education, she helps faculty to develop and deliver online courses. As a mother, one of Jennifer's many goals is to teach her daughter to be empowered and resilient. In her spare time, she enjoys cooking from scratch, reading novels, and knitting. Jennifer lives in Amherst, MA, with her husband and daughter.