By Jessica Avery
I never felt that I was meant to be a mother. Growing up, I changed career interests as often as my friends were changing their dolls' diapers. At the age of 20, most people expect you to have the desire for a husband and children. Almost every conversation includes questions about my intentions to marry and have children while carrying on a full time career. In recent years, I have shot down these inquiries stating, "I will not be held back in my career or paid less because of a family. I would rather be independent."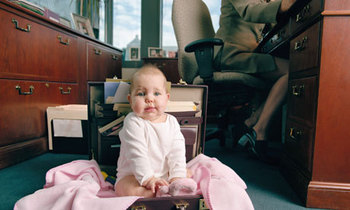 While I say this to others, I know that I do want children at some point in my life. My passion has always been making a difference in the world through a career that I love. The problem with our current system is the "either/or" world that women are forced to live in. You are either a stay-at-home mother or a working woman. And if you choose both, there are few policies in place that will support you while you do. Paid parental leave, guaranteed sick time for all, and flexible work schedules are virtually non-existent in the American workplace.
One of the policies that could ease the burden of juggling between motherhood and work is the Supporting Working Mothers Act of 2013 (SWMA.) This bill focuses on breastfeeding policies in the workplace and expands upon current laws that support breastfeeding practices. Current laws ensure that hourly wage workers, like those working in factories, have appropriate breaks and a private, non-bathroom area to pump or breastfeed, but exclude salaried employees such as teachers. The SWMA would include over 11.5 million women who are not covered by current breastfeeding laws! It is outrageous that this is not currently a protected right for women who work as salaried employees.
Today, more women carry the role of the family breadwinner. The policies that we have in place perpetuate the same old tired stereotypes that women should stay at home and care for their children. Fighting for the SWMA not only begins to breakdown these stereotypes, but also makes it easier for women who choose to or need to work, maintain their role as a mother and worker simultaneously.
Advocacy groups like MotherWoman fight for family friendly policies debunking tiresome policies from the June Cleaver era. Policies like the Supporting Working Mothers Act of 2013 are about creating an environment that works with each employee's needs to ensure that they can have a personal and professional life, including supporting mothers to be able to nurse their babies and go back to work.
As an intern at MotherWoman, I have discovered the joys of mothering as well as the professional impact I can have on maternal and family legislation. If I did not feel the pressure to choose between motherhood and the workforce and felt that there were policies in place that would support me to choose both, I would be more open to becoming a mother. We need to support legislation like the SWMA so that no mother is forced to choose between her children's wellbeing and her career. Young women like me have many passions, loves, and interests and want to consider being mothers someday. There needs to be policy enactments to support us so that we can both reach our potential to change the world as well as raise the families we may someday have.
Read more about the Supporting Working Mothers Act of 2013 here. Call your Senator today and let them know that you urge them to support the SWMA!
Jessica Avery is a junior at Mount Holyoke College where she is majoring in Gender Studies with a minor in Law and Public Policy. She currently works as a School Age Site Coordinator at Children First, a preschool and school age care center, and is the Perinatal Coalition Coordinator intern at MotherWoman. In addition to this blog piece, Jessica hosts her own blog titled Fembling: A Feminist Fumbling Through Her Thoughts.