So often in hearing the stories of women in my research I get a sense of mothers living on the ledge of their lives--out there all alone, sleep deprived, recovering from childbirth, spinning plates to care for an infant and other children, trying to or having to get back to work. For mothers struggling with the emotional complications of depression and anxiety, that ledge is all the more dangerous. On one side, medical and social sciences tell women that they know what is wrong and how to make it better--maybe even how to "support" her. On the other side, institutions and systems of poverty and inequality tell her that when she comes off the ledge and back inside her life, if she can--nothing is going to get better. Support is an illusion. I have known many women on that ledge.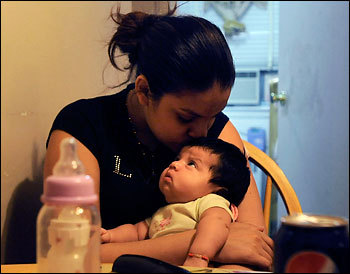 Despite some of the best science over the last 30 years--as many as 1 in 4 women experience depression or anxiety around the childbearing period. The rates are higher for women of color. The rates are higher for young women. The rates are higher for poor women-- and still higher for women with less education. What are we missing? We are missing what MotherWoman embodies--pragmatic implementation of evidence based science, informed by the lived experiences of women with perinatal emotional complications, and the social, historical and economic contexts that shape parenthood today.
In short, MotherWoman gets it. They get that postpartum depression and anxiety don't exist in isolation from the pathologies of poverty, injustice and power. They get that inequity and lack of policies that support mothers (paid maternity/paternity leave, affordable childcare, earned paid sick time that permit, if not promote, the gaps through which the most vulnerable fall. MotherWoman considers the health and wellbeing of the woman, while addressing how she got there in the first place, and what might be done to not only get her to safe ground, but to get rid of the ledge altogether.
More and more women are on the ledge. Maternal mortality is a real concern capturing national and global attention, funding, and research. When we ask about the connection between maternal mental health and mortality, about suicide, homicide, interpersonal violence, lack of a living wage, inequity in pay, no funding for childcare, racial gaps in prenatal care, and divisive policies that keep women uninformed, unprepared, and on the ledge of their own mortality--it would seem the concern turns elsewhere, as if there were no connection between women's mental health and mortality outcomes. This is an unfortunate oversight we can no longer afford. The time has come to change paradigms of maternity care, research, and policy to a view that sees no separation between a mother's mind, body, culture, community, resources, and environment as vital components in shaping her health and wellbeing. MotherWoman has made great strides toward creating this new paradigm.
I have had many conversations with MotherWoman's Liz Friedman and Annette Cycon over the years. I am lucky to consider them colleagues. And I am heartened by their model of advocacy that both understands and integrates community-based support and the power of women to heal through direct connection to the truth. MotherWoman acknowledges the truth about the experiences of motherhood--the great joys as well as the heart-breaking sorrows. They understand that solutions must come through truthfully facing a social climate in which motherhood is a personal burden, where social policies provide little if no support, where science divides maternity from mortality, and an environment in which our limited resources are greatly diminishing.
And somehow through that truth, MotherWoman has not failed itself by selling out to the overwhelming pressure of social media meme-a-thons. They do the work. They work their mission. The mission works. Mothers are powerful. Together we can change the world.
Author's Bio: Walker Karraa,PhDc is a doctoral candidate at Sofia University, where she is finishing her dissertation study of the transformational dimensions of postpartum depression. Walker was the founding President of PATTCh, an organization founded by Penny Simkin dedicated to the prevention and treatment of traumatic childbirth. Walker is the perinatal mental health contributor for Lamaze International's Science and Sensibility, Giving Birth With Confidence, and the American College of Nurse-Midwives (ACNM) Midwives Connection. She is co-authoring a book with Kathleen Kendall-Tackett, Ph.D., IBCLC, FAPA on PTSD following childbirth. Walker is a 10 year breast cancer survivor, and lives in Sherman Oaks, CA with her two children and husband.
Please consider supporting MotherWoman through its 'Advocating for Mothers' Campaign, which is part of Huffington Post's RaiseForWomen Challenge.