By Amanda Roberge
This article first appeared on and is reprinted with permission from baystateparent.com.
I can recall with great clarity the moment I thought I lost my mind.
It was 2001 and my husband and I were attending a very upscale engagement party on the rooftop bar of a very upscale hotel in Washington, DC. I was the model attachment parent, carrying my 2-month-old baby in a scarlet-colored sling that accentuated my prowess as a mother. But there was one problem.
I kept having this compelling—disturbing? upsetting?—thought. In it, I was hurling my baby over the balcony's glass-paneled edge into oncoming traffic.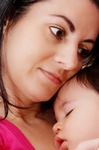 Holding her tighter and smiling pretty for the people, I made appropriate small talk and took mini-sips of a glass of white wine. I'm fine, I told myself. I am not going to throw my baby off a building. But the thought wouldn't leave me alone, even as I backed away.
I was a good mother, but good mothers don't think about throwing their babies into traffic. I sat down and spent the greater part of the evening nursing her in a chair along the granite outer walls of the cocktail lounge, grounding myself with the rhythm of her soft little breaths.
It wasn't until I admitted this event to my own mom that I found a little peace. She confided, with apparent relief, that she'd had a few thoughts of her own when my sisters and I were babies. The more I talked about this nameless phenomenon, the more stories I heard. We all loved our babies and would never do anything to hurt them, but we'd all shared this experience of being scared by our own thoughts.
It turns out that this phenomenon does, indeed, have a name—experts call them "intrusive thoughts"—and it falls under the umbrella of what is coming to be known as perinatal emotional complications, the blanket term that includes more recognizable afflictions like postpartum depression and anxiety. It also turns out that help is available if you know where to look.
According to licensed social worker Mara Acel-Green, though intrusive thoughts are somewhat common, they are scary and apparently they are as normal as the baby blues. But it's yet another situation where the shame and stigma have kept women silent about more than just their disturbing thoughts. New mothers have an unfortunate and potentially damaging tendency to hide all of the mental health issues they experience as a result of pregnancy and childbirth.
For the millions of women each year who experience perinatal emotional complications, the inability to have a conversation about these episodes—which can range in severity from upsetting thoughts like mine to full-blown psychotic episodes like those you might see on the evening news—is one of the biggest contributors to the lack of a solution.
"Perinatal," said Liz Reinke, Maternal Child Health Nurse Care Coordinator at the Greater Lawrence Family Health Center, "is a term that has long been understood to encompass the time of a woman's life when she is pregnant and up to around one month postpartum, but in general the definition has expanded to include the entire first postpartum year."
And she agrees with her colleagues who are fighting hard to increase perinatal support structures for women that when it comes to mental health and empowering and supporting women through pregnancy and birth, the time for a serious conversation about perinatal emotional complications has arrived. If you are a mother, you are familiar with postpartum depression (PPD). Of the myriad presentations of perinatal emotional complications, it is the one that garners the most attention from not only the media but from medical practitioners themselves, and it is often the only complication they are trained to recognize, treat and screen.
High profile cases leave the public with the idea that PPD is a monstrous affliction and contribute to the perpetuation of a stigma that keeps women silent—for fear of being labeled "crazy," for fear of having their children taken away, for fear of being judged, condemned or ostracized from their community. But PPD is only one element of a very complex set of complications—with perinatal anxiety leading the charge and a wide spectrum of others following closely behind, including the very rare but extremely serious perinatal psychosis—which is more often the culprit of scary news stories.
According to Liz Friedman, co-founder of the Postpartum Support Initiative in Western Massachusetts, which is an effort spearheaded by the non-profit organization MotherWoman, where she is the Program Director, the statistics are staggering—almost as staggering as the silence surrounding the issue. "I can rattle them off. Fifteen percent of women experience anxiety and depression while they are pregnant, one to three in every thousand women experience postpartum psychosis, 40-60% of low-income women experience postpartum depression. But this all points to one thing," she said. "Most women have either experienced, or know someone who has experienced, perinatal emotional complications. But nobody is talking about it, and it can be very hard to find the right support and treatment."
Support and treatment for presentations of these complications, said Acel-Green, can include anything from finding social-emotional support to taking medication for anxiety and depression—and everything in between. The in-between treatments, particularly for women experiencing low-level symptoms, might include acupuncture, exercise, mindfulness and sleep.
"Treatment is specific to a woman's individual case. But we are not listening closely to each woman's experience and then telling them that it happens, that they aren't alone," she said.
She added that the factors that make people vulnerable to perinatal emotional complications are heredity and realated to a person's own history with anxiety and depression, stress and lack of resources and social isolation.
The tragic piece of the puzzle, said Friedman, is that the screening is so easy and is a good way of determining women who are at-risk. Reinke said she periodically, but not routinely, administers one of several screening tests to women—including the Edinburgh Perinatal Depression Scale.
Though it takes a mere two minutes and is somewhat accurate in flagging women at risk and getting them the support and help they need, the medical profession just has not yet recognized regular perinatal screening as useful. This is particularly damaging because for a vast majority of women, the depth of their despair keeps them from recognizing the seriousness of their condition.
"I have never seen anyone come out and say 'I'm depressed,'" said Reinke. "Never."
Through her work at MotherWoman, Friedman is continually fighting for legislation that will give all women access to support and resources. The outlook, she said, is very good.
"There is so much hope for women," she said, adding that leaders are currently hard at work to ensure that medical professionals are trained in screening and treating all of the mental health issues that arise in the perinatal period of a woman's life.
Intrusive thoughts, like those I experienced at a swanky hotel cocktail party, are far more common than people realize and can be a healthy red flag of a woman who is at risk for more serious depression and anxiety. But the biggest risk, she added, is when those thoughts are not scary.
"They should scare you," she warned. "When they aren't scary, that's when it has gone more toward the perinatal psychosis end of the spectrum and that's a very serious situation."
Women experiencing symptoms associated with perinatal emotional complications, including intrusive thoughts, fears, anxieties and depression, are encouraged to reach out for support without fear of being judged or condemned.
Perhaps Acel-Green said it best, and perhaps even the new mom who glides through the perinatal experience can empathize, when she talks about the lack of sleep that inevitably accompanies new parenthood. "Even in the best of circumstances, even when things go well, it's hard," she said.
Friedman's passionate message to new mothers is that help is available and that a small but mighty army of advocates are fighting for them all the time. "They are not alone and we know they love their babies," said Friedman. "Everything we are doing is to help and protect them."
RESOURCES
PPDMoms Hotline: 800-PPDMOMS or 800-773-6667. Available support 24-hours-a-day, 7-days-a-week. For moms and their loved ones. Support, information and referrals.
Image of mother and baby courtesy of David Castillo Dominici / FreeDigitalPhotos.net

Amanda Roberge is a freelance writer and mother of three daughters who moonlights as a henna artist. She has been married to her husband Jeff for 15 years though sometimes says it feels like an eternity, and is generally rolling her eyes as she says it. They live in Central Massachusetts in a very messy house full of activity and love, where they survive every day with humor and often go to bed with aching abdominal muscles and very pronounced laugh lines. You can visit her online at www.mandyroberge.com.