By Carlie Ramer
I am a native New Yorker, so when we moved to a small town down South ten years ago, there were many cultural differences to navigate, and smaller logistical issues to adjust to. One of these was the fact that the school year starts in mid-August and not after Labor Day, as we were accustomed to in New York.
Recently, as people started to post excitedly to Facebook about school starting, I was prompted to do something I have never done before. I was honest regarding my mixed feelings around the beginning of school. My update looked loosely like this:
"Judge me as you will - I miss my child while he is in school. Don't get me wrong I love that he is off on his own, being independent, growing and learning, but I worry that others will not understand or appreciate him as I do. My favorite time of the school day is pick-up time."
My boy was off to a new school, and I had no idea what to expect, but had from previous experience low expectations and a fair amount of fear. I am not a helicopter parent, more like a hovercraft that is near if there is a crash landing that needs to be evacuated, and since he started school there have been more than a few times I have needed to swoop in.
I have what is called a gifted child, but gifted is not always a gift, and along with a high IQ can come a high level of sensitivity and some difficulty relating to other kids. Highly gifted children are often misdiagnosed with a myriad of syndromes, and people are quick to label what they do not understand.*
Every year around this time I find myself holding my breath while I wait for the inevitable phone calls from school. The first call I received came in a clipped-toned message left two days into kindergarten and went something like this, "We have given your child many options, and he has opted to spend the day crying." Was not kindergarten supposed to be the days of butterflies and splendor? No, my son's class was a battlefield where children jumped from bookshelves, threw blocks across the room, and the assistant teacher was bitten and kicked all the way up the stairs as she tried to gently take a child to the principal's office. My child was terrified.
We moved to a new school the next year, but were met with more of the same. The first day of school a boy trying to get the teacher's attention lifted up a desk and prepared to throw it across the room at her. My son was stunned. All he wanted to do was learn; around him chaos was taking over. It was not easy to leave him. He followed me down the hall and out of the school doors crying. The school counselor I asked for help that day was less than assuring when she called him a "nerd" and said that he would find his way in high school. High school was a long way off from first grade, and if the guidance counselor was calling him a "nerd" to my face, what more could I expect?
As he has grown, I have held my tongue against the bullies, urging him to find compassion for what may be happening in their worlds. I have moved him from unhealthy situations that were dangerous to his mental and physical wellbeing. I have helped him stay the course, when all I really wanted to do was take him home.
While most of my friends revel in this time right before school starts, doing a freedom jig, I fall deeper into despair with every item I check off his school-supply list. I have what you might call "School Days Daze." I am lucky to be surrounded by a circle of women that I met while my son was in preschool, and we have supported and cheered each other on for the past nine years. I am ever grateful to support systems like MotherWoman that are integral to women speaking their truths without fear of judgment.
As to my son, after two years in a mixed aged classroom where he was allowed to find his voice at his own his pace, where he was cared for with respect and true joy, he is off to middle school, running out the door each morning, solving his own problems, and making plans to tackle each day. He is finding his own way.
For now my hovercraft is in the closet, but my ever-vigilant ear is on the alert and my heart still skips a fluttered beat with each random ring of the phone. He laughs at me when I say, "I miss you when you are gone," and he runs out the door with a smile and a wave. He will survive me, and I will hold his hand until he lets go.
*For more information on the social and emotional needs of gifted children, visit www.hoagiesgifted.org and www.sengifted.org. For additional information on the misdiagnosis of gifted children, see, Misdiagnosis and Dual Diagnoses of Gifted Children and Adults: ADHD, Bipolar, OCD, Asperger's, Depression, and Other Disorders by James T. Webb, Edward R. Amend, Nadia E. Webb, Jean Goerss, Paul Beljan, F. Richard Olenchak. Scottsdale: Great Potential Press, 2004.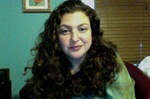 Carlie Ramer studied English/Creative Writing - Poetry at SUNY Binghamton, New York State Summer Writers Institute - Skidmore, and NYU. While living in NYC she worked at Scholastic, McGraw Hill, and the Metropolitan Museum of Art. Since moving with her family to the beautiful Blue Ridge Mountains in 2004, she focuses her energies on helping her husband to run his award winning Toy and Character Design Studio BigShot ToyWorks, writing a seemingly never ending prose/poetry memoir, volunteering teaching poetry workshops to children, and her absolute favorite job of all - being a full time mother to her son. She also spends a lot of time chasing dust bunnies around the living room in order to name them before putting them out to pasture - she's just that type of gal.