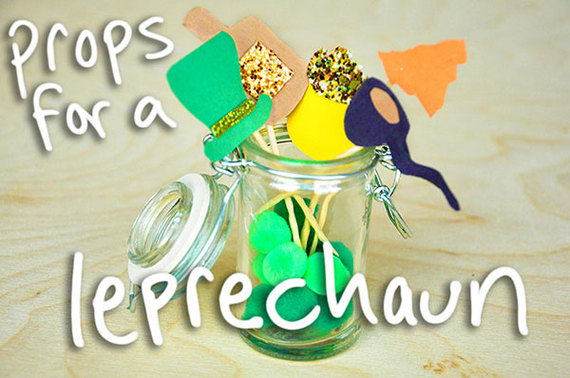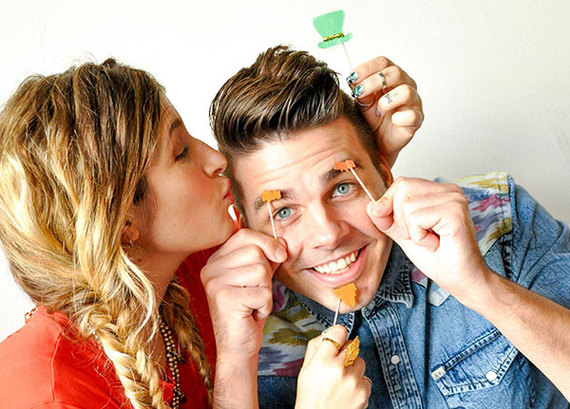 WHAT ARE THESE...PROPS FOR A LEPRECHAUN? I couldn't post this leprechaun-sized party photo props DIY without harkening back to the Zoolander quote: "What is this, a center for ants!?"
These tiny props are super easy to make for this St. Patrick's Day. Use them to pose with in photos, decorate some cupcakes or those weird green bagels or just display them on your desk at work for some festive fun. You can learn how to make your own leprechaun photo props below. Happy St. Paddy's Day!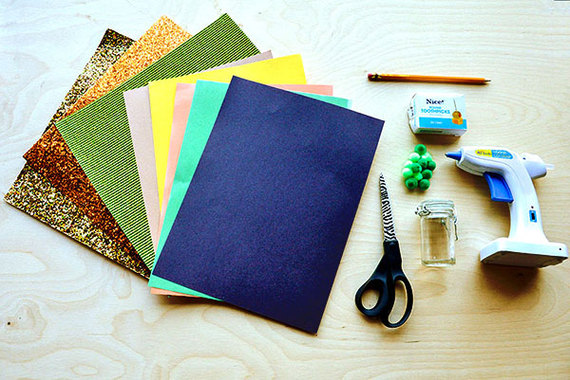 Prep It:
construction paper in various colors
glitter paper
scissors
hot glue gun
pencil
toothpicks
little jar and pom poms (for display)
Do It!
Outline your leprechaun accessories onto your construction paper using a pencil -- I drew: a top hat, eyebrows and soul patch, pot of gold, pipe, liquor bottle, shamrock and green lips

Cut out the props along the outline

Cut out and hot glue on glitter paper embellishments like a square for the liquor bottle label, a band for the top hat or the gold for your pot of gold.

Hot glue your props to toothpicks -- remember to place the toothpicks to one side of some of the props to  make them easier to hold for picture posing.
Display your props in a cute jar (I used green pom poms to raise up the bottom so the props would stick out) and enjoy!