It is that time of year, to pack up your car and move into the concrete box that will be your bedroom/study area/hangout and home for the next year... your dorm room! Since you are going to be spending so much time there, make it beautiful and functional to reflect your sense of style with these DIY Dorm Decorating tips!
My DIY Dorm Room Design Challenge video we filmed in 45 minutes in a real life dorm at Loyola Marymount University. 45 minutes to implement any design is hard but sticking to all the dorm rules such as no nails in the wall (nothing larger than a thumb tack) and no paint, was a super feat!
I stuck to an Anthropologie-inspired style and used a lot of color to brighten the space. The details of the individual projects are listed below. So DIY your dorm room decor because...why not!?
Most dorm rooms look like this...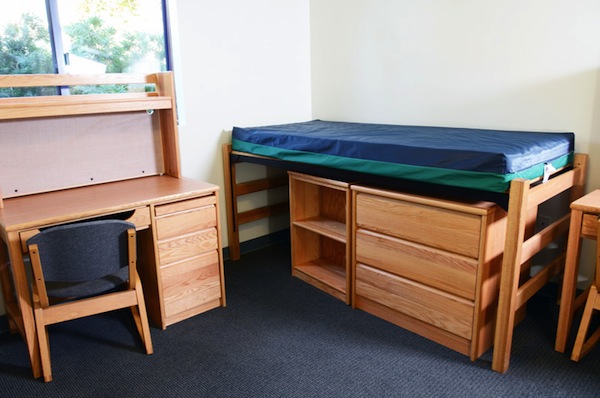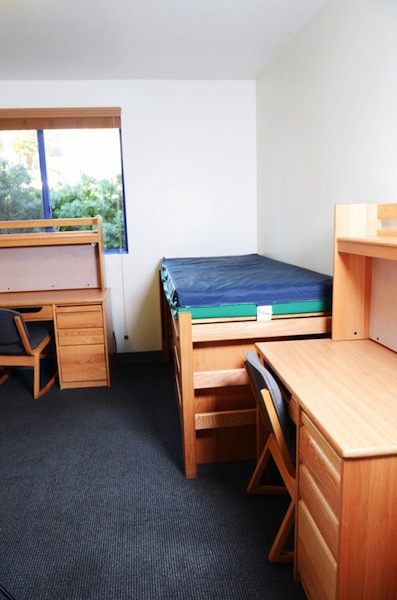 But with a little DIY magic, your dorm can look like this!....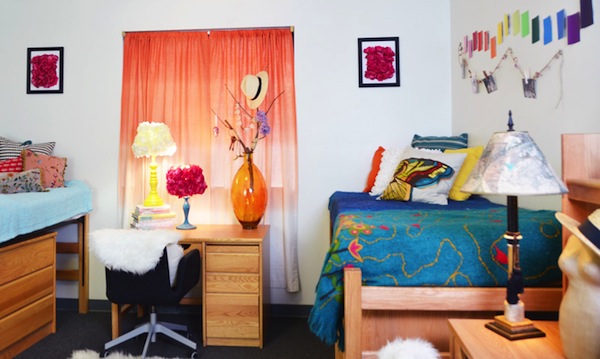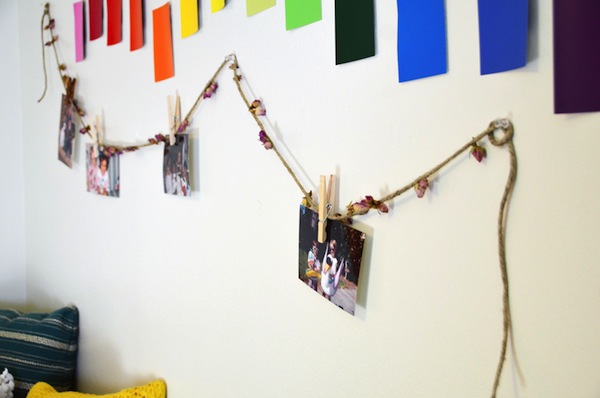 DIY rosebud garland and photo display and paint sample wall art! Get the paint samples for free from the hardware store and use Glue Dots to stick them to the wall.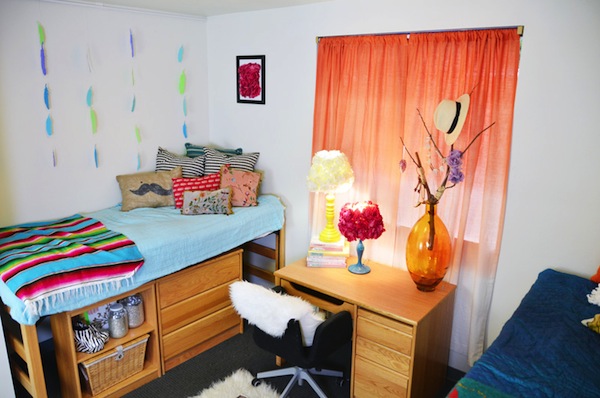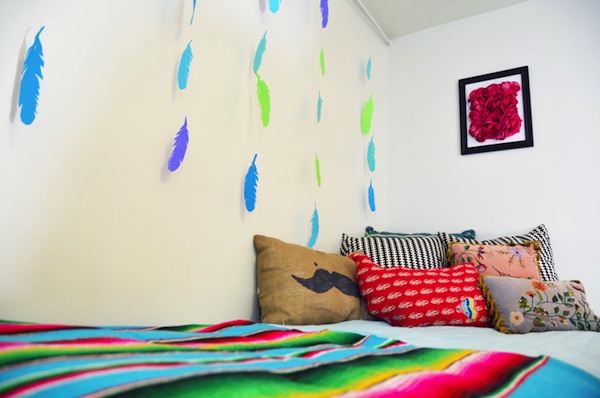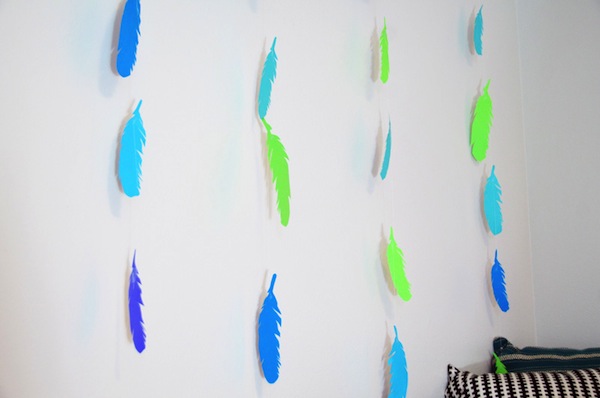 The DIY Paper Feather Chain we attached without using nails etc. by putting a tension rod between the two walls and attaching strands of the paper feathers. Shop tension rods at places like Target, Kmart, Ross, etc. Also see Decorate with Serapes to add color, and Design Inspo: Faux Sheepskin to add fuzzy coziness like I did to the desk chairs in this dorm room.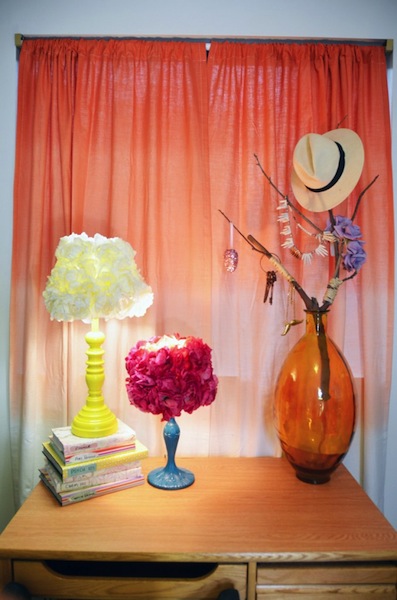 Use a DIY Jewelry Tree to organize your jewelry, hats and accessories and get more light with some DIY Faux Flower Lampshades or DIY Colorful Thrift Store Lamps. Bring in homey things like lamps and use things to bring height to the space that can also be functional like the jewelry tree!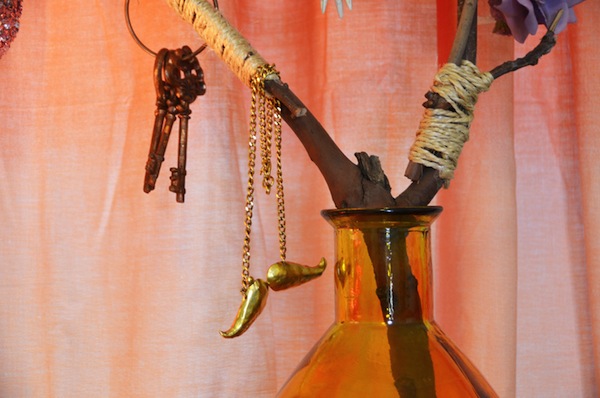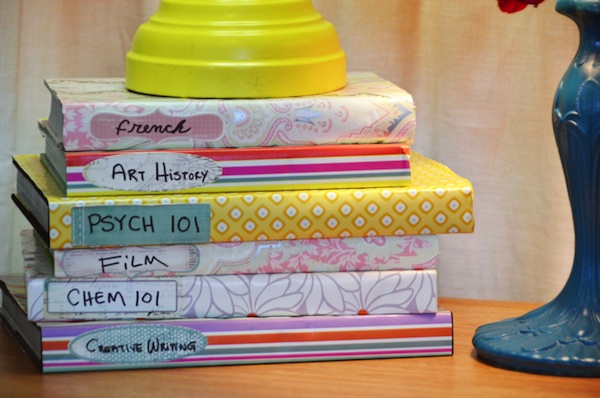 Textbooks covered in pretty paper and custom labels can make your textbooks a style statement.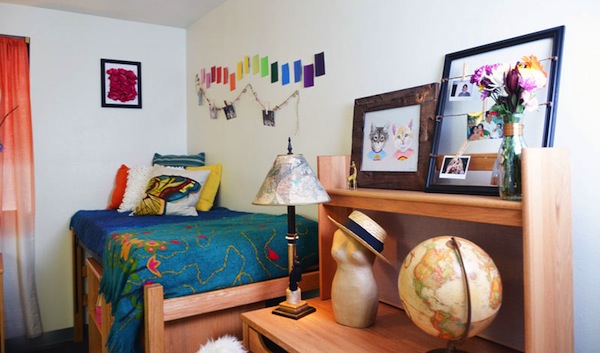 Can you spot the other DIYs? ...I spy DIY Wire Wrapped Vases, DIY Rose Crown and DIY Instant Photo Frame Display.
And if all this wasn't enough, watch me on this live news segment showing how we DIY'd this dorm room along with some fun DIY backpacks.